A civil engineer plays a quirky role in planning and supervising the construction of buildings, infrastructural facilities, airports, highways, dams, harbor offshore construction, water power supply, railway tracks, roads, and much more. All these things are essential in human life and a civil engineer help in making things easier for a normal person by using his/her vast knowledge about working of structural designs.
In this field, you can find that there are two types of civil engineers are out there. The first one is more of office type engineers who mostly spend their time creating project plans with the clients. The supervision part is missing among these engineers. On the other hand, the second type of civil engineers takes way more responsibility and involvement. They supervise the whole project, check out the surrounding of the infrastructure to learn about other challenges and important aspects.
The logical part for a civil engineer is to consider the height of the building, air passage, natural sunlight source, and much more. No doubt that civil engineers pay close attention to every single detail so that they can get the best kind of results to their clients. Even the outside look of the home is also created by civil engineers. If you are willing to be a civil engineer and want to create an infrastructure plan then learning about the basic aspect at an early age will be helpful.
Here, we made a complete post about how to become a civil engineer, eligibility criteria, top colleges, salary plans, and more. Let's check out every factor.
What's the eligibility to become a civil engineer?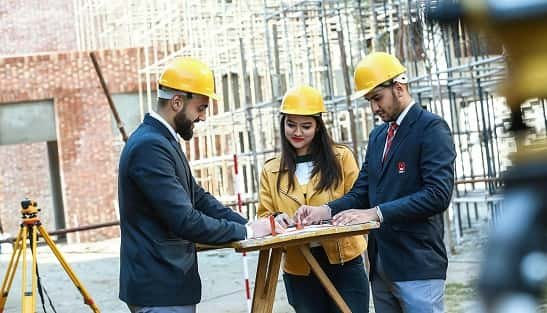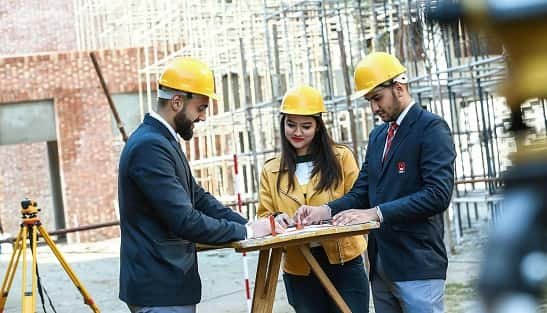 To become a civil engineer, the candidate must qualify below the given test or requirements. Once the students or candidates meet these needs, they can get to select a favorable college or institution for further studies in Civil engineer subject.
The very first thing every candidate needs is a 10+2 degree from a recognized board. Students must have 60% minimum aggregates to get selected. However, the minimum aggregate requirement changes from institute to institute.
Students must appear for an entrance exam. Many institutions are conducting their entrance exam tests and students can opt for these exams. Passing these high-level exams enhances the chances of getting an excellent college.
Some civil engineering colleges require a minimum and maximum age criterion that might be a concern if you want to enroll in a top institution.
These are some of the key requirements. The fact that you want to clear Joint Entrance Examination (JEE), BITSAT, or VITEEE, preparing from an excellent coaching institution can help in it. Based on the fact that you are a 12th class student, you can fight many entrance exam tests to ease up the job for yourself.
Note – There are many other state-level entrance exams that you can appear on. The only thing is, you should prepare for the entrance exam test while pursuing your 10+2 because the syllabus in the entrance test is also from your earlier studies. There are three subjects considered in the entrance test, Physics, Chemistry, and Mathematics.
Role of a Civil Engineer in Daily Life
After completion of academic qualification of becoming a civil engineer, there are plenty of job profiles that might suit your interest. From working as a fully-fledged engineer to being a professor, you have an ample number of fields to look after. Here are a few of the popular roles of a civil engineer –
Construction Engineer – From managing the construction project to consideration of time frame, everything essential regarding the quality of work is part of a construction engineer. These engineers are responsible for safety, build quality, design, and other aspects of the construction or infrastructure.
Geotechnical Engineers – When it comes to geotechnical engineers, you might have seen that they carry large equipment to measure sea level, and other important things nearby a construction hub. The main part of a geotechnical engineer is looking at buildings, runways, streets, dams, and other important places.
Transportation Engineers – The panning of airports, ship ports, highways, harbors, and such other transportation routes is considered by transportation engineers which is a subdivision of civil engineers.
Structural Engineers – From building a bridge to a large building, ensuring the strength and stability is part of structural engineers. They plan the outlet and ensure that everything goes perfectly.
Highway Engineers – The road map is designed by highway engineers and they have a special skill in understanding the road traffic in a specific area of the city. With such knowledge and stats, they create the right kind of roads and highways.
There are also other types of engineers who play important role in checking and ensuring the effectiveness of water management. These are some of the popular job roles or sub-division or civil engineer. The salary package in each type is quite impressive.
Also Read: Different Types of Engineering Courses in India
Where Civil Engineers can get a job in India?
In different sectors of the country, the job is available for civil engineers. The below mentioned are all the government sector that can help you get a secure job with impressive salary package –
Construction Companies
MNCs
Geotechnical Companies
PSUs
PWDs
Indian Railways
Infrastructure Management Companies
Transportation Companies
Government Agencies
Municipal Corporations
NHAI
Armed Forces
These sectors are widely known for the high salary package factor and you can get a job with ease for sure. But, if you want to get selected, clearing your civil engineer studies from a top institution plays the most important role.
Top Recruiting Companies For Civil Engineers
Over the years, there are a wide number of civil engineer companies enlarging their exposure. If you are also willing to work in a reputed company then below mentioned are some of the private companies that you can look after –
Sadbhav Engineering
L&T
Tata Projects
DLF
Hindustan Construction Company
Tata Projects
Gammon India
Shapoorji Pallonji & Company
Sobha Developers Ltd.
Unitech
Punj Lloyd
Nagarjuna Construction Company
Aga Khan Planning and Building Services
MARG Limited
Gannon Dunkerley & Company
Metro Tunneling Group
No one would like to get a poor salary package and therefore working in a well-known company seems like a better choice. The above-mentioned are some of the best companies to look after.
Top Civil Engineering Colleges in India
Based on the NIRF ranking of 2020, these are the top civil engineering colleges that you can prefer. The average fees among these colleges differ so it would be a better choice to check out the desired college fees individually. The top colleges are –
Jadavpur University
CEG, Anna University
JMI, New Delhi
Thapar Institute of Engineering And Technology
BITS Ranchi
BITS Pilani
SSN College of Engineering
S.G College of Technology
RIT Bangalore
TCE Madurai
Applying for admission to any of these colleges is not easy as these colleges require entrance exam tests and a minimum of 60% aggregates in 10+2.
Also Read: Civil Engineering Vs Bachelor Of Architecture
Syllabus in Civil Engineering
Civil engineering course is a four years course and it is divided into eight semesters. So, the syllabus is divided into wide sections. The students will study based on the semester system. The syllabus for civil engineer student is
Semester – I
Engineering Mathematics-I
Engineering Chemistry
Engineering Physics
Systems in Mechanical Engineering
Programming and Problem Solving / Engineering Mechanics
Basic Electrical Engineering / Basic Electronics Engineering
Workshop
Semester – II
Engineering Physics
Engineering Mathematics-II
Basic Electrical Engineering / Basic Electronics Engineering
Engineering Physics/ Engineering Chemistry
Programming and Problem Solving / Engineering Mechanics
Basic Electrical Engineering / Basic Electronics Engineering
Physical Education-Exercise and Field Activities
Engineering Graphics (Engineering Drawing)
Project-Based Learning
Semester – III
Building Technology and Architectural Planning
Fluid Mechanics
Mechanics of Structure
Engineering Mathematics III
Engineering Geology
Awareness of civil Engineering Practices / Road Safety Management / Foreign Language
Semester – IV
Survey
Structural Analysis
Concrete Technology
Project Management
Project-based learning
Geotechnical Engineering
Semester – V
Fluid Mechanics – II
Structural Design-I
Structural Analysis-II
Hydrology and Water Resource Engineering
Infrastructure Engineering and Construction Techniques
Semester – VI
Environmental Engineering-I
Structural Design-II
Project Management and Engineering Economics
Foundation Engineering
Advanced Surveying
Semester – VII
Elective-I
Elective – II
Transportation Engineering
Structural Design and Drawing III
Environmental Engineering II
Semester – VIII
Elective – III
Elective -IV
Quantity Surveying, Contracts, and Tenders
Dams and Hydraulic Structures
Bottom Line
Make sure that you select the college based on reputation, history, number of successful students, and other aspects. No college is bad but if you get enrolled in a well-known institution, the quality of knowledge gets better with the better faculty. We hope that you get admission to a reputed institution and you have an excellent future.