Graduate Marine Engineering (GME) course have a duration of 1 year. It is diploma training course pursued by candidates who want to work in merchant navy or as a marine engineer. The course focused on the technical knowledge related to the field of Marine Engineering.
Admission criteria and eligibility criteria are decided by the Directorate General of Shipping. Directorate General of Shipping also monitored the colleges that offer this program.
Only candidates who have done a degree in mechanical engineering or naval architecture are eligible for this course. After completing this course candidates can pursue a career in various departments related to shipping and ship, like construction, management, operation, maintenance. One also go into the Indian Navy, or education sector related to marine education.
This article will provide information like details of the course, its eligibility, syllabus, career, fees, scope,etc., regarding the Graduate Marine Engineering Course, which may help you to decide whether pursuing this course will be beneficial for you or not.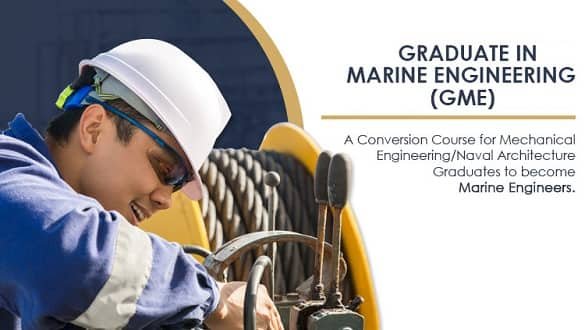 Graduate Marine Engineering Course Details
Graduate Marine Engineering (GMF) Course deals about the technical aspects regarding Marine Engineering and various departments which fall under it. Some of the subjects are electrical and electronics system, engineering drawing, architecture, hydraulics, communication etc. The course will provide both theoretical and practical knowledge in-depth. So, that you land a job after completion of the course and also perform better in the Jobs after the job placement.
The candidates who have B Tech or B.E in mechanical engineering or naval architecture can pursue the course.
After completing this course, the GME graduate needs to clear MEO Class-4 Part A Examination while doing mandatory sea service of 6 months. The GME graduate need to complete few more courses like safety courses, MEO Class-4 Part B Examination and modules to achieve the Marine Engineering Officer Class 4 Certificate of Competency.
After obtaining the above certificates, you will ready to apply and get hired by different companies that operate in the line of shipping and in different marine fields on different positions.
One more special thing about this field you can choose to rise higher while in service by appearing for further training modules, courses and appear for exams. These exams help to achieve advanced competency certificates, which led to promotion in career.
Graduate Marine Engineering (GMR) Course: Eligibility criteria:
Different institutes can have different eligibility criteria for GME courses. We will be talking about basic eligibilities require in order to get admission in the Colleges.
We can divide eligibilities into two basic categories that is 1) Educational qualifications 2) Medical/Physical standards.
Educational qualifications:
The candidate should be from either Mechanical engineering or Naval engineering with a minimum 60% aggregate score.
The candidate should have english as a mandatory subject at 10+2 level examinations and passed with a minimum of 50%. The candidate should also have good command over English and can speak fluently.
The age criteria for general category candidates is 28 years. For females, it is 30 years and for SC/ST candidates, it is 34 years.
MEDICAL/PHYSICAL STANDARDS
Candidates should have perfect vision, perfect hearing&can see and hear without the help of any aid.
The candidate should not be colour blind.
To check the fitness of the candidate. He needs to go through a medical examination to be declared medically fit.
Graduate Marine Engineering (GMR) Course: Fee
The fee structure for the Graduate Marine Engineering (GMR) Course is may start from an average of 3.6 lakhs per annum. The actual fee may vary from college to college and state to state. This is just an average figure.
So, please research about the fee structure before applying to the college.
Graduate Marine Engineering (GMR) Course: Syllabus
As Graduate Marine Engineering (GMR) Course has a duration of 1 year only,it covers all the important topics of marine engineering in that time only. The course is divided into two semesters. The list of the course covered in these two semesters are listed semester wise below:
Semester 1
1.Marine Auxiliaries
Marine Electro Technology
Marine Refrigeration & Air Con.
Electrical lab
Boilers
Safe Working Practices
Fitting / Machine Shop
Computer Lab
Semester 2
Ship operation Management
Watch-keeping and poll prev
Naval Arch and ship const
Electronic Laboratory
Chemistry Lab
Welding and Smithy Shop
Internal Combustion Engines
Marine Engineering Drawing
Ship-in- Campus
Ship-in-Campus Annex
Control Engineering Lab
Simulator (AFLOAT)
Graduate Marine Engineering (GMR) Course: Colleges
GME course is usually offered by the colleges which specialized in marine engineering. Few deemed universities and technical colleges also offer this course.
The below is the list of renowned GME colleges in India. (not in particular order or preference)
Marine Engineering and Research Institute, Mumbai
Hindustan Institute of Maritime Training, Chennai
Academy of Maritime Education and Training, Chennai
C V Raman College of Engineering, Orissa
Praveenya Institute of Marine Engineering, Vizianagaram
VELS University, Chennai
Marine Engineering and Research Institute, Kolkata
Samundra Institute of Maritime Studies, Lonavala
Indian Institute of Technology, Roorkee
International Maritime Institute Ltd., Greater Noida
Graduate Marine Engineering Course: Further studies
After completing your Graduate Marine Engineering Course you can get a job or you can opt for further studies. So, Suppose a GME graduate wishes to pursue higher education. In that case,he can pursue it in the same area of Interest or in a completely different field to improve pay and job opportunities.
GME graduates can pursue further studies in the below fields:
For postgraduate studies, MBA is one of the popular choices among youngsters. MBA graduates get hired in managerial positions of various departments of a company.
Law is another option which GME graduate can pursue. After completion, one can work as a judge or lawyer, can do personal practice as a lawyer or prepare for Government job positions via competitive competitions.
One more degree which can be pursued is PhD. It will approximately take 5-6 years to complete. It is the highest level of education that one can achieve in a particular field.After completion, you can have career in Research and Development or Teaching.
Graduate Marine Engineering Career opportunities
There are several career opportunities after doing a graduate marine engineering course. You can work in the marine industries, Indian navy, merchant navy, and many more based on your course performance and examination. The post that GSE graduates can offer are Engineer cadet, Programmer, Second engineer, Fourth engineer, third engineer, and many more roles are present in the graduate marine engineering course.
GSE graduates have job opportunities in various areas of the economy like shipping, ship designing, manufacturing, building & maintenance, steel industry, power sector, manufacturing sector, consultancy firms etc. They can also be employed as Cruise Engineer, Cruise architect, Shipping officer, etc.
As per some research data,the predicted growth rate of this field is 9% until 2024.
As per industry data the average package of GSE graduates can be anywhere from INR 1 lakh to INR 11 lakh depending on the industry and position for which he is selected.
Graduate Marine Engineering Course: Should you opt for it?
In today's world, everybody is started to recognize the importance of Sea for several reasons like Transportation, security, Tourism, Fuel, water source, laying of cables, Logistics, etc. Marine engineering becomes a very important career choice offering a wide range of possibilities in terms of salary, jobs and different fields of work. And this will continue for the foreseeable future.
So, yes, if you are interested in marine industries and do not have sea sickness or are afraid of water, you should opt for it. This industry can provide a new horizon to your career.
Graduate Marine Engineering Course: Conclusion
In the end, we can say that if you are interested in Marine engineering, Merchant navy, and want to earn good money and do not shy away from adventure Graduate Marine Engineering course is best suitable for you. Because this course will provide all of the above to you and gives you direct entry to this line of work.
One disadvantage with this course is that this can only be pursued by candidates who have done engineering in mechanical or Naval Architecture. As it is a technical field and requires technical acumen. Non- technical people can not venture into it. Candidates have a wide range of opportunities in this graduate marine engineering course.  Many students are benefitted from taking this course. This course helped them in achieving their goals.
The fees for this course are reasonable and if you do the course from a good college, your placement will also be decent with a reasonable good package. This industry also provides the opportunity to increase salary while in service by doing courses and the job and providing ways to increase your earning and stature in society.