Right-back from childhood, people find a close affinity to the subject matter of astronomy and geology among all variants of science. Ask any kid about their favorite thing and they will either mention astronaut or finding of earth. That's how popular these streams are. Let's leave astronomy for another day and take a look at geology today.
Geology-based courses are getting quite prominent nowadays and it's likely to continue along for years. The course has an international appeal to it which escalates the value of geology further. As a student, if you are looking for a course that is a bit different from the mainstream and has the allure of a great career, then geology is the one to go for. Read along to find out more about geology courses and their details down below.
What is Geology Stream?
Geology deals with the study of earth and the science related to it. It's a branch of science that explores the way earth is formed, its land forms, the surface area, and the processes ongoing inside the magnum core of the company. It talks about the physical component of the earth and how natural incidents pave the way. It teaches students about the prehistoric times of earth right from its formation to the present day evolution where the landscape and environment have changed dynamically.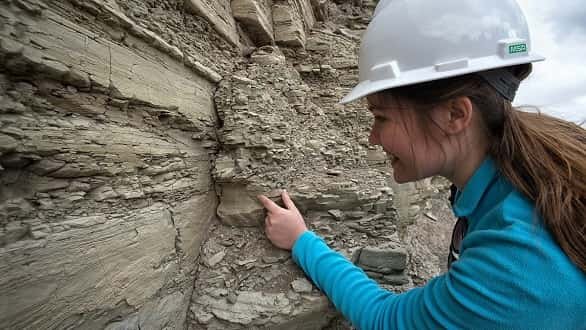 The practical application of geological courses is explored in the construction of roadways, bridges, high-rise buildings, rail tracks, and more. They help to explore the area and find whether it is suitable for development and construction or not. Geology courses are offered by various universities and colleges across India.
Scope of Geology Courses
There was a period when geology courses were often mistaken for being similar to engineering courses and were often discounted by many people. But as the times changed and the information started being exchanged among people, geology has taken a major place in student's minds as a proper career option. There are plenty of opportunities for a geologist in the modern-day era.
A student can choose from the likes of earth-related roles involving earth preservation, oil extraction, mineral extraction, management of ecological and natural resources, and much more. They can become prominent figures like seismologists, meteorologists, heads of the hydropower industry, and more.
Courses on offer in Geology
There are many courses offered for students under the geology stream starting right from the diploma ones to the research level doctoral courses. Let's check them out.
1. Diploma of Associateship in Applied Geology
The first pick in our list of best geology based courses is the entry-level diploma program. This is the very first step into specialization in the geology sector and comes with a great scope. Find out more about it down below here:
Course details
This is a basic entry-level program for geology enthusiasts. The course is a mere 1-year duration and has allowed students to learn the basics of geology before going to pick up the expert-level knowledge and skills in the later years of the undergraduate program. This program is offered by a select few universities and institutes across India.
Eligibility
Going for this course requires a student to have completed their +2 from a recognized board or an institute. They should also have taken physics, chemistry, mathematics, or equivalent during the +2 years. Also required is at least 50% marks in their formative years of high school.
Scope
A student with this diploma certificate can go for higher education or directly join a job. They can easily find jobs in coal mines, mineral extraction industry, the oil extraction industry, and more.
2. Bachelor of Science (B.Scin Geology and Earth Science) 
Now the second course for our best geology course available in India for students is an undergraduate based program suited for students who are looking for a career path after finishing their schooling. Let's find out more details about the course down below.
Course details
This course is part of the Bachelor of Science with a major in Geology. It is offered by many universities and colleges for students in India. This course has a three-year running period and is yearly like all other B.Sc courses. Students learn about the comprehensive and comparative knowledge of the earth's surface, bodies, celestial objects, and more in this course. The course has different modules like structural geology, mineral science, paleontology, sedimentary petrology, and other materials to learn from.
Eligibility
This course has a bit strict criteria in comparison to the other streams of career choices. Students have to clear their high schooling before being eligible to choose this course. They should have also taken the major subjects physics, chemistry, mathematics, and computer science or biotechnology in their high school period and should have achieved at least a minimum academic mark of 50%.
Scope
There are many career options that a student can take after finishing the course of B.Sc in Geology. Students can become professionals like geologists, seismologists, petrologists, mine supervisors, mine project manager, and more.
3. Bachelor of Science (Hons) in Geology (B.Sc Hons in Geology)
The next course is another one in the undergraduate offering for students looking for geology courses. This is similar to the aforementioned course and is an Honours degree of the same course.Here's what the course details for this are:
Course details
This is a Bachelor of Science (Hons) course with a major in Geology. This course is offered by universities and many institutes across India. It has a running period of three years with the course divided yearly. The course looks into modules like planetology, mineralogy, geomorphology, economic geology, structural geology, remote sensing and geology, and more. The course helps a student build knowledge and skills that will help them tackle the field working of geology and other fields.
Eligibility
This has strict eligibility criteria similar to the B.Sc in Geology. Any student who wants to take the course should have completed and cleared their +2 and high school with subjects majors of physics, mathematics, chemistry, and another optional subject. The academic records require at least aggregate marks of 50% in high school.
Scope
This course takes students to bigger career growing paths where they can take roles in government and non-governmental agencies. They can also become part of the coal and mining industries of India and command a good role there. The job profile generally looks into the professor, oceanographer, researcher, geological advisor, and more.
4. Masters of Science in Geology (M.Sc in Geology)
Now after taking a look at the graduation based courses we are taking a look at the postgraduate courses.The post-graduate options for students in the geology stream are highly regarded across the educational field and are well respected. Here's is what you can find in this course.
Course details
M.Sc is one of the highest branches of course for students looking at post-graduation fields. And this M.Sc with a major in geology is well placed to become one of the hot topics for students going ahead. It is divided into semester base and has four semesters spread across 2 years. This course allows candidates to learn and evolve in the fields of mapping, studying rocks, morphology, and more. The course has modules like geochemistry, lab practical, mining geology, ore petrology, economic geology, mineral fuel and resources, and more.
Eligibility
This course is a well-advanced post-graduation course if you compare it with the other post-graduation fields in the nation.This course needs students who have already completed their undergraduate course in a similar domain. It requires students to have academically scored 60% marks during the undergraduate course.
Scope
The scope of this course is a great choice for students who want to look for a good career in the fields of geology. This allows students to take into roles of an environmental consultant, geotechnology, engineering technology, and more. They can become leaders and take roles like project assistant, assistant chemist, assistant geologist.
5. Master of Technology (M.Tech in Applied Geology)
This one is another advanced level learning course available in geology for students who want to look into geology and make a good career in it. We'll discuss the details of the course down below here:
Course details
Master of Technology is a well-regarded course in the post-graduation field and taking majors in the applied geology sector. This course runs for two years and is offered by many top-notch universities and institutes in India. This allows a student to learn and develop the idea about the earth and the shapes and forms that are part of the earth. The course helps to teach the aspects of soil engineering, applied rock mechanism, applied rock mechanism, geophysics, electives, underground space, rock slope, and more. The candidates can learn the course on a semester wise basis.
Eligibility 
Since it's an M.Tech course, students should first have to finish their graduate program in either B.E or B.Tech. They can also take graduation in similar subjects to this one. They further need to show that they have achieved over 60% marks in graduation. They will then be able to apply for entrance tests for selection.
Scope
M.Tech in Applied Geology allows students to take on the roles of ocean researcher, geologist, oceanographer, geophysicist, a technologist in completion, and more.
6. Ph.D. in Geology
This is the highest course available for students in geology in India. This is the epitome of geological studies and allows students to build top-level skills that none other courses can help develop. Here's why this course is regarded so highly.
Course details
This is a doctorate program offered for students who have undergone their post-graduation course and want to add further skills and knowledge to their repertoire. This course is designed for 3 to 5 years with the course divided into year wise or semester wise based on the university. The course is mostly research-based where students take notes and profile any topic to prepare a detailed thesis on it.
Eligibility 
Joining a doctoral program requires a candidate to have completed their post-graduate course with good grades. They should hold a major in postgraduate in a similar domain to geology to become eligible. The admission is completely based on entrance and tests.
Scope
For those who are looking at a settled career in the fields of geology, this course offers a perfect choice. They can become volcanologists, geologists, paleontologists, structural geologists, teachers, professors, lecturers.
There are many courses on offer in geology for students in India. We picked the top courses that students can undergo starting right from the diploma to the highest level doctorate programs. We hope you can find your choice of preferred course from this list.