The field of education is renowned for its diverse nature, as it necessitates collaboration among experts from various domains and the backing of stakeholders. Furthermore, the education industry plays a crucial role in shaping future generations and is, therefore, a significant contributor to the development of society.
It is imperative for educators to continually update their knowledge and skills to keep up with the evolving needs of learners and to stay relevant in an ever-changing landscape.
The spectrum of employment opportunities within the education sector encompasses workers from all backgrounds and experience levels.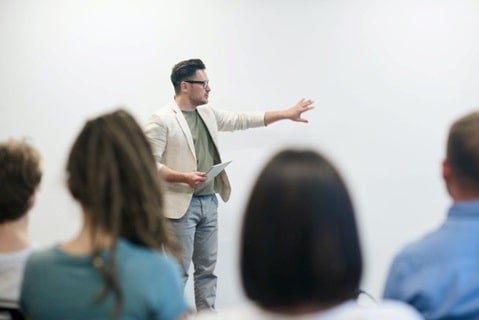 As is typical of most professions, compensation for individuals employed in the education industry often follows their attained degrees, accumulated experiences, and applied specialized knowledge.
How To Kick-Start a Career in Education?
To kick-start a career in education, one can obtain a bachelor's degree in a relevant field such as education, psychology, or social work. This foundational degree can lead to entry-level positions in the education industry, such as teaching assistant or after-school program coordinator.
Additionally, pursuing a Master of Education (M.Ed.) degree can provide an individual with the advanced knowledge and skills required to excel in various roles within the education sector. Many universities offer online education programs that allow individuals to earn a degree while continuing to work in the field.
Online M.Ed. programs provide flexibility and convenience to students with work or family commitments.
Gaining practical experience in the education industry is also crucial through internships, volunteer work, or part-time jobs. This experience can provide valuable insights into the field's various roles and responsibilities and help individuals determine their areas of interest.
Networking with professionals in the education industry can also be advantageous for career growth. Attending conferences, joining professional organizations, and connecting with educators on social media platforms are all excellent ways to expand one's professional network.
That said, let's jump into the most high-paying career options in the education industry.
1. School Principal
School principals are highly proficient educational administrators who oversee and manage the daily operations of preschools, elementary schools, middle schools, and high schools. They assist in formulating, implementing, and enforcing educational policies and procedures while maintaining a standard of academic excellence.
School principals are responsible for recruiting and hiring staff and educators, creating academic curricula, training staff, and monitoring students' progress. Moreover, they work closely with students, staff, parents, and communities to maintain cordial relationships and effective communication.
To qualify for employment, school principals must hold a minimum of a master's degree in education administration or leadership. While some may possess a bachelor's degree in education or school counseling and progress in their careers based on experience, most employers require a master's degree for this role.
According to the US Bureau of Labor Statistics, the average annual salary for school principals in May 2021 was $98,420. However, salaries vary depending on location, school type, and experience level.
Additionally, school principals may receive health insurance, retirement plans, and paid time off benefits. Despite the variation, the role of a school principal is regarded as one of the most rewarding and important careers in the education industry.
2. Chief Academic Officers
Chief academic officers, also known as directors of education, are highly skilled professionals responsible for directing, planning, and coordinating educational programs at secondary schools.
Their primary role involves researching and developing academic courses and monitoring their progress at a college or university. Throughout the process, they work to address complaints and concerns raised by students and faculty members.
To qualify for the role of a chief academic officer, most applicants require a doctoral degree in educational leadership. While some individuals may be promoted with a master's degree and relevant work experience, successful candidates typically have experience managing educational settings.
The position of a chief academic officer is considered a prestigious and rewarding career in the education industry.
According to the BLS, as of May 2021, the median annual salary for postsecondary education administrators, which includes chief academic officers, was $96,910.
3. Instructional Designers
Instructional designers are skilled professionals who are responsible for developing lesson plans for use by teachers and educators. They consider various curriculum requirements and create engaging instructional materials and student guides.
These professionals often employ new and innovative strategies to enhance the teaching and learning experience in the classroom. They aim to ensure that the instructional materials are effective, efficient, and engaging for students.
Instructional designers may work in various settings, including K-12 schools, universities, corporations, and government agencies. They collaborate with educators, subject matter experts, and other professionals to develop and revise instructional materials to meet the specific needs of their target audience.
As technology advances, instructional designers increasingly use digital tools and technologies to create interactive and multimedia-rich instructional materials. Keeping up with the latest trends and innovations in educational technology is crucial for instructional designers who seek to stay competitive in the field.
According to the BLS, the median annual salary for instructional coordinators, which includes instructional designers, was $63,740 as of May 2021.
4. Special Education Teachers
Special education teachers are critical in providing specialized instruction to infants, children, and adolescents with mental, emotional, or physical disabilities.
They develop and implement individualized curricula and programs that cater to each student's unique needs while promoting their independence and skills development.
To ensure that the instruction is tailored to meet the individual needs of each student, Special education teachers assess and adapt Individualized Education Programs or develop specific lesson plans.
They also work closely with other teachers, parents, counselors, and administrators to monitor and report on student progress and create transition plans for students who advance to different schools or complete their studies and graduate.
In addition to their work with students, special education teachers collaborate with general education teachers to modify lesson plans and make accommodations to help special education students succeed in mainstream classrooms.
The ability to collaborate and work as part of a team is essential in this profession. According to the BLS, the median annual salary for special education teachers was $61,820 as of May 2021.
Conclusion
The field of education is diverse and crucial in shaping future generations and the development of society. Educators must continually update their skills to stay relevant in the ever-changing landscape.
The education industry offers various employment opportunities, including high-paying roles such as school principals, chief academic officers, instructional designers, and special education teachers.
These roles require advanced education and expertise, and they make significant contributions to society while offering fulfilling careers.