If you want to make a career in a different domain, learning a foreign language can be a great choice. Earlier, people learned a foreign language as a hobby, but that is no more a hobby. Learning a foreign language will help in making a better career is a different field. Nowadays, even many companies require their employees to learn a foreign language to follow up with clients from different parts of the world. Even students learn a foreign language to pursue further education in foreign countries. There is a lot of demand for foreign language experts in almost all fields.
There are several foreign language courses available in India. Learning any language other than your native language is known as a foreign language course. Many students go for a foreign language course as part of education, and some people opt for these courses once they have completed their graduation or post-graduation programs. It is completely your choice to decide when you wish to take the course.
If you plan to complete a foreign language course, you need to know the course. We have done thorough research about the foreign language course details, career, and job opportunities. Continue reading the article if you wish to know more about it.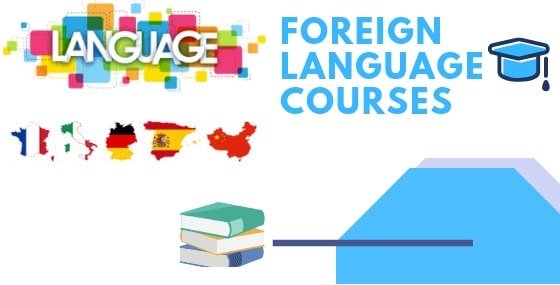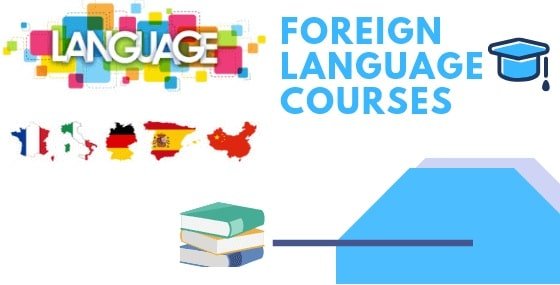 Levels of foreign language courses:
Foreign language courses are offered at different levels, just like any other educational program. You can opt for a:
Certification program in Foreign Language.
Diploma in Foreign Language.
UG course in Foreign Language.
PG course in Foreign Language.
Doctoral course in Foreign Language.
Eligibility Criteria:
An eligibility criterion is one of the most important things you need to know before starting the foreign language course. Depending on the level of course that you are opting for, the eligibility criteria differ.
For Diploma, certification course, or UG course, you should have completed at least 10+2 or its equivalent from any recognized university.
If you wish to go for a PG course in a foreign language, you will have to finish your degree in the relevant language from a recognized university. Some colleges and universities have a minimum percentage of the degree to pursue a PG course. But not all colleges and universities ask for it. So, now it gets easy for you to decide the right course for you.
Admission process:
The admission process is going to be different for different colleges and universities. Some colleges conduct a common entrance test that is conducted by the authorities of the education board. Some colleges and universities will conduct a test of their own and provide admission based on the merit list. The last step of the admission process is a personal interview, which is mandatory for most colleges.
Course duration: 
The duration of any foreign language course depends on the level of course that you are choosing. The duration of the course varies between six months to three years. Diploma courses are usually for one year. It has two semesters of six months each. When it comes to certification courses in a foreign language, it varies between six months to one year. It depends on the language that you are choosing.
A degree in a foreign language course is going to be for three years. You will have six semesters, and each semester is six months long. Many universities offer a Master's degree in a foreign language, and it is two years. It has four semesters, each six months long. When it comes to Doctoral in a foreign language, it depends on several factors, and it can range from three years to six years. You will find more details when you choose the university from where you wish to get the Doctoral in a foreign language.
Fee structure:
When it comes to the fee structure, it depends on the university you are choosing and the language you wish to learn. JNU and DU will charge less when compared to the other universities in India. It also depends on the number of students that are applying for a particular course. If the foreign language you choose is tough, like Chinese, Korean, and Japanese, it will cost you high. Some simple languages like Persian and Arabic will cost you less and are offered by many universities as well. Any three-year course can cost you somewhere between three lakhs to five lakhs.
Foreign languages you can choose: 
When you are looking at the foreign language courses, you can choose from the below list of foreign languages.
Arabic
Bulgarian
Chinese
Mandarin
Croatian
Czech
Dutch
English
Esperanto
Finnish
French
German
Greek
Hindustani
Hungarian
Icelandic
Indonesian
Italian
Japanese
Korean
Maltese
Polish
Portuguese
Russian
Serbian
Spanish
Swedish
Thai
Vietnamese
You can pick any language and complete any level of course from the top universities in India.
Career Opportunities:
Attendant at hotels
Diplomatic Service Professional
Foreign Language Analyst
Foreign Language Trainer
Foreign Travel Adviser
Freelance Writer
Interpreter
Interpreter
Language Instructional Developer
Language Teachers
Public Relation Officer
A representative of Foreign Companies
Research Associate
Research Librarians
Textbook Author and Editors
Tourist Guide
Translator
Translator for Government Organizations
This is just a small list of job opportunities that you will get after the completion of a foreign language in India. There are many other job offers that you may receive based on your previous experience or your educational background. The demand for trained foreign language experts is very high, and hence you can expect an offer from any kind of organization.
Pay and Perks:
One of the most important things that you should know when you are planning to pursue a foreign language course is the pay and perks you will enjoy. Your pay is dependent on the organization for which you are going to work. If you are working on a marketing front or a personal relationships officer, then you will earn somewhere between Rs 30,000 and Rs 50,000. If you choose to become a teacher in the foreign language, you will earn a little less at the beginning. It is going to be somewhere between Rs 15,000 to 30,000 per month.
A translator job is one of the best job opportunities for you from job offers that you receive after completion of your foreign language course. You can earn based on the page like Rs 250 to 400 per page. That means you can earn as much as you work. It is your wish how much you wish to earn. Another highly paid job for a foreign language expert is an interpreter. They earn based on hours. You can make around Rs 2000 to Rs 4000 per hour. Your salary will again depend on how much you work.
How to get started with a foreign language course?
This is a very common question that many people have in their minds. A foreign language course can be applied by anyone, a student, a working professional, or a retired employee. Learning a new language does not have any sort of limitations on anyone. All you need to do is just choose how you wish to get started.
Some people like students or retired employees, a full-time course is a good choice. There are also a part-time course that can be taken up if you wish to complete two things at a time. This is a great choice for working professionals. Online foreign language courses are also a good option for working professionals. You can easily complete the course in your free time. The course duration will remain the same for an online course, part-time course, or full-time course.
Demand in the market:
The demand for foreign language experts is very high, but this is not a popular course. Not many people know about colleges or universities that offer this course. That is the reason there are very few students that complete the course every year. The supply does not meet the demand, and hence if you are pursuing this course, there are more chances for you to get a better job opportunity. The salary may be low initially, but it will increase as you get proficient with the language. You need to spend a few years learning the language in a better way.
Students who move to foreign countries find it very beneficial to know a foreign language in advance. It is your language that helps you to connect with more number of people, even in a foreign country. Also, if you wish to settle in any country, having prior knowledge of the local language can be very helpful. You need not have to learn a foreign language just to make a career with it.
So, if you are planning for a foreign language course, make sure that you are picking the course based on demand in the market and your future in that language. Not all courses are offered at the same fee, and also not all languages pay you the same. Your course fee, course duration, university, salary, and demand for the job will demand on the course you are choosing.