Most commonly, candidates select a course based on the scope of employment. This is one of the common mistakes they make in their life. While some people succeed following such an instinct and some of them fail. Following a specific course should be based on the skills and a dream and not just on the scope of employment.
In recent years, the number of courses and the type of courses has exceeded just two or three. It is not easy to select a particular type of course under any circumstances. One of the reasons is that most people do not even know the difference between the courses. However, they end up perusing some courses based on the limited knowledge they get hold of. Degree and diploma courses are two of the major courses which people peruse these days.
Diploma Courses Vs Degree Courses
Do you really know the real difference between the two? Both degree and diploma courses could get you a job and completing the course gets you a certificate of graduation and completion. So what is the difference? Do you have any idea? Are you going to consider any one of the courses after knowing the difference or are you going to randomly peruse a course? In this article, we will discuss these two courses and pour all the facts and differences between the two.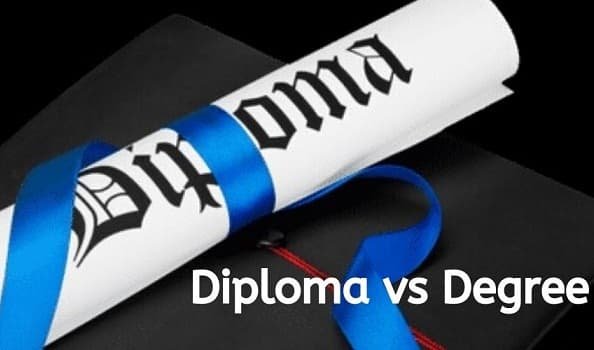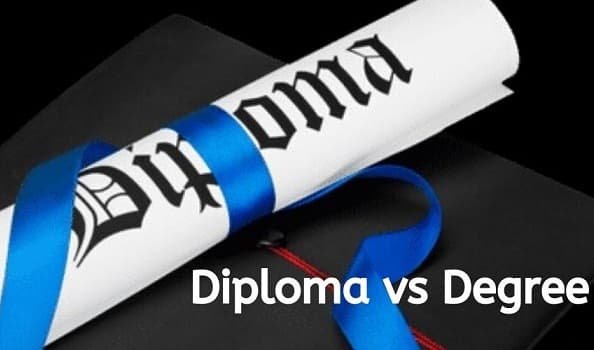 Before getting into the details of each course, here are some of the basic facts you need to know.
University 
A university is an institution that offers higher education and research to the enrolled candidates, and they have the right to grant any candidate an academic certificate based on merit.
UGC 
University Grants Commission (UGC) is one of the most important education boards of the Indian government. It coordinates, maintains, and determines the quality of education provided by all the universities in India. No university or higher education institution could survive without recognition and permit from UGC. UGC is the statutory body of the Indian government and no decision related to higher education could be made without their consent.
AICTE 
All India Council For Technical Education (AICTE) is an Indian government body that coordinates, determines, and maintains the standard of education provided by private institutions in India. In simple words, It is like a UGC for private institutes that offer technical education. The AICTE does almost everything the same way as UGC does it, it sets the norms, standard requirements, etc.
Both UGC and AICTE have the power to approve or blacklist a higher education institution or university in India today. No university/college/institution has the right to function without their consent. The certificates granted by colleges/university/college without UGC/AICTE approval is illegal and not acceptable anywhere in the world.
Now let us discuss the degree and diploma, there is a lot of difference between the two and we discuss each in detail.
What is a degree course?
A degree is a course that academic course duration of at least 2 and a maximum of 7 years. A degree course puts more emphasis on academics rather than on the practical part. To understand a degree course better, you could compare the subjects involved in each degree course. For example, B.Tech is a 4-year degree course that teaches the candidate subjects like chemistry, maths, physics, and specialized subjects based on the specific B.Tech stream the candidate has chosen. In the same way, MBBS is a five and half year course that teaches a candidate the general aspects of medicine.
Who can confer a degree certificate?
Only a university could confer a degree, to peruse higher education the candidate needs to confer a degree from a UGC approved university. Here is where a major fact kicks in. All the AICTE approved private universities are affiliated with a UGC-approved university. He/she graduating a course from an AICTE approved private institute affiliated to UGC approved university would get a degree certificate from the UGC approved parent university.
For example – there are more than a dozen different AICTE approved institutes under Anna University, Anna University is UGC approved university. As a candidate graduates any course offered by any of the AICTE approved institutes under the Anna University, he/she gets the degree certificate from the Anna University and not in the name of the institute.
Here, Anna University is the parent university and only this parent university has the right to grant a degree to the candidates in their affiliated institutes.
Degree course curriculum 
A degree course curriculum is designed in such a way that it provides an overview of several subjects in the course duration. The curriculum might also include the subjects that he/she might not be interested in. For example, computer science engineering course, in the first year of the course, the candidate has to learn subjects like physics, chemistry, mechanics, electrical engineering, drawing, etc. The instructed subjects and the specific subjects kicks-in only in the subsequent years. Most commonly, in the subsequent year, there will be a subject that you major in referred to as "specialization" and other subjects supporting it referred to as "electives".
This is how the curriculum of 95% of degree courses are designed. When it comes to a diploma, it is different. You could read it in the sections below.
Scope 
There are 4 levels of degree,
Associate degree – 2-year course
Bachelor degree – 3 to 4-year course
Master degree – 2-year course
Doctorate – 4 to 7-year course
Without graduating with a bachelor's degree, a candidate cannot peruse a master's degree, without graduating a master degree a candidate cannot peruse a doctorate. In simple words, a doctorate is the highest level of a degree course, it cannot be perused without graduating bachelor's and master's degrees.
Eligibility 
To enroll for any degree course, a candidate should have completed 12th from a government recognized education board. It could be a state or central government recognized board. Without completing and passing the 12th standard, a candidate cannot enroll in any degree course.
This is almost everything you need to know about the degree to distinguish it from a diploma course. Here is everything you need to know about the diploma course.
What is a diploma course?
A diploma course is a course that has a course duration of a minimum of 1 year and a maximum of 3-years. This type, of course, puts more emphasis on training a candidate in a specific field. The specific field depends on the diploma course the candidate has chosen to peruse.
Who can confer a diploma certificate 
Unlike degree courses, a Diploma certificate could be granted by a polytechnic, institute, or university. To grant the diploma certificate or to confer diploma, a polytechnic, institute, or university does not have to be UGC or AICTE approved.
Diploma course curriculum 
A diploma course is designed in such a way that the candidate could get basic theoretical knowledge on the subjects in focus, and, at the same time, extensive practical training on the subject in focus is offered to the candidate. The majority of the diploma course have on-the-job training and also apprenticeship. A diploma course focuses a majority of their curriculum on practicals and therefore more practical exams. For example, a candidate enrolled for a computer science diploma has a curriculum that revolves around programming language and computer hardware only. No other subjects or practicals are added to the curriculum.
This type of curriculum is what makes a diploma course shorter than a degree course.
Scope 
There are commonly two types of diploma courses.
Graduate diploma – stands almost equal to an undergraduate degree level
Postgraduate diploma – could be perused after graduating with a bachelor's degree.
Eligibility 
A candidate could enroll for a diploma course only if he/she completed 10th from a government recognized education board. It could be a state or central government recognized board.
When compared to degree courses, diploma course is comparatively less expensive and the course duration is shorter too. While the degree course focuses more on academics, a diploma course focuses mainly on practical training. If you read the above-mentioned facts, you will find out several other differences. However, as mentioned, it is actually academic knowledge v/s practical training that matters the most. A diploma holder tends to have more practical knowledge in a particular field than a degree holder. Therefore, diploma holders are more preferred over degree graduates
Factors for comparison
Degree
Diploma
Course duration
Minimum 2-years (associate degree) to maximum 7-years (doctorate degree)
Minimum 1-year to maximum 3-years
Pay scale
High
Comparatively less
Scope
Associate degree

Bachelors degree

Master degree

Doctorate degree

Full time, part time, or distant education

Graduate diploma

Post graduate diploma

Only full time course or regular course

Flexibility
Yes degree courses are flexible as they could be done as distant education or part time
Not flexible as diploma courses are regular or part time course
Eligibility
Minimum 12thstandard passed or diploma graduated
Minimum 10th passed
Admission
Yearly admission
Depends on the college/university/polytechnic regulation and norms

Commonly semi annual

Fees
Expensive
Comparatively less
Depth of knowledge
More as the course covers several subjects which includes specialized, elective, and general subjects
Less as the course covers only subjects related to the stream chosen. However, more practical knowledge in hand when conferred.
A postgraduate diploma degree is one of the most popular diploma course today, if you check the enrolling candidates, you find that a majority of them are degree graduates. One of the reasons for such a trend is because the postgraduate diploma course is comparatively easier than a master's degree and it is cheaper than a master's degree. In simple words, a postgraduate diploma degree is an alternative to the master's degree. Today, some of the top industries have added PGDM to a few of their employee job qualification list.
While degree course is considered to be a higher level of educational qualification, most degree holders lack practical knowledge on a specific field when graduated. On the other hand, a diploma holder is very valuable as he/she would have a better understanding and practical knowledge on a particular field.
Now, you know everything about the diploma and degree course. While the course duration, scope, flexibility, salary, fees, etc., differ. A majority of the people consider diploma inferior to degree courses. This is a wrong assumption, both degree and diploma course has almost the same job scope. While there is no diploma course that is equivalent to degree course, it does not mean diploma is inferior. While degree course focuses on academics, diploma course focus on practical training, peruse any course and you are eligible to get any kind of job. The differences were pointed out so that a candidate could select an appropriate course he/she likes instead of blindly joining a course based on limited knowledge on the course. Both the courses have merits and demerits, consider it carefully and move forward.