CFA stands for chartered financial analyst. After completing this course, the candidates can get hired for different jobs which include relationship manager, risk manager, portfolio manager, research analyst, consultant, chief executive, etc. On the other hand, CMT stands for chartered market technician where aspirants can qualify for this program and can get hired in inter-market analysis, risk management, behavioral finance, etc.
Let's understand these two in detail.
What is CFA?
CFA or chartered financial analyst is the one that offers CFA charter. It is known as the gold standard of investment management and financial analysis. It is a rigorous certification course that helps in bringing added value to the CFA charter and assists the finance experts in developing expertise in different areas of finance.
This includes equity research, financial analysis, financial modeling, and other related things. It is known for offering validation to expert abilities and enhances well the career prospects for experts.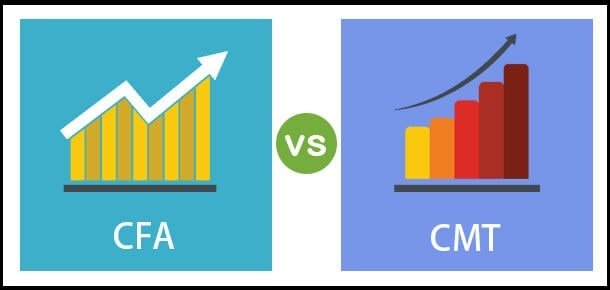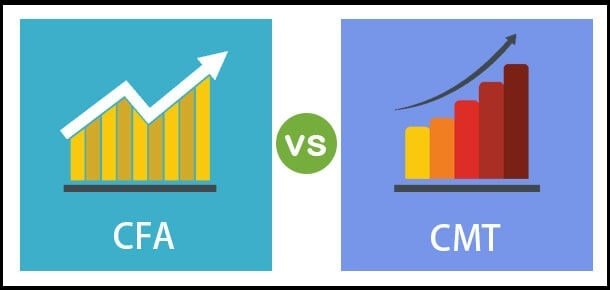 What is CMT?
CMT or chartered market technician is proffered by the CMT association for assisting financial experts in developing the technical analysis skills and acquiring a detailed understanding of theory part and practical application in different contexts.
Various other certifications offer exposure for technical analysis. This certification helps in offering a broad base knowledge of technical analysis principles and knowledge of expert ethical frameworks for marketing techniques. It is known as a globally recognized certification that helps finance experts to look out for the finest working opportunities in various parts of the world.
Eligibility requirements for CMT
For chartered market technicians, you need to have a bachelor's degree in business, economics, finance, or other related areas. Additionally, you must have three years of working experience in the profile of investment management.
Eligibility requirements for CFA
For qualifying as a chartered financial analyst, you must have a bachelor's degree or should be in the final year of the bachelor's degree. You must have 4 years of professional working experience or four years of higher education. If you have both things, then this will be an add-on.
Why choose CFA?
Chartered financial analyst course is a highly competitive certification course. It is known for assisting professionals in developing expertise in different finance areas. This includes portfolio management, equity research, financial analysis, or investment management.
This can offer great credibility to finance experts' profiles and opens endless opportunities in the global era. Even the investment banks rate this position of CFA next to MBA's when it comes to hiring amazing talent. CFA is known as the best credential in finance and business around the world.
Why choose CMT?
CMT or chartered market technician is known for offering international recognition and finance experts develop this course for professionals. This sets itself apart from most of the other technical analysis credentials. This technical analysis is considered widely nothing more than a method of representing the financial data in figures or charts and interprets everything together.
However, this CMT is known for dealing with technical analysis on a different level. The experts are known for developing a better understanding of the math fundamentals of technical analysis and learn more about price patterns and price relationships. This makes them ideal for a professional role as technical analysts and helps them in turning good traders.
Let's know the difference between CFA and CMT
Organizing body: Under CFA, the examination is controlled and managed by the CFA Institute of USA while in CMT the exams are controlled and managed by the chartered market technician association of USA.
Exam pattern: For turning out as a qualified CFA, you have to pass three levels, level 1, 2, and 3 while for becoming a qualified CMT, you need to pass 3 levels. Level 1, 2 and 3
Course duration: In CFA is the aspirants can pass all these 3 levels in the first attempt, and then they get the opportunity of completing the course in 4 months while under CMT, the candidates take 3 months for clearing all the 3 levels successfully.
Syllabus: The CFA syllabus includes topics like quantitative methods, financial reporting & analysis, ethics and professional standards, economics, derivatives, Corporate Finance, Fixed Income, Equity Investments, Alternative Investments, Portfolio Management, and Quantitative Methods.
On the other hand, the CMT covers statistical and trend analysis, Classical Methods, Chart and Pattern Analysis, Portfolio Management, Chart Construction, Assets Relationship, Selection and Decision Making, Risk Management, Behavioural Finance.
Fees of the exam: The total fees for qualifying CFA comes around 2, 00,000 to 3, 00,000 INR. This cost includes exam fees, enrollment fees which vary based on the registration time. On the other hand, the CMT fees come from 1, 20,000 to 2, 00,000 INR while for non-members it is around 1, 50,000 to 3,00,0000 INR. This cost includes exam fees, enrollment fees which may vary based on the registration time.
Job profile: After completing CFA, you can become a wealth manager, financial consultant, investment analyst, strategic analyst, portfolio manager, etc. While after the CMT course, you can be a hedge fund analyst, trading analyst, investment manager, portfolio risk manager, etc.
Difficulty level: The CFA examination is very difficult. Around 10% of candidates can become CFA charter. Moreover, the CMT is not that difficult as CFA. The passing rate goes up to 70%.
How to prepare for CFA exams?
For preparing for CFA exams, the institute of CFA advises the candidates to suggest at least 300 hours for every level. One must focus on the LOS (learning outcome statement) from the CFA institutes as they are known for detailing exactly what is expected on the examination day. The preparation classes of CFA can easily assist, as it helps in practicing questions. Additionally, one can take mock examinations for getting used to the whole pattern of the CFA exam.
How to prepare for CMT exams?
The CMT association suggests the candidate's study for at least 100 hours for preparing level 1 examination, for level 2 140 hours, and level 3 160 hours. One needs to study properly for maintaining the norms. Stick to the study plan and stay out of distraction.
Exam format of CMT
Level I include 100% multiple-choice questions and the duration is 2 hours 15 minutes.
Level II includes 100% multiple-choice questions and the duration is 4 hours 15 minutes.
Level III includes essay and short type questions and the duration is 4 hours 15 minutes.
Exam format of CFA
Level I: This is the 1st exam that students give. The candidates in level 1 have to focus on tools and concepts which get applied to valuation and investment management. This exam is conducted in 2 sessions. Each session is for 2 hours and 15 minutes. It includes 180 MCQ questions. This exam is taken in 2 shifts and has 90 questions each
Level II: It is the second exam that students can give after passing level 1 of CFA. At this level, the candidates have to do assets valuation. You will get a total of 88 MCQs, divided into 2 sessions. The duration set is 4.5 hours. This level is also done in 2 sessions, morning and evening.
Level III: It is the last level which students have to clear for becoming a CFA charter holder. This level revolves around basic knowledge of finance, investment valuation, comprehension, or both. This level focuses more on wealth planning and portfolio management.
This exam includes both essay types and short questions. The duration is 4.5 hours long. The exam is taken in 2 sessions. The morning session includes 10-12 long questions, where you can get case study questions or hypothetical situations. In this students have to explain or suggest some measures for handling the same. In the noon session, the students get 44 MCQs.