You can pursue B.Tech (Bachelors of Technology) in various fields. One of the popular streams for B.Tech in Food Technology. In recent times, this domain has gained a lot of popularity in India. Just like any other B.Tech Program, this course is also divided into eight semesters, and it is covered in 4 years. The course teaches the students about the complicated concepts involving the theory as well as practical behind the Food Science. This course also covers various aspects of food technology, which include Nutrition Science, Food Packaging, Food Manufacturing, Storage, and Processing as well.
During the course, the student has to attend theoretical classes, practical classes, workshops, and internships. The subjects in the course are related to food manufacturing techniques employed in the commercial industries. They also impart knowledge about the considerable batch preparations along with the technology to improve the shelf life of the food. Today, there are many food manufacturers in India, and the popular is dependent on processed food. In such a case, it makes a lot of sense to pursue a career in food technology. The scope is huge, and the returns are also handsome.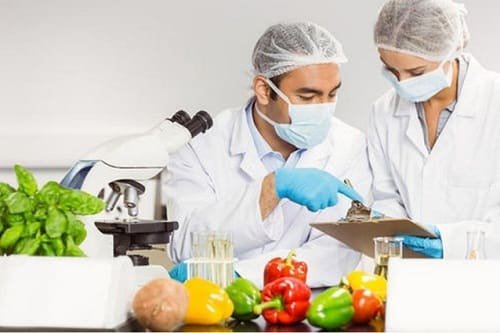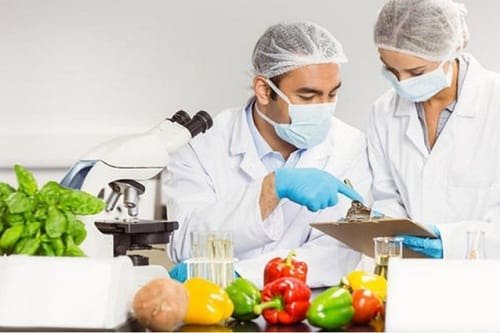 Just like any other B.Tech Program, you are eligible to take admission in B.Tech Food Technology after 10+2. A lot of universities have started offering this course, so you have a lot of options there as well. The eligibility criteria vary depending on the university but on average, and the universities demand 50% to 60% marks in three core subjects. These three subjects are Physics, Chemistry, and Mathematics. Having computer science may be an add-on for you since most of the assembly lines are controlled via sophisticated computers.
Let us move ahead and check out more information about this course.
Course Summary
B.Tech Food Technology is an undergraduate program that teaches the candidate about the application of science and technology in the food industry.  The food industry is heavily dependent on technology, and a lot of engineers are employed in the industry. The food starts to degrade as soon as it is harvested, and the technology plays a pivotal role in ensuring that the food reaches the consumer in a fresh state.
The course gives you in and out of the food industry, and it also teaches you about the implementation of various techniques in processing the food. You learn about different subjects that deal with the chemistry of the food, fluid mechanics, food microbiology, food quality, thermodynamics, processing of various types of food, sanitization, air conditioning, and waste management.
B.Tech Food Technology Course Details
| | |
| --- | --- |
| Course name | Bachelor of Technology in Food Technology |
| Degree | Bachelor of Technology |
| Duration of course | Duration of this course is 4 years, which is divided into eight semesters |
| Average course fee | B.Tech Food Technology course average course fee ranges between 20,000 rupees to 1, 20,000 rupees per semester. |
What Is B. Tech Food Technology?
As mentioned earlier, B.Tech Food Technology is a course that has been designed to teach students about the food processing industry. With technology, automation has replaced the hands, and the good is not processed traditionally anymore. This course stresses the use of modern technology in the food processing business, and it teaches you about the various aspects of the solution. There are many job options after you complete the course. You can join multiple organizations are posts of Production Manager, Food Engineer, Food Processing Engineer, Food Storage Manager, Food Logistics Manager, Nutrition Specialist, Food Executive, and other analytical science-related roles. You can even go for higher education programs like M.B.A or M.Tech.
B.Tech Food Technology is a four-year course which has eight semesters. You get to learn about various concepts of physics, chemistry, and the food industry while you are studying this course. Every subject that you are going to study here will be linked to the food industry, and it will teach you about how things are managed on a production line. You can get a job in the food industry, and if you would like to be a specialist, then you can go for M.Tech as well. If you would like to see yourself in a management role, then it is better to pursue M.B.A. in a similar field. You can quickly get a job in the food industry after completing your graduation. During the internship, you can acquire various skills required to work in the industry.
Eligibility for B.Tech Food Technology Course
Those who want to enrol in the B.Tech food technology course need to pass the minimum eligibility criteria. The criteria may be different from one university to another, and hence, we have listed the average requirements from the universities. The eligibility criteria for this course are –
The candidate needs to complete 10+2 or equivalent from a recognized state or central board.
Anyone who is either waiting for the result or who has got the result can apply for the course.
Candidates with science stream can only pursue B.Tech in Food Technology. Candidate must have Mathematics and Physics to pursue the course.
Apart from the eligibility criteria listed above, the candidate should also have Biology/Chemistry or Biotechnology.
Universities also have requirements regarding the minimum marks scored. The percentage can vary between 50% and 60% minimum.
The candidate would need to appear in the entrance exam, and he would need to secure admission on merit basis.
Many institutes conduct an entrance exam for the course. This exam serves as an essential evaluation criteria for the student. The mode of entrance exam may vary from one university to another. Below are some of the popular entrance exams that are conducted for admission to B.Tech Food Technology.
JEE Main
BITSAT
NATA
SRM JEEE
AMITY JEE
UPESEAT
AP-EAMCET
You need to meet the eligibility criteria to appear in the exam. Once the results are announced, you will be called for counselling sessions where you can choose your streams. You need to prepare well for your exam, and it is always better to go through previous year questions for the entrance exam that you appear in.
Syllabus for B.Tech Food Technology Course
As mentioned above, the B.Tech Food Technology course is a four years course and classified in eight semesters.The detailed syllabus for the B.Tech Food Technology course is given below.
Year 1
Semester 1
Semester 2
Applied Chemistry
Applied Chemistry – II
Applied Mathematics – I
Applied Physics – II
Applied Physics
Behavioral Science – I
Communication Skills
Business Communication
Elements of Mechanical Engineering
Electrical Engineering
Introduction to Computers
Environmental Sciences
Life Sciences/Ethical Practices
Introduction to C
Mathematics – II
Year 2
Semester 3
Semester 4
Applied Mathematics – III
Behaviour Science – III
Behaviour Science – II
Communication Skills
Biochemistry
DBMS
Electronics Engineering
Fluid Mechanics
Microbiology – I
Food Chemistry
OOPS – C+++
Microbiology – II
Principles of Food Processing
Principles of Thermodynamics – II
Principles of Thermodynamics – I
Statistics of Biology
Written Communication
Year 3
Semester 5
Semester 6
Career Planning
Business Plan Development
Food Analysis
Engineering properties of Food Material
Food Engineering
Food Additives
Food Quality – Analysis and Assurance
Food Engineering
Internship
Plant Sanitization
Processing of Fruit & Vegetables
Processing of Meat, Poultry& Fish
Processing of Milk & Milk Products
Processing of Pulses, Oilseeds &Cereals
Refrigeration & Air Conditioning
Project Management
Village Adaptation
Year 4
Semester 7
Semester 8
Food Beverages
Career Development
Food Biotechnology
Elective Subject – I
Food Equipment & Plant Design
General Economics
Food Packaging
Major Project
Human Nutrition
Placement Preparations
Industrial Waste Management
Minor Project
Plant Sanitization – II
Technology of Flavours, Spices & Plantation Crops
Tech Food Technology Course Career Opportunities
Below are the details of some of the jobs that you can pursue after you complete your B.Tech.
People working in this field are responsible for analyzing the chemical structure of the substance. This job family is prevalent in drug development, toxicology, and pharmaceutical companies.
We are sure that this doesn't need a lot of introduction. People have started adapting to a healthy life, and hence the dieticians get a lot of attention. You can associate yourself with an organization, or you can work as a freelancer dietician.
Food and Beverage Executive
In this job family, you will be responsible for commercial establishments dealing with food and beverages. The most common example is a restaurant. You will be responsible for purchasing and storing the food properly. You may also be asked to train the people with correct cooking methods. These people also ensure health standards and other legal aspects. It is quite a high paying job.
Under this domain, you will be responsible for ensuring the safe and efficient implementation of the manufacturing process. Here, you get to work very closely with the technology, and it is a designation for you if you would love to stay close to the technology. You need to have a good knowledge of mechanical and electronic systems to work in this job family.
People in this job family are responsible for taking care of the nutrition of the person. They need to understand what a balanced diet would include, and they also promote healthy eating. A lot of vitamin and supplement manufacturers hire nutritionists.
Product Development Scientist
Under this designation, you will get to work with the customers as well as the specialists. Product development folks would often seek feedback from the customers, and they would work with their organization for the implementation of the input.
In this job family, the person is responsible for the plant's operation. If you would like to work as a production manager, then you should have a good knowledge of project management. You may also be responsible for managing the workforce. This job requires you to be very accountable, and it is also a high paying job.
Quality Assurance Engineer
As the name suggests, here you will be responsible for the overall quality of the production. You will have to ensure that the raw materials are of good quality, and you will also be responsible for checking the quality of the final product.
Regulatory Affair Officer
This is one of the highest paying jobs that you can get after pursuing B.Tech in Food Technology. Here, you are responsible for adherence to internal and external policies. You will have to take care of health standards as well as government policies and legal frameworks.
The government has permitted to operate micro-breweries. These setups require technical brewer to handle the production setup. It is quite an exciting job, and you can certainly work as a professional brewer. You will be responsible for the production and safety of alcohol.
These are some popular jobs that you can apply for after completing your graduation. There are various options in government as well as the private sector. Many food giants like Britannia, Dabur, Weikfield, Amul, Haldiram, MDH, etc. hire engineers who have completed their B.Tech in Food Technology.
Also Read: BTech Biotechnology Course: Eligibility, Syllabus, Career, Duration
Salary of Food Technology Engineer in Different Job Roles:
| | |
| --- | --- |
| Role | Average Salary per Annum |
| Analytical Scientist | INR 2 to 4 lakhs |
| Dietician | INR 2 to 5 lakhs |
| Food and Beverage Executive | INR 4 to 6 lakhs |
| Food Technologist | INR 3 to 4 lakhs |
| Nutritionist | INR 2 to 4 lakhs |
| Product Development Scientist | INR 3 to 4 lakhs |
| Production Manager | INR 6 to 8 lakhs |
| Quality Assurance Engineer | INR 3 to 4 lakhs |
| Regulatory Affair Officer | INR 10 to 12 lakhs |
| Technical Brewer | INR 4 to 6 lakhs |
These are the average salary of food technology engineers. They can opt for different roles. Also, many factors would determine the salary of the person. The location, prior experience, and the company are some of those variables. All the designations can be rolled up in the job families listed above. You can even start your own business after completing engineering.
List of the Leading B.TechFood Technology Engineering Colleges in India
Amity University
Bannari Amman Institute of Technology
Central Institute of Technology
Devi Lal State Institute of Engineering and Technology
Eternal University
Gautama Buddha University
Guru Jambheshwar University of Science and Technology
Haldia Institute of Technology
K. Gujral Punjab Technical University
Islamic University of Science and Technology
Kalasalingam University
KL University
Kongu Engineering College
Laxminarayan Institute of Technology
Lovely Professional University
Mahatma Gandhi Chitrakoot Gramadaya Vishwavidyalaya
Maulana Abul Kalam Azad University of Technology
Mewar University
North Maharashtra University
OPJS University
Raja Balwant Singh Engineering Technical Campus
Rajalakshmi Engineering College
Shri Mata Vaishno Devi University
Vignan University