A student, especially someone who has picked Science after their 10th standard, has many doors open in our country. There are many superb and unique courses to choose from, and one also gets to see a lot of choices when it all comes to their electives. There are truly a lot of fields open to exploring as many people choose to become scientists and work tirelessly on their innovations. With that, it is truly believed that Science is magical. Hence, if you work hard, you will see a lot of growth as you pick Science.
However, when people are done picking Science, they often think about pursuing many degrees for their graduations. Out of the two most known degrees, we have the Bachelors's in Technology and the Bachelor's in Science. Most people are here who are confused and wish to know which degree they should aim for in order to realize all their dreams. Therefore, we are here to discuss many aspects of both these degrees with your day. We have also mentioned many advantages that are associated with the degrees.
| | | |
| --- | --- | --- |
| Aspect | BSc | BTech |
| Overview | Emphasizes theoretical knowledge and scientific principles in a specific subject area. | Focuses on the application of engineering principles and practical skills in a specific discipline. |
| Core Subjects | Science-based subjects such as Physics, Chemistry, Biology, Mathematics, Computer Science. | Engineering subjects specific to the chosen branch, such as Electrical, Mechanical, Civil, Computer Science, etc. |
| Career Opportunities | Opportunities in research, teaching, technical support, science-related industries, and some entry-level positions. | Wider range of career opportunities in engineering, manufacturing, construction, software development, consulting, and other related industries. |
| Industry Demand | Varied demand depending on the specialization. Demand may be higher in research institutions, laboratories, academia, and some niche industries. | Demand depends on the specific engineering branch. Generally, there is a high demand for engineers in sectors like IT, manufacturing, infrastructure, automotive, and more. |
| Salary Range | Entry-level: INR 2-4 lakhs per annum; experienced: INR 5-10+ lakhs per annum. Salaries may vary based on specialization and industry. | Entry-level: INR 3-6 lakhs per annum; experienced: INR 6-15+ lakhs per annum. Salaries may vary based on specialization, industry, and demand. |
| Skill Set | Strong theoretical knowledge, analytical thinking, research skills, data analysis, scientific reasoning, problem-solving. | Application of engineering principles, technical skills, problem-solving, design and analysis, project management, teamwork. |
| Higher Education Options | Opportunities for pursuing MSc, PhD, or other research-based programs in the chosen field. | Opportunities for pursuing MTech (Master of Technology), MBA (Master of Business Administration), or other specialized programs in engineering or management. |
| Entrance Exams | Admissions based on merit or entrance exams conducted by universities or colleges. | Admissions typically require clearing national or state-level engineering entrance exams like JEE (Joint Entrance Examination), BITSAT (Birla Institute of Technology and Science Admission Test), etc. |
| Research Opportunities | Opportunities for research in various scientific fields, such as physics, chemistry, biology, mathematics, and computer science. | Opportunities for research in engineering, technology development, innovative solutions, and advancements in the chosen engineering branch. |
| Focus on Practical Training | Less emphasis on practical training; more focus on theoretical concepts and scientific principles. | Emphasis on practical training through laboratories, workshops, industrial visits, internships, and real-world engineering projects. |
| Professional Engineering | Not eligible for professional engineering licensure (PE) in India. | Eligible for professional engineering licensure (PE) in India after obtaining the required experience and clearing the engineering licensure exams. |
It is also well known how these degrees help you build a good reputation in society. But we will focus on everything briefly so that you can get all the gist of it. Let us discuss everything that we have on these degrees below –
Which is Difficult? B.Sc or B.Tech?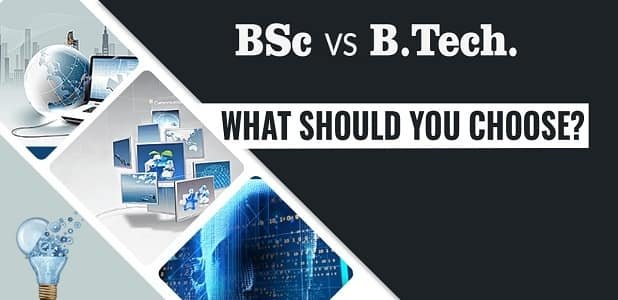 If you truly want to bring these two fields to comparison, we will be honest with you here. A Bachelor's in Technology is going to be much more difficult than a Bachelor's in Science; this is because when you choose Bachelor's in Technology, you will find yourself in a much hectic schedule. A career in engineering is more practical and application-based. This is why one could find engineering students having such a tight schedule that they are required to focus only on their academics. However, when one chooses Bachelor's in Science, he/she will find themselves in a place where the schedule won't be that hectic. However, with laboratory practicals, they will have to spend the same amount of time in their institution compared to the Engineering Students. Therefore, when you head to choose a Bachelor's in Science, you will have to make sure that you undoubtedly start spending a lot of time learning things. Because if you don't, you will have to worry a lot when you head for a Master's degree.
Why Must One Choose Bachelors in Technology?
A Bachelor's in Technology, commonly known to be an undergraduate degree in Engineering, is going to offer you a lot of things and learning content. People tend to pick engineering as they develop their love for mathematics from a young age. Mathematics is surely a subject that has led to most of the scientific discoveries all over the globe. However, to be an engineer, you will need to have many things other than your love for mathematics. The field will require you to have a high intelligence quotient along with your logical skills.
Nonetheless, mathematics will help you in your way, and once you start loving the subject, you will start finding solutions to many other problems in your life. The choice you make that will lead you to become an undergraduate in Engineering depends a lot on the subject you pick as you finish your 10th standard in school. To pursue a Bachelor's in Technology, you will surely need to pick mathematics over biology, commerce, and arts. Therefore, please know that you will have to set your goal towards becoming an engineer way early in your life.
Advantages of pursuing Bachelors in Technology:
There are massive advantages you can enjoy by picking a Bachelor's in Technology. We shall discuss them all below –
A Bachelors's in Technology is going to open innumerable doors and paths for you. After all, there are a lot of fields to choose from under the discipline of Engineering. Other than that, many engineers choose to open their own companies and become the innovators of their products and services. Hence, you can also do that by understanding the core concepts of engineering. With this, you must choose to start your own thing if you have amazing application-based skills and the required knowledge.
If you choose Computer Engineering or say software engineering to be the field of your career, you will get to enjoy immensely paying jobs. The demand for such engineers is never diminished. Other than that, most of these engineers also move to the IT industry to find a job that pays them enough to lead a high-end lifestyle. You will be required to go to your office and come right back. This way, you won't have to move a lot from one place to another and only give your best in your organization.
Most Engineers also find well-paying jobs as they choose to move out of the country. There is an enormous demand for professionals in many developed countries. These countries pay you so much that you are able to create a lifestyle that you had always wanted. Additionally, the luxury of having job security is something that each individual would wish for in his/her life. However, you will have to be highly diligent and pass many entrance tests in order to be eligible for such ventures. Therefore, you must focus on your basic knowledge from the beginning.
Many Engineers also wish for corporate life. As they choose to develop their skills in Finance, many people tend to go for IIMs and other well-known management institutes of the country. from this, you would know the variety of paths that engineering is going to open. A degree in engineering is surely not essential to be eligible; however, you will indeed shine bright amongst others. Other than that, you will also tend to perform way better than other candidates as your hold in mathematics and logical reasoning will help your surf through everything.
Why Must One Choose Bachelors in Science?
A lot of Biology students who pick Biology in their school after finishing their 10th standard Education are known to pick an undergraduate degree known to be Bachelors in Science. However, there are a lot of subjects that one can choose from after picking a Bachelor's in Science. These subjects can even be Physics, Chemistry, or Mathematics. So the overall scope of Bachelors in Science is not just limited for Biology students. You just need to take Science subjects in your school after 10th, and you will be able to pursue courses under this discipline.
There are also many divisions under Biology, which include subjects such as – Botany, Zoology, Anthropology, Biotechnology, and much more. Hence, choosing a Bachelor's in Science is going to let you choose from a lot of science subjects as well as their divisions. If you wish to go with this degree, you will indeed have to pick Science after the 10th standard. This is because a Bachelors in Science is not something that is offered to students who pick commerce or Arts. Other than that, you should be a candidate who is willing to spend a lot of time studying a lot of concepts.
Advantages of Pursuing Bachelors in Science:
Since there are indeed a lot of advantages when you pick Bachelors in Science, we have listed all of them for you today. Let us look at them below –
The things that you learn in Bachelor's in Science degree will help you immensely as you move towards your Master's degree. One cannot get a job directly after being done with their B. Sc, which is why they have to focus a lot on their future choices. Many people go on to do a Master's in Science. However, one must take advantage of their Bachelors in Science degree. This way, they move ahead with their academics; they become capable of understanding everything fully.
A Bachelors in Science degree will help you a lot when you pursue to become a professor or an educator. Many people choose to go with this degree as they wish to become professors in reputed Science Colleges. There are even many professionals in Nationally renowned Institutes such as Delhi University who started their careers by doing a Bachelor's in Science. With the immense learning opportunities that come along, you will be surely benefitted as you try your best to landing as a professor.
Probably one of the most well-known jobs in India is that of teachers in schools. You will find that many of the teachers in your school are also the people who had done their Bachelor's in Science and then moved on to do a Bachelor's in Education. With experience, these teachers make their own place in the school and get to teach a lot of different students from middle school as well as high school. Not only does this job pay well, but it is also known to be highly reputed. After all, teachers are looked upon as amazing people who show light to all their students for their careers.
After being done with your Bachelor's in Science, you can continue for a Master's degree and even a Ph.D. With this, you will be able to get a stipend for your own research, which will help you focus on your own scientific goals pretty well. As researchers, you will get to serve a lot to your field, and you might even come up with your own discoveries as you go ahead to be on the way. With that, you will also be able to create a chance of being a flag bearer of change in the whole society.
Decision Making between Bachelors in Technology and Bachelors in Science
When you are done gauging your focus and inclination towards a particular field, you will get a clear idea about how and where you want to move further. However, for some people, the decision could be difficult. In our work today, we have given you the details of everything that you could know. We have also tried to describe all the advantages that you will be able to enjoy as you move towards a particular course. However, if you are still doubtful or find yourself in a dilemma, you can try reading more about everything.
But we still believe that a person or a candidate will be able to know everything when he/she moves on to analyze their interests and know more about their focus points. Other than that, you should try imagining your future. If you wish to develop a career that allows you to be more practical and have an application based job, then you should pick Bachelors in Technology. On the other hand, when and if you are ever thinking of picking a course that will enable you to become a researcher and is more subjective than a Bachelors's in Science will be perfect.
We would mention that one must not feel stressed while they choose their subjects. Additionally, the candidate should also not think too much and only choose a particular field because of peer pressure. After all, it is about your career, and you should do and pick the things that will be helping you. With such thinking, you should move ahead and pick something which will help you a lot in the longer run. Both Bachelors in Science and Bachelors in Technology will help you build a good life; however, your interests should incline with your career choices at all times.
Conclusion:
As mentioned earlier, both of these fields will be bringing in amazing fortune in your life. However, you should be willing to work hard at all times without acting in a way that will harm your knowledge and thinking. Other than that, if you think that a Bachelor's in Science is easier than a Bachelor's in Technology, then you are indeed right. However, you should surely not just focus on the ease that you will get to enjoy. Building your career will need you to work hard from the beginning. So, try understanding and practice your learning so that everything falls together in place.