Botany courses deal with the scientific study of plants and it is a rising field among students who are willing to learn about the physiology of plants. It is a 3-year course of an undergraduate degree. Bachelor of Science in botany is focused on plants, algae, fungi, and more about anatomy.  Students who studied subjects like physics, chemistry, and biology in their higher studies (10+2), are eligible to enroll themselves in this course. While learning in this field, you will be focusing on the working of elements to grow a plant, how our planet plays an important role in the growth and what are other essential factors grow a plant.
Interested candidates usually find themselves passionate about forestry and ecology. Most of the pursuers can start this course after their class XII. This course is going to cover academic activities regarding classroom sessions with the practical concept. There are special laboratories designed to grow plants, fungi, and algae. Students will learn in theory from the classroom session whereas they are going outstations for the projects and having a deep understanding of essential factors for sure. There will be a real-life experience that every student has to learn while passing through this field.
Importantly, students find this subject interesting because there are lots of impressive things to explore. There are lots of exotic plants that you will find in specific laboratories only. If you want to be a researcher like a conservationist, ecologist, or botanist then this is the perfect field to start. Students from India might have this doubt that "is there any scope in botany courses" or "what kind of things students deal in botany syllabus" then we have a complete guide to give you all the essential detail. Below are all the aspects that you might be looking around –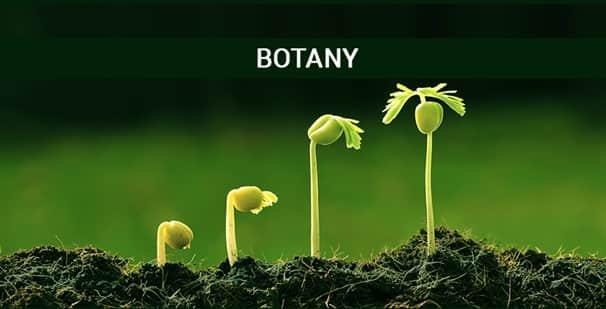 Botany Course Syllabus
As botany is a three-year-long course and it is divided into various parts, you will learn basics in the beginning and move to essential factors of the plant which plays a key role in genetics. This course is divided into six terms so you can check out all the vital topics and syllabus to understand how you will grow in this course.
The first year in Bachelors of Science in botany is all about learning of –
Environmental Science
Physics, Statistics, and probability
Essentials of Chemistry for Biosciences
Cell Biology
Microbiology
University Level elective subjects
Genetics
Environmental biotechnology
Labs
You will be learning about the experiments, genetics, and cell structure in the first year. Physics plays an important role in learning about the growth of a plant and fungi. With the passing year, you will get into something deep about the growth of a plant. For an ecologist, the second-year subject will be slightly interesting.
The second year in botany is all about learning of –
Medicinal Botany
Anatomy of Angiosperms
Mycology and Phycology
Food Microbiology
Genetic Engineering
Biomolecules
University electives
Plant Physiology
Stress biology/Enzyme technology
Developmental Biology of Plants
Archegoniate
Labs
Once you complete the second year, you will learn about how food grows and what are properties attained about a fruit or vegetable. The same factor applies to herbs and their properties. After learning this, you will be focusing on metabolism factors.
The third year in botany is all about learning of –
Plant Biotechnology
Plant metabolism
Bioethics and Biosafety
Phytopathology
Economic Botany
Bioinformatics
Intellectual Property Rights
Plant Ecology
Plant systematic
Plant diversity and human welfare
Genomics
Analytical Techniques for plants
Projects
Labs
This year, you will have to create projects and understand the ecology of plants. Creating reports about the growth, focusing on the intellectual properties right and their metabolism will be the most important thing here. Once you complete this course, you can find yourself highly intellectual about the growth and every essential factor of a plant.
Eligibility Criteria
Anyone who is willing to enroll for botany courses in B.Sc. can find that there are two essential eligibility criteria that you have to meet. As you are willing to get a good job or better salary then the government run institutes are highly efficient. They are going to provide better future securities but they have limited seats so the eligibility criteria vary in that factor. The two basic requirements are –
Completed higher education (10+2) studies.
Must have studied chemistry, physics, biology and mathematics.
As the above mentioned are intermediate levels, you should have scored pretty good marks. For the compulsory subjects, you must be scoring 50% or higher to have a reputed institute for better studies. As you choose a better college, university or institute, chances of getting better placement increases. So it is up to you that how much you have scored in the 10+2 exams. If you are not eligible due to lesser score, choosing a less reputed institute might not get you what you are aiming.
With that said, most reputed institute have an entrance exam on their level which checks your eligibility after the score. If they find that you are eligible, there will be an interview round to enroll. For a bonus tip, we suggest that you try scoring better and aiming 60% or more for a better chance of getting admission in desired institute.
The top ten institute of botany in India start their session in July to August time. So, it will be a great opportunity for 12th pursuing students to focus on studies. The 2020-2021 session is pretty slow due to the pandemic and laboratories are not in use. But, you can have a better start with better score. There is a great opportunity for the 12th pursuing candidates and they must seize the opportunity in this time.
Bonus tip –Top institutes have top-tier level laboratories and they have lots of things that you can explore. As botany field is mostly about exploring new stuff about plants and their fundamentals, you should try cracking the entrance exam for a better future.
Botany Career Options
In the upcoming years, there are new jobs available for botany candidates. If you are a graduate of B.Sc. in botany then you can find a range of jobs. For the current time, the below mentioned are all the great choices that you can explore your career in –
Botanist– You will study plant, their growth, their structure, growth pattern, and essential factors about health. It is a field where you will be talking about improving health and finding new diseases that can kill a plant. Even, you have topics like herbs, medicine, and more.
Horticulturist – The rehabilitation work of forest and bushes is part of this job where you will be restoring forests. You will take samples, collect data, learn about roots and many other factors to protect a forest and plants' health.
Microbiologist – Studies about organisms, all the infecting agents, and other essential micro agent is part of this job. You will be taking samples and checking them for the good and bad parts.
Taxonomist&Plant Biochemist – In these two jobs, you will have quite similar work where you will plant based on their biochemistry. The structure of the plant, its growth pattern, and other important factors are taken into consideration in this job.
Palaeobotanist – candidates who love to explore will love this job because it is all about fossilized plants. Remaining plants tell a lot about their age, type, and reason for death so you will explore more about the remaining trees, plants, and herbs.
Weed Scientist- Study related to drugs like weed or marijuana is quite a fascinating job. You are going to check the health of plants, their gender as marijuana plants have gender orientation, and more about the quality. You will be testing the THC and CBD level present in weed.
Plant Pathologist – if you want to learn about the causes of diseases to plant due to the hosts, pathogens, and environmental changes then this is the perfect job for you. The focus is on plant health and how it is growing with the infection.
Plant Researcher- Finding plants in new places and checking the reason for existence in the new area is the job of a plant researcher. The study of breeding and physiology is on focus on this job. It is quite a popular job option.
Conservationist – There are numerous plants that are dying and their species is about to end. In order to prevent those plants, conservationist plays an important role. You will save plants from dying and conserve them in the perfect conditions.
Consultant in Farming – Farmers usually find themselves in numerous issues due to poor weather conditions, poor quality of land, or less farming. You will help them by taking samples and giving solutions based on what is important for them.
These are all the jobs that you can easily find after completing studies in botany. You can get great salaries after choosing this field but make sure that you choose a popular institute for better placement and earning.