It is a demanding course in the field of engineering that teaches about the use of renewable and non-renewable resources and environmental issues to students. Students who pursue the B. Tech environmental engineering course work to create new techniques to use environmental resources efficiently. Further, the students learn about engineering principles along with the environmental studies that help them in their work.
Basic Details of The Course:
Tech environmental engineering is a four-year undergraduate degree course that deals with environmental science that includes several topics like waste management, land management, pollution control,public health, etc. The course has 8 semesters with 6 months each, and each semester consists of theory and practical subjects.
Usually, the main goal of the environmental engineering course is to use science and technology to improve the environment and resolve environmental issues. It teaches environmental sciences to students and lets them use engineering concepts and techniques to solve the issues related to the environment. The students of the environmental engineering course use concepts of chemistry, biology, technology, and other such topics to solve environmental problems. Also, it enables students to understand the basics of soil contamination, climate change, biodiversity, conservation, etc.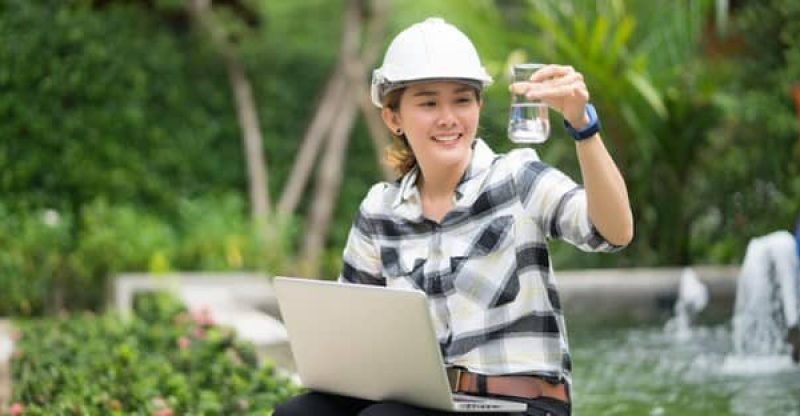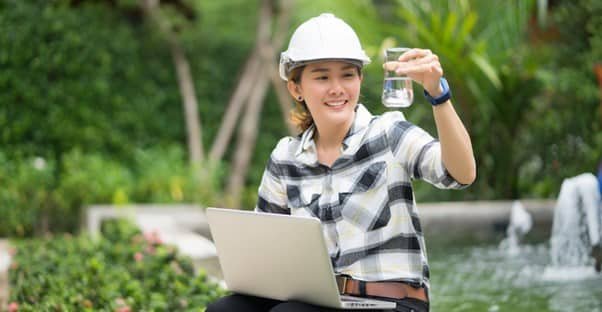 Tech environmental engineering course covers a broad area that provides complete knowledge of natural resources, their use, and conversion to the students. Those who are interested in environmental science and are affected by environmental issues can study this course. They can understand the environment and its issues and conduct high-level research using the concepts of this course to solve those issues.This course is also ideal for students who are interested in renewable energy,natural resources, and other such topics.
In this engineering program, students usually learn how to make strategies for solving different environmental issues like waste management, global warming, climate change, etc. This way, this course provides problem-solving skills to the students to make them eligible for various job profiles. Moreover, students learn leadership skills to lead teams in their works and report preparing to make reports of their research work. This way, B. Tech environmental engineering course enables students to become successful engineers in this field.
Here are the important subjects that are taught in this course. These subjects will provide a better understanding of this engineering program.
Syllabus for The B. Tech Environmental Engineering Course:
This engineering course includes several subjects related to air pollution, industrial waste management, wastewater treatment, solid waste management, global warming, and many more. The subjects covered in this course are as follows:
In the first and second semester, students learn about the general engineering subjects, and those are –
Communication Skills
Environmental Science
Basics of Civil Engineering
Engineering Mathematics
Computer Programming
Mechanics of Solids
Engineering Graphics
Mechanical Engineering Basics
Electrical Engineering Basics
This course teaches subjects related to environmental science from the third semester onwards. Those subjects are –
Fluid Mechanics
Management Skills
Microbiology
Environmental Chemistry
Environmental Resource Management
Chemical Engineering
Waste Water Treatment Process
Ecology
Energy Sources and Management
Air Pollution and Control Engineering
Solid Waste Management
Environmental Structures
Structural Engineering
Project Management
Environmental Instrumentation
The above is some of the crucial subjects that are taught in the environmental engineering course.Out of these subjects, some also taught in more than one semester.Also, some subjects have lab sessions that provide practical knowledge to students. Apart from these, the environmental engineering course has elective subjectsfield trips, workshops, and industrial visits to provide advanced learning to students.
Eligibility Criteria for Environmental Engineering Course:
The eligibility criteria for the environmental engineering course varies from college to college. Some institutes conduct their own entrance exams to give admission to this course. On the other hand, some other colleges accept the candidates who cleared state level or JEE exams.
To be eligible for this course, one needs to complete the 12th standard in the science stream with physics, mathematics, and chemistry subjects.Also, students should have obtained at least 60% aggregate marks to apply for this course. For SC/ST students, the required minimum aggregate marks are 55%.
Course Fee:
The average fee for the environmental engineering course varies from 6,000 to 15 lakh, depending on the type of college you are studying in.
Higher Studies Options:
Tech environmental engineering is the first choice of many students to pursue after completing this course. Also, students can opt for Ph.D. courses after completing their master's degree.
Apart from that, students can also opt for master of science, master of engineering in Geomaticetc, and other courses after completing the B. Tech environmental engineering course.
Scope of Environmental Engineering Course:
Environmental engineering is an advanced field, and the graduates of this course can get job opportunities in both the private and government sectors. This course has a higher scope in India as well as abroad because the importance of the environment is increasing day by day. By analyzing the environmental changes being made worldwide, students can easily imagine the future aspects of this course. Further, by completing their higher studies such as master's degrees and Ph.D., they can easily find their dream job.Moreover, the admission to this course and the employment facility for this course is increasing every year.
Career Opportunities:
After completing the environment engineering course, students can opt for various jobs in the government and private sectors. Since it is a broad field, candidates will get several options to choose from. Also, they can get their expected salaries in their jobs. Usually, environmental engineers play an important role in several areas like public safety, solving environmental problems, etc. that increases their demand in the industries. Further, the graduates of this course can build a bright career within a few years using their skills and expertise.
Environmental engineers mainly manage and analyze different environmental problems and make strategies to solve those problems. The graduates of this course can work in different industries like mineral mining, petroleum product manufacturing, chemical compound disposal, and many others. Environmental engineers not only make a good career in their life but also improve our environmental conditions through their skills.
Many recruiters offer jobs to the graduates of environmental engineering courses in different profiles. Here are some of the top recruiters or companies that offer jobs to environmental engineers.
SPML Infra Limited
Brunel India Pvt Ltd
IDS Group
Privy Organics Limited
KalpanHydro Company
SimaLabs Pvt Ltd
Goodrich Corporation
Dresser-Rand India Pvt Ltd
Job Profiles for Environmental Engineering:
The following are some of the top job profiles with salaries for the graduates of environmental engineers.
Biologists usually research the interplay among living organisms and perform experiments related to this. Also, they play an important role in data collection from environmental research and experiments.The starting salary of a biologist is around 3.6 lakhs per annum. With experience, they can earn up to 9 to 9.6 lakhs annually. The salary of senior-level biologists is around 12 lakhs per annum.
Ecologists are responsible for studying and understanding the behavior of different organisms and their results. They usually work in environmental trusts, research institutes, etc. Ecologists can earn around 5.4 lakhs annually in the beginning and can go up to 8.4 lakhs within a few years. By gaining more experience in the field, they can earn up to 18 lakhs per annum.
Geologists study the evolution of the earth and natural resources. They also determine the finish time of the natural resources.They study different materials on earth and make strategies to use them. In the beginning, geologists can earn around 4.2 lakhs per annum, and after a few years of experience, it can go up to 7.2 lakhs per annum. With more than 10 years of experience, they can earn up to 12 lakhs per annum.
The job of a chemical engineer is to develop eco-friendly safety equipment for people who deal with dangerous chemicals. They also create designs for new chemical product innovations. They improve the manufacturing process and conduct research in biotech firms. The starting salary of chemical engineers is around 6 lakhs annually. It can also increase up to 24 lakhs per annum depending on the skills and experience of the candidate.
Agricultural engineers are responsible for designing agricultural machinery and its components. Further, they test agricultural machinery and equipment and improve their efficiency and performance. Agricultural engineers can earn around 4.8 lakhs at the starting of their careers. Further, the salary of agricultural engineers can increase by 8.4 lakhs to 18 lakhs per annum.
Public Health Specialists:
The work of public health specialists is to make strategies to encourage people to healthy living. They also plan health programs to explain the benefits of maintaining a healthy lifestyle. They also determine the health standard and health needs of people and build strategies to solve the health problems of people. The salary of public health specialists varies between 3.9 lakhs to 12 lakhs per annum.
Top Colleges in India For B. Tech Environmental Engineering:
Indian Institute of Technology, [IIT] Dhanbad
Delhi Technological University, [DTU] New Delhi
Jawaharlal Nehru Technological University, [JNTUH] Hyderabad
Biju Patnaik University of Technology, [BPUT] Rourkela
Shri Venkateshwara University, [SVU] Tirupati
Eastern Academy of Science and Technology, [EAST] Bhubaneswar
Sam Higginbottom University of Agriculture Technology and Science, [SHUATS] Allahabad
Indian Institute of Technology, [IIT] Gandhi Nagar
National Institute of Technology, [NITC] Calicut
Medi-Caps University, Indore
Conclusion:
The Environmental Engineering course is an excellent option for students who want to pursue a career in environmental studies. This course offers knowledge in various skills to enable students to get job opportunities in different profiles. The graduates of the Environmental Engineering course usually master some skills like critical thinking, problem-solving, etc.,to make the necessary development to our environment using science and technology.