B.Tech or Bachelor in Technology is a very common under graduation course offered by several colleges in India. If you ask most of the parents or students who have just passed their 12th standard, many will only opt for Engineering courses. There is also a lot of demand for engineers these days. Along with that, there are several different domains in which you will complete your engineering as per your choice. Computer Science Engineering, Electrical Engineering, Electronics Engineering, Chemical Engineering, Mechanical Engineering, and many other domains are available in Engineering. They have high demand, but the number of students who take up these courses every year are also high. That means even if you can complete the course, finding the right job can be a bit tough for you.
That does not mean that you will have to choose something that you don't like. You can still pursue engineering by choosing a different domain or specialization. One of those rarely chosen domains with a lot of job opportunities is BioMedical Engineering Course. This is a four-year course and has eight semesters.
If you are planning to pursue BioMedical Engineering Course, then this is the right time for you. This article has provided all the useful information about this course like eligibility, fee, syllabus, and many other things. So, just go through the below details to make sure whether it suits you or not.
What is the BioMedical Engineering Course?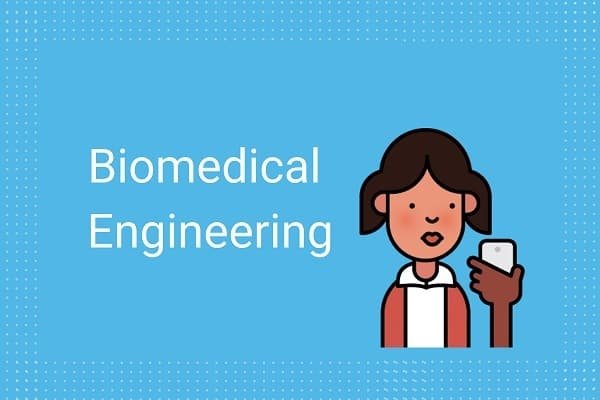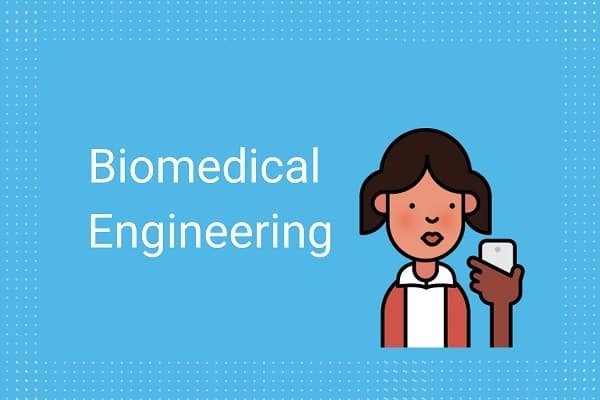 Biomedical Engineering Course is four years, which is divided into eight semesters in total. You will be able to gain in-depth knowledge of biomedical concepts. In simple words, you will be dealing with the engineering practices that are involved in the medical world. There are just a few, but some of the best universities and colleges in India that offer this course.
It is a great course for those who belong to the science domain. It is an under graduation course, and you should have science as one of your subjects in 12 standards. You will be dealing with several concepts related to Biology and Biomedical fields.
You will be able to make a career in laboratories, medical industries, hospitals, and similar fields. Once you complete the course, you will be able to make an average of Rs 5,00,000 to Rs 10,00,000 in just one year.
If you want to pursue your career in the medical world that includes engineering, this is the right course. Here we have provided a lot of useful information about the course like eligibility, admission process, fee, syllabus, and some of the best colleges that offer you this course. When you have good knowledge about the course, it gets easy for you to make a choice.
Eligibility Criteria:
Usually, when you check the eligibility criteria for most post-graduation programs, the eligibility criteria will be a bit complicated. But when it comes to BioMedical Engineering Course, it is not at all complicated. There are just a few criteria requirements that you will have to satisfy in order to get admission into this course.
A candidate who is seeking admission into BioMedical Engineering Course should have completed 12 standards from any recognized colleges or universities in India.
It is also important to make sure that in 12th standard, you are having Physics and Mathematics are the major subjects. You can have Biology, Chemistry, and Biotechnology as other subjects.
Most of the colleges and universities ask for 50 percent marks in the 12th standard, but there are a few colleges that ask for 75 percent as well. So, it all depends on which college or university that you are selecting.
Even if you have just given your final year exams and waiting for results, you can still apply for the course provided you meet all the other requirements.
Admission Process:
Here is some detailed information about the admission process for BioMedical Engineering Course. Different colleges and universities have their own procedure, but most of them a common processes, and let us have a look at what it is.
The first step is checking all the details of the course on the official website of the colleges or universities and then creating a login on the website.
You should now fill the application form and provide all the details that are asked on the website of the universities.
Now you will have to make sure that you are uploading all the documents of your academics as per the requirements on the website. You will have to scan them in the proper format and then upload them.
Once you are done filling the application and attaching the documents, you should now make the payment for the process.
You can download the admit card for your entrance exam and give the exam.
The results will be announced after a few days, and only the qualified candidates will be called for the further rounds.
The next rounds will be group discussion and counseling.
Once you are done with the final round, you now have the admission letter to the college you chose.
Fee Structure:
The fee structure is going to be different for different colleges and universities, and hence you need to check the details on the official website for the college or university to make sure that you are picking the right college. Usually, the fee is between four lakhs to ten lakhs. This varies from college to college.
Top entrance tests or exams to take for admission:
If you wish to know about the top entrance tests or exams that you need to take in order to get admission to BioMedical Engineering Course, then here are a few of them. Usually, there are many different state-level and national-level entrance tests conducted every year. But the most common ones are:
JEE MAIN
JEE Advanced
WBJEE
VITEEE
KEAM
JEE is the national-level exam and accepted by most of the colleges and universities in India.
Syllabus or Curriculum: 
Here is some information about what subjects are covered as part of this course:
Semester I
Engineering Chemistry 1
Basics of Biomedical Engineering
Mathematics 1
Engineering Mechanics
Engineering Physics 1
Basic of Biomedical Engineering
Practical
Semester II
Engineering Mechanics
Thermodynamics
Physical Chemistry
Mathematics 2
Engineering Physics 2
Material Sciences
Workshop
Semester III
Biomedical Process in Industries
Bio-Technology
Electric Circuits
Open Elective
Statistical Methods
Semester IV
Biofluids and Dynamics
Human Physiology and Anatomy
Electronics Circuits
Radiological Equipment and Principles
Open Elective
Semester V
Applications of Microprocessor
Biomechanics
Instrumentation of Medical
Open Elective
Semester VI
Biomedical Expert System
Diagnostic and Therapeutic Equipment
Biomedical Embedded Systems
Biomedical Signal Processing
Semester VII
Open Elective II
Open Elective III
Hospital Safety and Management
Project
Practical Paper
Semester VIII
Open Elective IV
Open Elective V
Practical Paper
Biomedical processing Technology
Internship
Career Opportunities and Job Profiles:
There is no dearth of job opportunities after the completion of the BioMedical Engineering Course. But if you want to know what are some of the best job opportunities that you will receive, then you get offers as a Biomedical engineer, Content developer, Professor, and Clinical Researcher, and lab technician as well. The minimum salary per annum is going to start from Rs 3,50,000 and can be up to 8 00,000. It all depends on the organization or institute that is hiring your services. But you can be sure that you will receive some of the best job offers from many companies.
Why Opt for BioMedical Engineering Course?
If you are not sure why you should go for BioMedical Engineering Course, then here are a few reasons for you:
It is a profession of reputation. Only highly skilled students will be able to complete the course on time.
You will be able to find a number of job opportunities waiting for you even you are still in the last semester of your graduation.
The pay scale after you complete the course is going to start from three lakhs for sure. That will increase in just no time. You will be able to earn at least one lakh per month with just one or two years of experience based on the organization where you are working.
You will also have several opportunities to continue your studies after BioMedical Engineering Course. You can go for MTech or Masters in Engineering. That will fetch you much better jobs and pay.
Some best Colleges offering Biomedical Engineering Course
If you are not sure about which college or university that you should consider for BioMedical Engineering Course, then here is the list of some of the best colleges for you:
NIT, Rourkela
Karunya Institute of Technology and Sciences, Coimbatore
Thapar Institute of Engineering and Technology, Patiala
MIT, Udupi
SRM Engineering College, Kanchipuram
Sathyabama Institute of Science and Technology, Chennai
NIT Raipur
JNTU Hyderabad
BVDU, Pune
VIT Vellore
If you are looking for a quite different academic course that can lead you on a different path than the routine one, then this is the right course for you. You just need to go through all the details and then make sure that it suits your skillset or not.