Financial Markets plays a vital role in the economy of the country. That's why the demand for finance professionals is increasing rapidly in India and as well as in abroad. Presently, financial companies seek aspirants who have specialist's skills and good knowledge of their field. Nowadays, the financial marketing sector is giving a wide range of opportunities to fresher and experienced candidates. Those interested in financial markets, stock market and share markets and would love to explore more about them, can pursue the BFM course.
Course Details of Bachelor of Financial Markets
| | | | |
| --- | --- | --- | --- |
| Course Name | Course Duration | Eligibility | Course Type |
| Bachelor of Financial Markets | 3 Years | 12th Pass | Undergraduate |
BFM is a dedicated programme, related to financial market sectors and it can be pursued after completion of the 12th. Candidates having commerce background will get further benefit in respective job areas. An individual who is enrolled in BFM will get a great amount of exposure in finance, banking, mutual funds, and stock markets and among others. Well, before seeking admission to the BFM course, you should know about its eligibility criteria, entrance exam, top colleges, job roles and salary packages. In this post, we have listed all these aspects, let's have a look:
What is the BFM Course?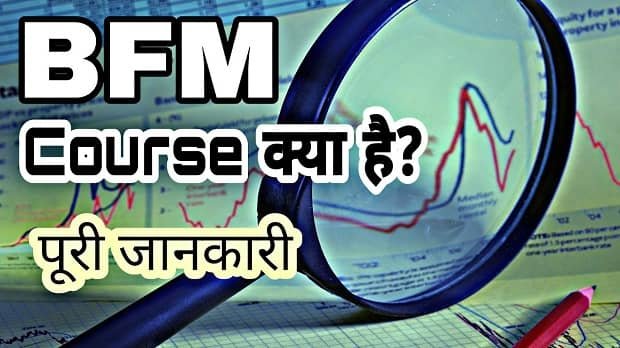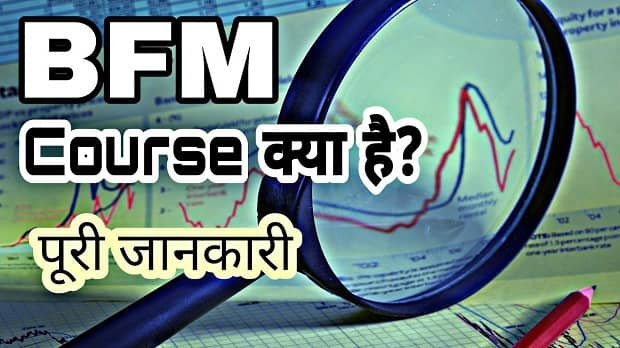 BFM stands for Bachelor of Financial Markets, popularly known as B.Com in Financial Markets. It is a full-time UG level degree course and offered by various Indian universities and colleges. It deals with the aspects of financial markets. The course involves conceptual and practical understanding of organizing, monitoring, planning, directing and handling the wealth or money resources of a company/firm or organization in well-manner.
In this programme, candidates are equipped with classroom learning, presentations, industrial visits, interactions with the experts, projects, assignments, practical sessions etc. The main purpose of the BFM course is to provide deep education and skills in financial marketing, demand and supply concepts, market forces, basics of trading and its rules & regulations. These are essential pillars of finance that can use in any firm and company. Thus, it is an ideal choice for those aspirants who eagerly want to know about the shares and funds of the organization and how they can work into the stock market?
 After pursuing the BFM programme, candidates are getting involved to understand the capitals, risks and legal parameters of the financial market.
Duration of B.Com Finance Market Course
The Bachelor of Finance Market is a 3-year course, symmetrically divided into 6 semesters. Some universities don't follow the semester system and offer a total of three-year regular papers. Even, candidates can pursue this course either part-time or distance education. The duration and exam mode may vary from institute to institute. It is a choice of students as to which mode he or she wishes to pick to complete this degree programme.
What is the Eligibility Criteria of the BFM Programme?
The eligibility criteria are divided into sections namely Age Limit, Educational Qualification, Minimum Marks. Candidates should meet major eligibility requirements before applying to the BFM course. They need to fulfil all eligibility criteria. Let's have a look:
Academic Qualification:
The candidates should complete their 10+2 or equivalent with mainstream from any recognised board.
Minimum Marks Required:
The candidates should secure at least 50% (45% in case of SC/ ST/ OBC) of marks in their qualifying exam.
The minimum mark varies from institute to institute or college to college.
Age limit:
There is no specific age limit for admission to the BFM course.
Certain colleges or institutes have a certain age criterion for admission to the respective course.
The age criteria may vary from college to college.
Entrance Exam for BFM Course
To get admission to the BFM course, candidates need to qualify for specific entrance tests conducted at the university level. There is no national level entrance exam for taking admission into the BFM course. The following universities conduct own entrance exam to grant admission for UG level course:
Aligarh Muslim University Entrance Exam
Mumbai University Entrance Test
Delhi University Arts Exam
After clearing the entrance exam, candidates who perform well in the entrance exam will call for a Personal round or Group Discussion Round. At last, candidates must bring a passing certificate, all necessary documents and a mark-sheet at the time of admission.
How to Prepare for BFM Entrance Exam:
Before appearing for the entrance exam, candidates should prepare well for it. Here are a few tips mentioned that you should consider while preparing for the BFM entrance exam:
You should secure a good aggregate in 12th under the relevant stream and may increase your chance to get selected.
Additionally, improves your communication skills before appearing for the PI round.
Go through to the previous year questions paper.
Enhance your general knowledge and verbal ability. Oftentimes these both subjects can prefer in the entrance test.
Before starting preparing for the entrance exam, check the entire curriculum and cover easy topics first.
What are the top institutes/colleges/universities for BFM Courses?
Several universities in India offer B.Com in the finance Market. Some institutes are specially enrolled to offer the only course which is related to B.Com. The complete list of top colleges along with their feesstructure is listed below:
Christ University, Bangalore – INR 2,12,000
Jain University, Bangalore – INR 1,15,000
NarseeMonjee College of Commerce and Economics, Mumbai – INR 14,500
Symbiosis College of Arts and Commerce, Pune – INR 15,833
K J Somaiya College of Arts & Commerce, Mumbai – INR 9,145
Jai Hind College, Mumbai – INR 3,742
N K College of Commerce, Arts and Management Studies, Mumbai – INR 17,221
University of Rajasthan, Jaipur – INR 3,453
G N K College of Arts, Science & Commerce, Mumbai – INR 18,510
The IIS University, Jaipur – INR 37,472
St Joseph's College Devagiri, Calicut – INR 76,000
Xavier University, Bhubaneswar – INR 2,33,000
University of Mumbai, Mumbai – INR 5,025
Amity University, Noida – INR 62,496
The below-mentioned colleges are some popular institutes that are enrolled to offer B.Com in Finance Market Programme.
Syllabus of B.Com Finance Market
The curriculum of the B.Com finance Market is divided into six semesters. It includes various topics which are related to the finance market, stock market and shares. Let's have a look:
Semester I –
Basic Statistics
Principles of Investment
Micro-Economics
Basic Computer Skills
Financial Accounting
Business Environment
Semester II –
The environment of Financial System
Statistical Applications
Macroeconomics
Communication Skills
Principles of Business Management
Management Accounting
Semester III –
Corporate Finance
Debt Markets
Banking in Financial System
Equity Market – I
Computer Application in Investments
Organizational Behaviour
Business Ethics
Semester IV –
Security Analysis
Commodities Markets
Corporate Finance – II
Financial Serviced
Equity Markets-II
Taxation for Investments
Business Law
Semester V –
Portfolio Management
Global Capital Markets
Regulation of Securities Markets
Insurance Fund Management
Derivative Markets
Project – I
Foreign Exchange Markets
Semester VI –
Risk Management
Computer Applications in Financial Services
Corporate Governance
Mutual Fund Management
Marketing of Financial Services
Customer Relationship Management in Financial Service
Project – II
Career Opportunities for BFM graduates
On successful completion of the BFM course, a graduate can get training under a qualified professional or become an accountant. If any students want to pursue higher education in their respective field, they will go with M.Com in finance Market and PhD course. After completing their higher studies, candidates can easily get a wide range of job opportunities in Indian companies or as well as in international companies. In India, many government and private sectors offered a job to BFM graduates. Some of them include:
Public Accounting Firms
Markets Research
Budget Planning firm
Consultancies
Corporation House
Education Institutions, etc.
Apart from these fields, students can also go with teaching jobs and they will become lecture or professors in their specialization subject. Moreover, they can also work for small firms or organizations for handling their financial records and documents.
BFM Graduates Job Roles
Here are some job roles for BFM Graduates:
Insurance Manager –An insurance Manager is responsible for handling operations of any insurance firm. These professionals can resolve issues that are related to finance.
Risk Manager – The Risk Manager has the right to strategies to deal with anti-risk conventions. They are being a part of any firm or organization for identifying their loss which may occur in future.
Finance Officer – A fiancé Officer are trained with professional skills which they can use to achieve goals of the organization, handling all records, investigate all losses, maintain book-keeping data and among others.
Finance Controller – They are equipped to supervise all parts of the financial firms including administrative, auditing, corporate bookkeeping.
Salary Packages for BFM graduates
After completing the course, a BFM graduate can expect Rs. 25,000 to 30,000 monthly. The salary packages can vary across countries and depends on the position. Here the basic salary for top job roles:
Financial Controller – INR 3, 974,400 Annual Payscale
Treasurer – INR 16,50,000 Annual Pay Scale
Finance Officer – Approx. INR 8,00,000 Annual Pay Scale
Risk Manager – Approx. INR 9,50,000 Annual Pay Scale
Insurance Manager – INR 8,00,000 Annual Pay Scale
BFM Course Frequently Asked Questions
What is the admission process for the BFM course?
Admission to the BFM course is granted based on a competitive entrance exam administered by the respective institution.
Only a few government and state colleges hold entrance exams for their respective programs. Candidates who perform well on the tests are then invited to participate in the next stage of the admissions process.
As part of the evaluation process, some universities may also perform (PI) Personal Interview or Discussion Groups (GD) rounds with candidates.
How much can I earn after the BFM course?
The starting yearly pay for a BFM grad can vary between Rs. 4 lacs and Rs. 6 lakh on average, depending on experience.It may differ from one organization to another and from one role to another.
Furthermore, if you pursue a master's degree in a field, your salary can rise to between Rs. 10 lacs and Rs. 12 lacs per annum, depending on experience.
What is the average cost of the (BFM) degree program?
The average annual tuition fee for a (BFM) program is INR 50000.
List down some top job profiles after the BFM course
The top-notch job profiles for BFM graduates include:
Accountant
Research analyst
Project coordinator
Financial consultant
Finance officer
Finance manager
Financial assistant manager
Wealth manager
What services does BFM offer to its students?
Professional development for those who work in the stock market
Analytical and presentation skills in the financial and capital markets are required for this position.
Attempting to deal with the financial difficulties that businesses face, as well as the solutions to those problems
Which one is preferable? BFM or BMS
Bachelor of Financial Market (BFM) is the full form of the degree, whereas BMS stands for Bachelor of Management Studies is the full form of the degree. While both of these courses are excellent choices for commerce background students, BFM is the better choice if you are interested in learning economic management and financial markets.
Whereas BMS is the better choice if you want to pursue careers in management or finance. Generally speaking, BMS is regarded as a graduate qualification in Business and Management, whereas BFM is regarded as a more finance-oriented course.
What can I go for after BFM course completion?
Once you have completed you BFM course, you can explore career options or pursue a master's degree, which is a popular choice because there are numerous postgraduate courses available for BFM graduates, such as the MBA in Finance, FRM, chartered accountant, & Finance courses, among many other options.
Bottom Line:
BFM is one of sought career path which brings lots of career opportunities globally. Candidates with having commerce background will have a better understanding of this field. Additionally, if you can get admission into a reputed college you will get the best placement in a reputed company. Overall it is a good career path.