In this world, everybody wants to look good, not only to appear good but also to improve their confidence. Further, the beauty industry is growing day by day and affecting the economy. Therefore, there is a vast scope for people who are interested in makeup and other styling activities in this industry. Moreover, this industry is going to grow more in the future and need more professionals and makeup artists to meet the demand. So, if you are thinking of building a career in the beauty industry, then this is the right time to do it.
To become a makeup artist, you need to pursue the beautician course in which you will learn about different techniques of doing makeup and styling. Once you complete the course, you can work in different places and enhance the look of people. Numerous institutes in the country offer beauty and makeup courses that enable students to learn this course and become successful in this field. Mostly, students who pursue this course aim to work in spas, films, television sets, the media industry, etc. However, there are various other options available for the graduates of this course to build their careers. Specifically, they can work privately and open their own shops to provide service for general people.
In the beautician course,students can learn about hairstyling, face massage, hair coloring, etc. Usually, the beautician course is available in both certificate and diploma programs. The duration of the certificate program is 3 to 4 months, while the duration of the diploma program is 6 to 8 months. This course teaches the students how to do makeup, take care of skin and hair, and many more. So, those who want to become a professional makeup artist and build a better career in this field can pursue this course. Here are the details of the beautician course that you need to know.
Why Study Beautician Course?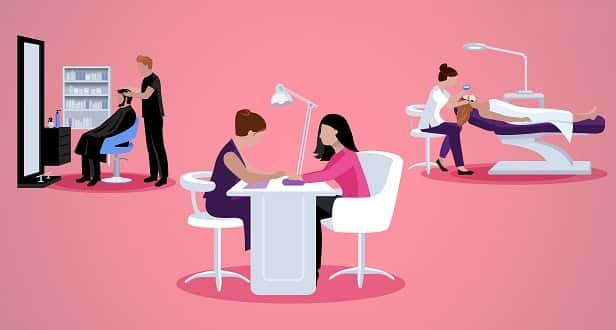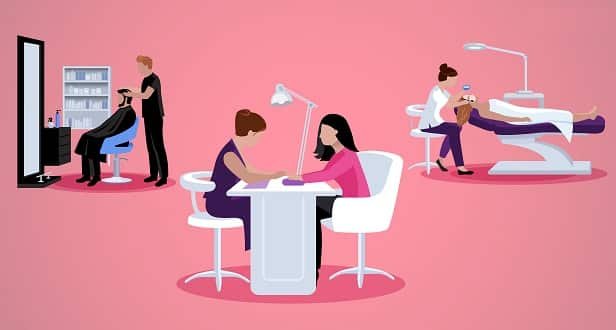 Normally, many students want to pursue this course to turn their passion into their ultimate career goal. Also, other students learn this course because of some other reasons. The following are the reasons why one may decide to study this course.
As mentioned above, most students learn the beautician course because of their passion in this field. In general, if one has more passion for this field, then he/she can be more creative and make the most out of it. So, if you have a passion for makeup and styling, then you can enjoy your work more in this field.
The next reason that may let students pursue this course is that it allows the graduates to charge as per their expertise. After completing this course, students can work in various places and get paid as per their work.
If one wants to become successful and popular for his/her work, then this is the best field. In this field, you can get public attention easily by doing excellent work.
Course Details of Beautician
| | | | |
| --- | --- | --- | --- |
| Course Name | Course Duration | Eligibility | Course Type |
| Beautician Course Details | 3 to 6 Months | 12th Pass | Diploma |
| Stage Makeup Course | 3 Months to 1 Year | 12th Pass | Diploma |
Beautician Course Details
This is the course that allows students to become a successful makeup artist and achieve their goals. After completing this course, you can apply different cosmetics for eyes, skin, cheeks, and lips correctly and make the most out of it. Further, you can apply makeup for special days, fashion shows, and other occasions. Students also learn more about the application of different makeup products practically because it has classroom demonstrations for the application of different cosmetics.
The hairstyling course teaches how to use different styling tools such as hair dryers, hot and cold rollers, and hot irons to create new hairstyles. Further, students learn how to manage and style the hair as per the face and occasion.
Since the makeup for the theatre is different from general makeup, one needs to learn this separately to do the makeup. Usually, different directors have different expectations for characters for different situations,and that's where the makeup artist needs to focus on. They need to make the makeup that the character is going to play. In this course, students learn how to do makeup for horror characters, historical characters, injuries, apply aging effects on characters using different cosmetic products.
Special Effects Makeup Course
In this course, students learn about the application of makeup on the face and body in the classroom as well as the lab. Further, they learn painting, sculpting, etc. Special effects course allows students to work with silicone, latex, and foam rubber. Also, this course teaches how to achieve special effects using makeup, hair, and prosthetics.
Eligibility Criteria for Beautician Course
This course has no specific eligibility criteria to give admission to it. Students can pursue diploma and certificate courses after completing their 10th or 12th standard. Also, students with no knowledge of makeup can pursue this course. Apart from that, some institutes also give admission to 8th class pass students to this course.
In India, numerous colleges offer beautician courses. So, you can easily choose a college and get admission to this course. You can get the admission dates at the official websites of the colleges and take admission as soon as possible before the deadline. Moreover, you can talk with the seniors in this field and read the reviews about the colleges to get a better idea about the college before joining there.
Syllabus for The Beautician Course
The beautician course mainly deals with the proper use of cosmetics and techniques on how to take care of hair, nail, skin, lips, etc. However, the topics may vary from college to college. Here are the common topics that are taught in the beautician course.
Skincare and Hygiene
Makeup Techniques and Consultation
Bleaching
Makeup Techniques for Special Occasions
Basic Haircuts
Cleansing and Toning Practice
Creative Haircuts and Hair Coloring
Massage Manipulation
Manicure and Pedicure
Blow Drying and Heat Styling
Hair Spa and Hair Treatments
Hair Fall Treatment
Dandruff Treatment
HD Makeup for Photography, Films, And Fashion Shows
Skin Treatment
Foot and Hand Spa
Client Management
Beautician Course Fee and Duration
The course fee for this course varies from institute to institute. Usually, it can range from 20,000 to 50,000 rupees in different colleges. The top institutes that offer good courses commonly charge more compared to the local training centers. So, if you want to become successful as a beautician or makeup artist, then you need to have strong knowledge about this field and understand every aspect of it.
The duration of the beautician course generally ranges from 3 months to 1 year. The duration varies according to the institute where you study this course.
Future Scope for The Beautician Course
Those who want to do a job after completing the beautician course can easily get good job opportunities and move forward on their career path. But those who don't want to do a job can also find better opportunities. They can opt for higher studies to gain more knowledge in this field and get better job opportunities. The following are some options for higher studies that students can pursue after completing the beautician course.
B.Sc. in Cosmetics Science
This is a popular option for students to pursue after completing the beautician courses. Bachelor in cosmetics science is a three-year undergraduate course that students can study to improve their value in industries. They can take admission to this course through the entrance exam or merit in different institutes. The course fee for this course ranges from 10,000 to 2 lakh rupees.
It is a two-year post-graduate course that you can study after completing a bachelor's degree. After completing the master's degree, you can get hired for top roles in the makeup and beauty industries. If you want to study more after completing a bachelor's degree, then you can opt for this course.
If you want to pursue other bachelor courses like BA or B.Com, then you can do that. But by doing so, you will get moved to another field. Therefore, your career and future opportunities will change from the makeup and beautician industry.
Apart from the above options, many other opportunities are there that one can choose to study more.
Career Opportunities for Beautician Course
The job opportunities for the graduates of the beautician course are broad. One can get his/her dream job immediately after completing the course. The candidates can usually work in spas, professional salons, beauty parlors, etc. Further, they can start their own beauty parlors or salons after gaining sufficient experience in the field. Moreover, the graduates of the beautician course also work in the media industry and get recognized for their outstanding work. So, once you complete the beautician course, you can earn depending on your work and experience.
Top Job Roles for Beautician Course
The following are some popular job roles for the students of this course.
A hair expert is responsible for the overall hair health of his or her clients. They take care of their clients' hair in a proper way and style them as per the requirement. They cut the hair, color them, andcreate new hairstyles that suit their clients' personalities. Moreover, hair experts style the hair of their clients on different occasions. The salary of a hair expert is around 1.2 lakhs per annum. However, it can increase with experience and hard work.
This is probably the best option for the candidates after completing the beautician course. As a freelancer, you can work with your clients on your own instead of working under any company or firm. Freelance makeup artists usually work with several clients and charge according to the quality of work they provide. With adequate knowledge and high-quality work, freelancer makeup artists can earn around 3 lakh rupees per annum or more.
The makeup specialist is a promising job role in this field. As a makeup specialist, you can work independently or under a contractor to do makeup for celebrities and television artists. Many people want to do this job because it allows them to learn new things and meet different celebrities. The candidates working in this role can earn around 1.3 lakhs per year.
The responsibility of a Skincare specialist is to take care of the skin of his/her clients. They look after the skin of the people and help them to solve their skin issues. Further, they are responsible for the skin health of their clients. A Skincare specialist can earn around 1.4 lakhs per year.
Because the makeup industry is growing rapidly, it offers several job opportunities for candidates who want to work in this field. Therefore, the demand for the beautician course is very high among people. Further, this course doesn't have any particular eligibility criteria allowing students to learn the course conveniently. If you are interested in the makeup industry and want to work in this field, you can pursue this course to achieve your career goal. Housewives can open own beauty parlor for self employment.
Frequently Asked Questions
What is the importance of a beautician course?
If you have a passion for making people beautiful and presentable, you can avail of this course. Many institutes offer this course to aspiring students. You can avail this course for various periods. Most beautician courses are taken by beauty experts. They have vast knowledge in this field.
What is the approximate duration of the beauty course?
The beautician course starts from one month and extends to one year. You can select the course that appears to be suitable. If you choose courses for a long duration, it will benefit you to a great extent.
What types of courses come under beautician?
Most of the courses that come under beautician are available in the form of certificate, diploma and advanced diploma.
Will it be good to take a beautician as a career?
It will be a wise decision to go with a beautician course if you love this subject. It comes with broad prospects and options. If you want, you can open a salon. This will give you broad exposure. You will learn great things. Many people have opted beautician as their career, and they are successful in their life.
What is the minimum qualification to become a beautician?
If you want to become a beautician, you must complete your 10+2 level with a minimum percentage of marks. It is good if you have completed your graduation degree. The beautician course is available for different durations. You can select it as per your suitability.
What is the average cost of the course?
The average cost for the course commences from INR 20,000/- to INR 70,000/-. It will depend upon the institute you select for the course. If you want, you can also take a loan for the course. You can repay it once you get a job.
How much can a beautician earn?
Earning is endless for a beautician if you have good experience and knowledge. As a beginner, you may earn INR 1000 to INR 2000 a day, increasing your experience and skills.
Which are the best beautician institutes?
You will get ample beautician institutes that offer multiple courses. However, it is best to move ahead with the reputed ones. You must also take useful information from various sites while taking the admission. This will assist you in selecting the best place for you to study and know about the subject.