SI Constable or Sub Inspector constable is one of the reputed designations. Tamil Nadu Uniformed Services Recruitment Board Sub Inspector Exam is abbreviated as the TNUSRB SI exam.  It has issued a hiring notice for 12,500 vacant sub-inspectors of police positions.
The role of sub-inspector has the power to file a charge sheet, and it is a post under the inspector. Those who want to become SI in Chennai should score at least 50% aggregate marks in graduation from an authorized college or university. Also, applicants must have Indian citizenship. The whole process for the SI exam consists of a written test, physical efficiency test stamina test/measurement test, and a personal interview round.
However, due to the number of posts, more and more students are preparing for the SI exam. So, before appearing for the exam, the candidate must be confident, work hard, and put in a lot of effort. For this exam, you need to be mentally intelligent and physically fit. After becoming a part of the best coaching center in Chennai, you will receive holistic training to achieve the goal of serving the city as a police officer. Let's check the top 5 best SI coaching centers in Chennai 2022!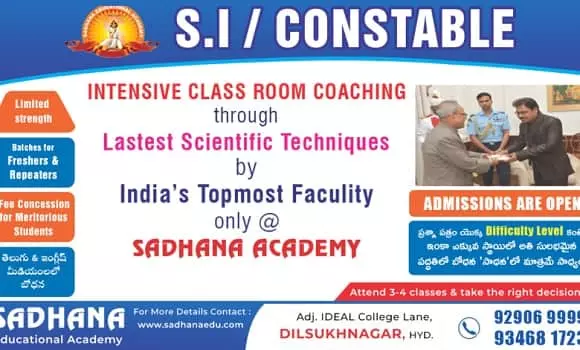 List of Top SI Coaching Centre in Chennai
1. Best learning center
Address: No.4/6, Alagesan Nagar, Pattarawalkam main road, Ambattur, Chennai-600053. [Nearly Ambattur railway gate]
Website: https://www.bestlearningcentre.in/police-coaching-center-in-chennai.php
Best Learning Centre is one of the reputed as well as trustworthy coaching institutes. The center has become one of the leading institutes in Chennai because of its excellent programs. The good news for the students is that this institute provides the best preparation and guidance for all the TNUSRB exams, including SI. Best learning centers have well-experienced, trained, and authorized faculty for all subject training.  Under the best learning & peaceful environment, students have great peace of mind. Moreover, this institute provides current affairs, study material, mock interview sessions, etc.
2. Nivedita Academy
Address: 894, Second Floor, Munuswamy Salai, KK Nagar, 11th Sector, Chennai, Upstairs Of Nilgiris Super Market
Website: http://niveditaedu.info/
Nivedita Academy is a leading academy for multiple exams. They aim to impart education and training to college and school students to achieve their goals in establishing their careers. Nivedita provides coaching for entrance exams like CLAT, IIT-JEE, NEET, and IPM for school students. In addition, they trained college students for SSC, RRB, GATE, CAT, TNPSC, and more. Besides that, they engage in offering excellent training in English learning courses for numerous courses such as GMAT, IELTS, PTE, and SAT exams. The specialty of this institute has included air-conditioned classrooms and computer labs.
3. Nimir IAS Academy
Address: No 8, New Colony, First Main Road, Chrompet, Chennai.
Website: https://nimiriasacademy.nowfloats.com/
Nimir IAS academy is one of the leading IAS coachings in Chennai. The institute offers training sections for preliminary, central, and interview rounds. Apart from IAS, they offer education & training for IBPS, SSC, SI, RRB, etc. With having experts in specific subjects, students can solve their doubts and discuss everything about their exams. For better preparation, Nimir IAS offers monthly seminars, online test series, magazines, book notes, and newspapers. In addition, students are prepared under the guidance of experienced and well-qualified faculty.
4. JSR Academy – East Tambaram
Address: 1/44, Albert Ponnusamy Street, Gandhi Nagar, Tambaram East, Chennai, Near Jaigopal Garodia National School.
Website: http://www.jsriasacademy.com/
JSR Academy was established with the objective of commitment to providing the highest standards of education for the TNPSC exam. It is famous for providing proper training courses for candidates. It aims to excel in education by recruiting well-experienced and trained faculty. The team emphasized enhancing the students' imagination and imparting specific skills required to ensure success in the police examination.
5. We Shine Academy
Address: 47/60, 7th Main Rd, AK Block, Next To Metro Water Pump, Anna Nagar,
Website: https://weshineacademy.com/
We Shine Academy is one of the highly praised training institutes for baking exams. It constantly empowers aspirants to crack exams conducted within or outside the state. The institute's faculty encourages students to enhance their discipline and serious study timetable to crack the exam. However, the course offered by this institute includes the Defence exam, UPSC exam, IES exam, SI exam, Bank PO, CWE, etc.
Conclusion
If you are willing to become a Sub Inspector in the Indian state of Chennai, go and join any of the given coaching institutes. For more information, visit their official website or call directly.