NEET is definitely one of the top competitive exams in India, and if you really want to get into the medical field, then it is quite possible that you may have thought about cracking this entrance exam. However, there are so many coaching institutes all across India, but if you live in Lucknow, then we're about to share the top 5 in this post.
We've done a thorough research and then finalised this list, so only the top and best five have made it to this list. And if you're a student thinking about getting into a good coaching institute for NEET preparation, consider this list before taking admission. So let's get going and find the perfect coaching institute that helps you crack the next NEET exam.
List of Best NEET Coaching In Lucknow
1. Toppers Academy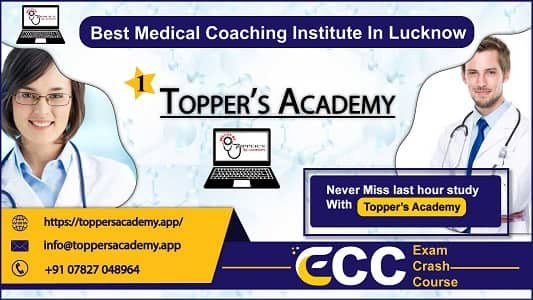 Website: https://toppersacademy.app/
Address: 2/1, Vikas Khand Rd, near Cp. Manoj Pandey Chauraha, Vikaskhand 2, Vikas Khand, Gomti Nagar, Lucknow, 226010
The first coaching centre on our list is Toppers Academy, the most trusted one in Lucknow. They have online and offline class sessions for aspirants, and you can also take both at your convenience. Talking about the preparations, Toppers Academy is also a good place to prepare for IIT-JEE and board exams. It's been in existence for more than 20 years now, but every year, Toppers Academy produces astounding results. Students have rated this coaching centre with more than 9.5-star ratings, mainly because the faculties are top-class and quite experienced. Another good thing is that Toppers Academy motivates its students and channels them to work hard and make their dreams come true.
2. Aakash Institute
Website: https://www.aakash.ac.in/
Address: CP/69, opposite Sahara Hospital, Viraj Khand-4, Viraj Khand, Gomti Nagar, Lucknow, 226010
Aakash Institute is one of the most popular coaching centres all over India. No matter where you live, you'll find an Aakash Institute centre near you. If you want an example of THE BEST study material and teaching style, then you should look forward to Aakash Institute. They have the most up-to-date, technology-enabled classrooms. Other than that, you can expect to learn concepts in a new way because of the experienced faculties they have hired. Not only that, but the different test series will help you keep up with the syllabus, and also, it is quite useful to check where you actually stand in terms of your preparations.
3. S-Orbit
Website: https://s-orbit.org/
Address: 31/64, 3RD FLOOR NAVAL KISHOR ROAD, HAZRATGANJ, Lucknow, 226001
S-Orbit is known for its competitiveness. They conduct these multi-chapter tests every week so that students can become confident in whatever they have learned so far. Other than that, they don't have large batches of hundreds of students. Instead, you'll find smaller batches of 45 to 50 students in each classroom. It's primarily because S-Orbit faculties want to focus on each student, and in this way, students feel connected to the class, which ultimately helps them get better. And near the exam date, they also have planned a crash course, so students can revise every chapter faster. That's another plus here.
4. The HinduZone
Website: https://thehinduzone.com/
Address: Best Online NEET Coaching in Lucknow
The HinduZone became one of the top coaching centres in the city, primarily because of the top results they consistently produce every year. We have The HinduZone on our list because of the faculties they have. The founders of Hinduzone have put a lot of work into hiring the best talents, and that is definitely resulting in their popularity in Lucknow. Along with the faculty factor, HinduZone's study material is one of the best in Lucknow, and with the online class sessions, we can say for sure that it is one of the best online coaching options.
5. Allen Career Institute
Website: https://www.allen.ac.in/
Address: 1st Floor, Leela Mansion Building, Behind Leela Cinema, Hazratganj, Lucknow, 226001
Allen Career Institute has branches all across India, and no doubt they've got one in Lucknow city as well. And because of Allen's world-renowned name, many parents send their kids to this coaching centre. For sure, Allen has a lot to offer that it would be unfair if you don't consider it for NEET preparation. They provide the best study materials and online and offline classes, along with a weekly and monthly test series that continues throughout the year. So yeah, Allen Career Institute is worth checking out if you want to prepare for NEET from Lucknow.
It is true that if you want to pass an exam like NEET, you must prepare exhaustively, which is why enrolling in a reputable coaching institute is a good idea. This list of the top 5 best NEET coaching centres in Lucknow will definitely help you make an informed decision.