Civil services exams are one of the toughest professional qualification exams in India and see a large number of applicants appear for them every year. Among the various civil service exams offered in India, IAS certainly stands as one of the most preferable options for students. Add to that the highest number of applicants are more from Uttar Pradesh and other Northern regions, which showcases how much of an importance the exams play in students hailing from that region.
It's a reason why there are multiple coaching centers for IAS students in Lucknow that aim to provide quality education to students and help them guide them through the UPSC IAS exams. We here will take a look at the five of the best IAS coaching centers in Lucknow and see what makes them the best for students.
List of Best IAS Coaching in Lucknow
1. Sarthak IAS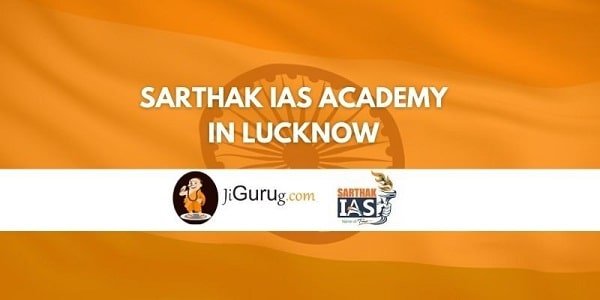 Ranked at the first position on our list is the Sarthak IAS, a premier IAS coaching center in Lucknow renowned for its top results and approach. The institute provides a lot of civil services preparation courses and helps guide the students properly when it comes to studying style and getting to know the requirements. The faculty members of Sarthak IAS are top-notch and focus on providing students with dedicated coaching. The institute provides students with proper course materials. They have regular tests and mentoring sessions to help identify students' weaknesses and change that into strengths.
Address: B – 1/25, Sector A, Kapoorthala – Aliganj Near Oil India Office, Kapoorthala, Lucknow, Uttar Pradesh – 226024
Website: www.sarthakias.com
2. Plutus IAS
Ranked second in our list is Plutus IAS, another of the top-ranked IAS coaching centers across Lucknow. The institute is not just renowned in the city of Lucknow but across India too as they have centers in multiple cities. The institute has been around for quite a few years and has a great track record in preparing students for the civil services exams. They have a top-tier coaching staff with expert teachers who have carefully guided plenty of students over the years in IAS coaching. The institute provides meticulously prepared course material and provides both online and offline modes of study. It also has regular tests and exams to help prepare the students.
Website: www.plutusias.com
3. ALS IAS
If you're looking for IAS coaching then ALS IAS is something that you must have heard of. They are a great IAS coaching institute and have been ranked consistently in the top bracket for ages. The institute has its footprint in multiple parts of India and is known to many students and IAS enthusiasts. The center provides students with comprehensive course material and top-rank coaching facilities to help them prosper. They also have regular tests and assessments for students to check their caliber and guide them properly in their weak areas. 
Address: B- 22, 2nd Floor, Sector-K Near Sahu Photos Studios, Aliganj, Lucknow, Uttar Pradesh – 226024
Website: www.alsias.net
4. RACE IAS
The fourth pick in our list is the RACE IAS Institute which has been providing IAS and other civil service examination coaching to students for a long time. The institute is one of the highest-ranked centers for IAS coaching in Lucknow and is a preferred choice for all students. The institute provides both online and offline classes according to the ease of students' routine and offers them mentorship and guidance to help them crack the exams. The center also provides detailed curriculum guidance allowing students to complete the course with proper skillset and learning.
Address: Goel Market, Sanjay Gandhi Puram Road, Near Lekhraj Market Metro Station, Indira Nagar, Lucknow, Uttar Pradesh – 226016
5. Bhoomi IAS
Closing our list at fifth number is the Bhoomi IAS Academy which is another of the top-ranked institutions for IAS coaching in Lucknow and India. The center is famous for its detailed and student-centric method and has branches across Lucknow, Delhi, and other cities. Bhoomi IAS Academy has been around for more than 3 years and has a well-sourced faculty team that helps prepare the students for the course and the toughest civil services exams. They have routine exams and tests set up every week to help gear the students up to speed and the requirement for the tests.
Address: 7A/459, Near Ansal API, Vrindavan Colony, Lucknow, Uttar Pradesh – 226029
IAS is a great career choice for students and has been a top drawer for students from Lucknow and other areas over the years. The city of Lucknow has very good institutes that specialize in providing top-level coaching to students in IAS exams. We hope this list can help you find the right IAS coaching center for yourself.