As you already know, the healthcare domain is a vast one. For the functioning of this domain, numerous professionals from different fields work as one for assured quality. Of the different allied healthcare fields, one of them is Radiology and Imaging Technology. This sector takes care of many medical diagnostics, including the use of X-rays. Since the use of X-rays is irreplaceable in the field of medicine, a separate branch is there to handle it. And that's why the X-ray technology course started.
This field has a constant demand for specialists since the field of medicine is always growing. So, if you are thinking of taking up a career in this dynamic field, the first thing that you should do is do a Diploma in X-ray technology. This is a 2-year course specifically designed to train the students in x-ray technology. Yes, this course is a more career-oriented program because it teaches how to create a person's core structure using x-rays.
This course will impart both administrative and clinical qualifications that are in demand right now. Also, they will learn how to do different laboratory tests during the course. Below are some details on what the course has in store for you and the benefits you will surely reap. Without further ado, let's go into it!
Why study X-ray Technology course?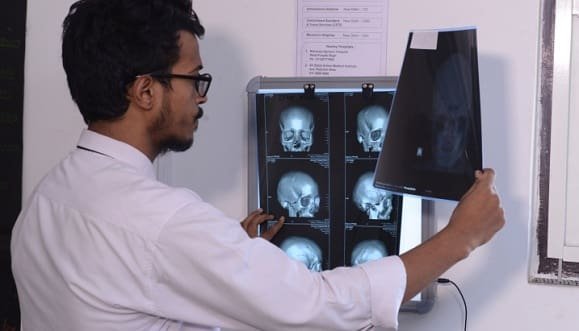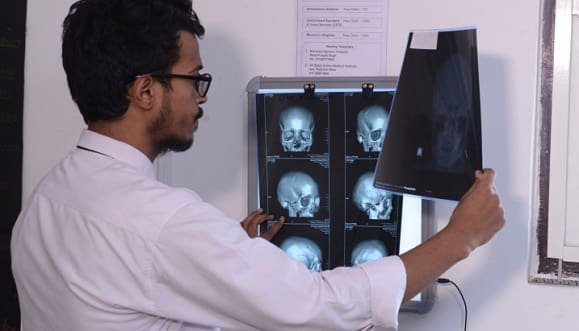 Qualified x-ray technicians have a huge demand both in our country and abroad. If you look at a global scale, the healthcare sector is growing at a phenomenal rate. Like doctors, x-ray technicians are experiencing a demand because they can handle and conduct tests using x-rays. Below are some more reasons why this is a good course to opt for.
With an x-ray technology course, you can learn the skills and knowledge necessary for laboratory tests.
This diploma course has both theory and practical experience in using x-rays. Based on this, only doctors can know what's happening inside the body.
Huge job opportunities are available in the government and private sectors. Both imaging and diagnostic areas in clinics and hospitals require x-ray technician's assistance. Big commercial labs recruit experienced x-ray technicians with a good salary package.
X-ray Technology course details
The 2-year course focuses on training the students on using electromagnetic radiations. The process of producing an image of a person's core structure using x-rays is what the student will learn. Also, students will learn subjects like:
Image acquisition
Clinical chemistry
Anatomy and physiology
Haematology
Laboratory procedures and quality management
Patient care
Radiographic procedure
Eligibility criteria for the X-ray technology course
The candidates should have finished their 12th standard with a major discipline as a science. They should hold at least a minimum aggregate score in their main exams. Some colleges conduct entrance tests based on the subjects in class 12. So, they consider both the class 12 and entrance exam results.
Syllabus for the X-ray technology course
X-ray technology course is for 2 years that equips the candidate with clinical qualifications to handle the electromagnetic radiations. During the 2 years, they will learn a variety of subjects that help with the correct diagnosis. The subjects will help them in higher education if they choose to do so.
For the first year, the students will learn about:
Basics of radiotherapy
Techniques and diagnosis using radiography
Electrocardiography
Human anatomy and physiology
Patient care and hospital practice
Radiodiagnostic radiography equipment
For the second year, they will learn:
Diagnostic radiography
Radiodiagnostic result correlation
Clinical haematology and urinalysis
Techniques of radiography
Fundamental physics
Image acquisition in radiography
X-ray technology course fee and duration
The duration of the x-ray technology course is for 2 years. A student will pay tuition fees an estimated amount of INR 40,000-90,000 annually. This means that the student will have to pay between 2 to 3 lakhs for the entire course. This course is much cheaper in government colleges than in private institutions in India.
Future scope of X-ray technology course
Job is not the only option available for you after finishing the x-ray technology course. Yes, if you want, you can specialize in this field by pursuing higher education. The x-ray technology course will serve as a foundation and help you excel in your higher education if you plan. Some of the courses that you can apply after the x-ray technology course are:
A graduate of x-ray technology course can pursue a bachelor's degree in radiology. Here, the students will learn the different ways of radiographic imaging like MRI and CT scans. This will help to expand their eligibility to work on different radiographic imaging.
Sc Radiography Imaging Technology
This higher course will equip the student to know about the different medical lab technology available. It mainly deals with the processes and methods to take internal photos of the human body. These pictures help with clinical investigations to understand the patient's health issue.
Sc Medical Laboratory Technology
This paramedical course is a blend of theoretical and practical knowledge necessary for the diagnosis and treatment of various diseases. Here, the students will mainly learn how to detect those underlying health issues by using laboratory equipment. They also learn to document and report on the tests conducted – which is important in hospitals. This may seem like a heavy course, but the demand is huge. Since the x-ray technology course covered the basics, finishing this degree will only be a breeze.
Everybody knows about the disease of cancer. And the main thing required for treating any cancer is radiation therapy. But not everyone can administer radiation therapy to the patient. This course offers the required knowledge and skills to treat cancer using radiation therapy. Right now, there is a huge demand for these experts. Again, the x-ray technology course will help you to study and excel here.
If you want higher career prospects, do higher education right after this basic course. With a higher degree, you can improve your career growth. For all the above courses there is a high demand, especially in hospitals right now.
Career opportunities for the X-ray technology course
Even if you choose not to go for higher education, there is still value in this course. Yes, demand for the x-ray technology course will only cease if hospitals cease to exist. Because of the increase in the number of patients and hospitals, people who know how to operate x-ray have become necessary. Some of the areas that you can choose after finishing a diploma in x-ray technology are:
Hospitals (both government and private)
Medical laboratories (government and private)
Outpatient care centres
X-ray labs
In the above areas, you can find stable employment. In India, the following are common job roles that you can get after finishing a diploma in x-ray technology.
This job role will require you to test the working of the x-ray machine. This means you will be familiar with all the components and their operation in the diagnostic procedure. Best of all, your salary package will be 3 to 4 lakhs annually for this type of job.
A consultant radiologist is the one who explains the x-ray image. They give their suggestions based on what they observe in the x-ray film. In this job role, you can suggest further diagnosis and treatment to the doctor. Here, the annual income is 2 to 3 lakhs.
Assistant x-ray technician
The job of the assistant x-ray technician is to operate the radiographic machines when diagnosing the patient. In this role, you can easily get around 1-2 lakhs per annum.
The job of the x-ray technician is to operate and observe readings from the diagnostic machine. They help with taking x-ray photographs for the patient. This average salary for this job role is 2 to 3 lakhs per annum.
If you don't like working in the hospital or clinic lab, it's ok. You can become an instructor or trainer who teaches the procedures and concepts to new students. Being a teacher can help you get 3 to 4 lakhs per annum.
Conclusion
The demand for x-ray technology courses is always on the rise. Whether you are thinking of staying in India or settling abroad, this course is the way. Yes, there is a much higher demand outside India than you think. So, if you are thinking of pursuing a course that will land you a quiet job – this is the one.
With the above details, you know what the x-ray technology course will offer you. Think about how you want your career growth to be and plan accordingly.
Even if you are unclear, don't worry. You can still decide whether you want to pursue higher education or go to a job at a later time. Now, decide whether this field of study is for you or not, and then choose.