Travel & Tourism has always been one of the hottest industry for candidates looking for a job. The industry not only gives you a chance to travel, but many of the positions in the industry are incentive-driven. Because of such dynamics of the tourism industry, travel & tourism sector has been one of the favourite sectors for students to work in. In addition to this, India has also been experiencing exponential growth in this sector. Travel vloggers have boosted the aspirations of Indians, and they have been inspiring people to travel.
The industry is not just a growing one, but it is also one of the most profitable sectors. The influx of foreign tourists gets a lot of forex in India. As per one of the survey, India will create over 45 million jobs in the travel & tourism sector in the next five years. With such demands, it would certainly be wise to make a career in the travel and tourism industry. If you are also interested in making a career in travel and tourism, you are on the right page.
In this article, we will educate you about the options available in travel and tourism courses. We will help you explore various courses available to you, and we will also help you by providing all the possible information about these courses. With all this information, you will choose the course that you want to pursue to enter or to grow in the travel and tourism industry.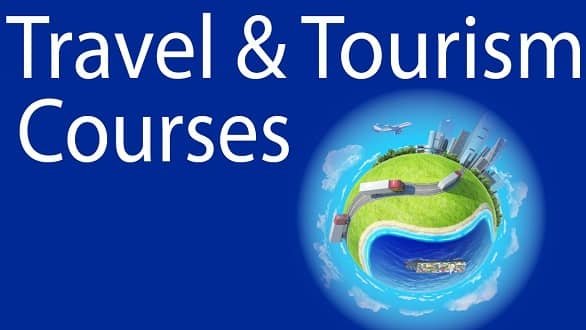 Let us go ahead and start by exploring the courses available in the Travel & Tourism Industry.
Options for Courses Available in Travel & Tourism
In this section, we have listed the top courses available in the travel and tourism industry. We have not listed the certificate courses since they are the short term courses and can pursue them anytime. However, you need to plan if you are willing to pursue a course in the Travel & Tourism industry. Check out the courses available at various level in this section.
Bachelor Level
Diploma in Tourism & Travel Management
Com Travel & Tourism Management
BA in Travel & Tourism Management
BBA in Tourism Management
Master Level
MBA in Travel & Tourism Management
Eligibility Criteria & Syllabus
Eligibility criteria for the courses in travel and tourism would vary from one level to another. In the section below, you can check out the courses' eligibility criteria at bachelor and Master's level.
Bachelor Level
Check out the points below for the eligibility criteria and syllabus.
The eligibility criteria for Diploma is relatively straightforward. The candidate should have cleared class 12th with pass marks. In addition to this, the candidate should have good communication skills.
For any other bachelor level program, you would need at least 45% to 50% marks in the 10 + 2. In addition to this, you would need to have various skillset as well.
The diploma course has a duration between 6 months to 1 year, and the bachelor course has three years.
You should have a set of skills if you wish to make a career in the travel and tourism industry. These skills include a good personality, well-groomed individual, research and analytical skills, networking skills, communication skills, passion and flexibility, problem-solving skills and client management skills.
The subjects at the bachelor or diploma level are listed below.

Marketing Management
Information Technology
Tourism and Heritage in India
Business Communication
Accounting and Finance Management
Human Resource Management
Business Economics
Eco-Tourism
Tour Operator Management
Public Relation
Hospitality Management
Cost Accounting
International Business
Taxation in Tourism
Indian Geography
Foreign Tourism
Cultural Training
Principle of Insurance
Tour Reporting
Destination Mapping
Cultural Tourism
Adventure Tourism
Master Level
The general eligibility criteria for MBA in Travel & Tourism Management are listed below.
You should have completed graduation with 45% marks. You should note that the minimum marks required are different for each college.
You should qualify under the merit list or have cleared one of the competitive entrance exams.
You should have skills like good communication, stress management, flexibility and creativity.
The list of subjects include

Travel Agency Management
Information Tech for Tourism
Travel Agency Management
International Tourism & Trend
Travel Pattern & Tourist Behaviour
Attraction Development
Destination and Destination Development
Tourism Policy & Development
Organization of Tourism
Business Communication
Personality Development
Accounting & Finance
Food & Canteen Management
Human Resource Management
Hotel Administration
Marketing
Geography and International Tourism
We would recommend you check the college's website to get the exact information about the eligibility to enrol under Master's level course.
Admission Process & Fee
We have covered the generalized admission process and the fee structure for in this section. You should note that the fee and the admission process would vary from one college to another. The right approach would be to select the course and then select the college. After that, you can check the college's website for precise information.
Bachelor Level
Below is the information on the admission process and the fee for the bachelor program.
For the diploma level courses, the admission can be based on merit and the entrance exam. Some colleges even look at your 12th marks before providing admission.The fee for the diploma program usually varies between Rs 10,000 to Rs 3 Lakhs.
For B.Com, BA and BBA, you would mostly need to appear in the entrance test. Some colleges do have an option of admission under management quota or merit basis but are advised to check at the college level.
The bachelor level program's course fee is usually between Rs 40,000 to Rs 5 Lakhs for the whole course.
Master Level
The MBA degree is of 2 years, and below is the detailed admission process.
To enrol in MBA in the travel and tourism sector, you need to appear in one of the competitive exams like GMAT, CAT, CMAT, XAT or MAT.
Once you have appeared in the exam, you would need to find the colleges that offer MBA in this specialization. You can simultaneously apply for these colleges.
If you have marks above the cut-off marks, you will be invited for GD and PI post to get the admission.
The fee of the course is usually between Rs 2.5 Lakh to Rs 15 Lakh. It depends on the institute you choose. Also, the total course duration of MBA is two years.
Some of the colleges offering the course include Indian Institute of Tourism & Travel Management, Christ University, Amity University & VELS University.
Career & Job Prospects
The motive behind pursuing any course is to have a bright career. In this section of the page, you will find some information about the career and the job prospects after completing the travel and tourism course at various levels.
Bachelor Level
After Bachelor Level, you will be able to get jobs as per the profiles listed below.
Tour Operator
Travel Consultant
Travel Analyst
Tour Manager
Travel Planner
Tourism Trainer
Travel Content Writer
Regional Manager
Travel Executive
Master Level
After completing the MBA in this sector, you will secure a job at one of these positions. The designation name is sufficient for you to get an idea of the job profile and the type of work you will be doing.
Destination Manager
Event Planner
Hotel Manager
Sales Manager
Tour Guide
Tour Manager
Travel Agent
Travel Counselor
Visa Consultant
Regional Manager
Teacher
Sales Consultant
Customer Services
Salary Offered
Having a promising career is an important thing, but you also need to consider the compensation you would receive for your services. Below is the estimated figure for the payment that you will receive.
Bachelor Level
After you complete a diploma or a Bachelor degree, the starting salary is usually between Rs 2.5 Lakh to Rs 3 Lakh. Again, it depends on the institute as well as the organization that you are working with. We have seen candidates who are getting paid as much as Rs 6 LPA after bachelor program. The jobs may also have a vast variable component, and you need to check the same before you join any company.
Master Level
The salary you will be getting after completing an MBA depends on the institute, experience, and skills. A fresher may get an annual package of approximately Rs 3 LPA to Rs 6 LPA. The pay scale increases with time, and some people are earning a seven-digit salary. You should note that the salary package would be higher in popular tourist destinations. Moreover, it also depends on the type of organization you are working in. Additionally, a significant component of the salary is the variable pay, which is commission, incentives and other components.
Major Recruiters in the Field
We are sure that you would also have a dream company that you would like to work in. In this section, we have listed some of the significant recruiters that hire graduates and postgraduates in the travel and tourism sector. You can go through the list, and it will help you in setting your goals.
| | | | | |
| --- | --- | --- | --- | --- |
| Indian Holidays Private Ltd. | Club Mahindra | Thomas Cook | Cox & King | Viva Voyage |
| Taj Group | ITC | Aviation Sector | Veena Travels | Private Travel Agencies |
| MakeMyTrip | American Express | Lemon Tree Group | Radisson Group | Emirates |
| Food and Catering Agencies | Ticketing Agencies | Government Departments | SOTC India | Flying Fox |
Final Verdict
We have covered all the possible information about the courses in travel and tourism sector. We have covered only the top courses which have bright career prospects. We use various sources to compile the information. We always recommend checking the individual college website to get accurate information about the important dates, eligibility, fee and syllabus. All these things can help you in being prepared for the upcoming admission season.
We can assure you that the travel and tourism sector will be a great choice and people from various background can make their career in this sector. If you are not interested in the service sector, you can even start your travel consultancy or travel agency. You can reach out to us for any other questions about the courses in travel and tourism sector.