Management is the best career option in which a student of every field, whether from science, arts or commerce stream, can think of their career. Both Undergraduate and Postgraduate Programmes in Management has their importance. But to achieve a better job role, it is required to complete a Postgraduate course with sufficient aggregate from a top B-tier school. After reading this, the first thing that will come to your mind is which course is best suited to you. Choosing the right path is an easy task,  but make sure you should opt for the course based on your interest and preference. In our opinion, PGP and PGDM are two options that you should consider.
PGP or Post Graduate Programme have less popularity among management students. On the other hand, PGDM or Post Graduate Diploma in Management is the most popular diploma level course in management. Both courses can be pursued after completion of a Bachelor's degree. Many students have a misconception that both are same in the term of curriculum and industrial requirement. Here we have listed some aspects that show there is a huge difference in both of them.
Difference between PGP and PGDM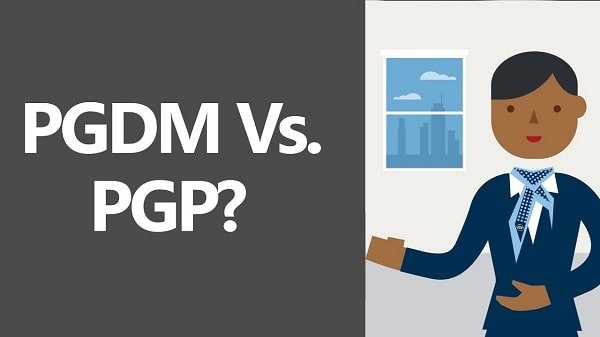 PGP Vs. PGDM – Eligibility Criteria
Eligibility Criteria for PGP
PGP is a flagship management course offered by a prestigious institute namely the Indian Institute of Management. PGP or Post Graduate Programme is similar to MBA in the term of syllabus, duration, and eligibility. Here, all details regarding PGP eligibility are listed below:
Candidates who have complete a bachelor's degree from a recognized university are eligible for the PGP course.
Candidates who are appearing in the last year of the final year exam can also apply.
Candidates must have scored at least 50% of marks in their bachelor's exam.
In the case of the reserved category, 45% of marks are accepted to take admission in PGP.
The marks of PGP may vary from institute to institute (Autonomous institutes).
Eligibility Criteria for PGDM
PGDM or Post Graduate Diploma in Management course is offered by private institutes in India. Candidates who seek admission in PGDM meet with basic eligibility criteria that are below mentioned:
Those who have attained a bachelor's degree from any recognized university are eligible for applying to PGDM.
Candidates who are appearing in the last year of graduation or have appeared in the final exam can also apply.
The students need to secure a minimum of 50% of marks in their qualifying exam.
For the reserved category, a minimum of 45% of marks is required to apply for PGDM.
It is also offered by a private institute, so duration may vary accordingly.
Also Read: PGDM Vs. MBA: Which is Better for You?
PGP Vs. PGDM – Duration
Duration of PGP
PGP course is being offered by IIMs for 1-year certificate course which is divided into 4 semesters. The duration may extend up to 2 and a half year as per rules and regulation of IIMs. Furthermore, in the duration of 2 years, 2 to the 3-month training programme is also included.
Duration of PGDM
The duration of PGDM or Post Graduate Diploma in Management is 2-year, divided into 6 trimesters along with 2 to 3 months training programme. The duration may vary from institute to institute.
PGP Vs. PGDM – Admission Process
Admission Process of PGP
Most of the private institutes conduct own entrance exam. But candidates who are seeking admission in PGP at IIMA can follow a two-step process. In simple words, admission to this 2-year PGP is based on relevant entrance exam like CAT. In the first step, candidates must appear for AWT (Analytical Writing Test) after fulfilling all eligibility requirement. Then shortlisted candidates will compete Personal Interview Round. Overall, to get admission in PGP you have to crack the CAT exam.
In case, you want to take admission in any management college, then you should qualify for entrance exam like CAT/XAT/MAT/CMAT/GMAT.
Admission Process of PGDM
Both private and public institutes offered PGDM course in India. The admission to PGDM by most of the private institutes like IIM's is accepted through national level entrance exam like CAT, MAT etc. However, an individual top-tier B-school provides admission to PGDM Programme based on competitive exam like XAT.
PGP Vs. PGDM – Affiliation/ Authorization
PGP Affiliation/Authorization
The Post Graduate Programme in Management can be only be offered by institutes and college that are registered as autonomous bodies like IIMs. IIMs are only enrolled to offer certificates and diploma courses like PGP and PGDM. They are not affiliated with any university as well as not recognized by the UGC. Therefore, the Post Graduate Programme in Management is recognized as a certification course and is regulated by the AICTE (All India Council for Technical Education).
PGDM Affiliation/Authorization
PGDM or Post Graduate Diploma in Management is a diploma level course offered by certain private institutes in India like IIMs. IIMs is an autonomous institute that is not affiliated with any University or College. IIMs institutes are the only ones who are established to provide courses like diploma course and certification course in Management. Even, they cannot offer MBA courses because of their independent status. Overall AICTE authorized B-Schools in India can offer PGDM course. Such institutes are directly approved by the AICTE (All India Council for Technical Education), under the Ministry of HRD, Government of India.
PGP Vs. PGDM – Experience Required
Experience Requirement for PGP
The PGP course does not require any kind of experience. Infect, during the course period candidates will have to get a great amount of work experience by doing on-field training. Overall, there is no work experience required for pursuing PGP.
Experience Requirement for PGDM
Due to the course popularity, some private colleges require a certain amount of experience. Such college requires 3 years to 4 years of work experience. If you pick any specialized PGDM then the experience requirement can increase and extend up to 5 years to 15 years.
PGP Vs. PGDM – Course Curriculum and their flexibility
Curriculum of PGP
As we already mentioned that PGP course is offered by autonomous institutes. So, the flexibility of course may depend on the demand of companies and industries which are recruiters of that industry. PGP course curriculum has 2 – semesters. One semester dedicated to 3 Terms including core subjects,  and the second semester is for elective subjects,  where you can select any subject as per your interest.
Though the syllabus may vary from institute to institute a standard 2 year PGP course is divided into 6 sessions. The course curriculum of PGP for the first year is listed below:
First Year Syllabus:
Term 1 – Financial Accounting, Managing Organization, Marketing Management, Microeconomics and Quantitative Methods.
Term 2 – Corporate Finance, Macroeconomics, Managerial Communication, Managing People and Performance in an organization, Quantitative Methods 2, Research and Marketing Decisions.
Term 3 – Business Law, Competition and Strategy, Indian Economy and Policy, Management Accounting, Information systems and Analytics, Operations Management.
Second Year Syllabus:
The second-year syllabus includes different elective subjects that are mentioned below:
Econometrics
Data Mining for Business Decisions
Corporate Governance
Performance Management
International Finance
Product and Brand Management
Customer Experience Planning and Execution
Information Technology and Consulting
Data Visualization for Managers
Foundations of Strategy Consulting
Private Equity and Venture Capital
Curriculum of PGDM
PGDM syllabus covers two areas namely core subjects and elective subjects. Core Subjects are being offered by institutes in Terms like Term I, Term II etc.
Syllabus of Term I – OrganisationalBehaviour, Quantitative Techniques, Business communication, Operation Management-I, Managerial Economics, Management Accounting and Control-I
Syllabus of Term II – Financial Management I, Macroeconomics, Marketing Management, Quantitative Techniques etc.
Syllabus of Term III – Financial Management-II, Marketing Management, Operations Management-II, Research Method, Marketing Management-II, Management Information System, Human Resource Management.
Syllabus of Term IV – Business Environment ( Indian and World Economy) and Strategic Management
List of Elective Subjects
International Trade
Business forecasting
International Finance
Bank Performance Analysis
Business Analysis and Valuation
Supply Chain Management etc.
PGP v/s PGDM – Objective
PGP Objective
Post Graduate Programme in Management is a master level programme that provides managerial skills to their candidates along with lucrative career opportunities. The course offers educational knowledge and practical knowledge through internships and live projects. The main object of the course is to trained candidates for IT firms, the Finance sector, Consultancies firms and MNCs. The course is specially designed for those who are already working professionals but wants to pursue a management course for good job prospectus.
PGDM Objective
The PGDM course imparts knowledge of different aspects of the management and business sector. The main object of PGDM is to develop professionals for the IT and Business field. Its course curriculum sharpens candidates mind and prepares them for real-life difficulties.
PGP v/s PGDM – Job Profiles
PGP Job Profiles
A PGP certification holder can work as Business Consultant, Finance Manager, Operation Manager, ITES, Tech Consultant, Sales and Marketing Analyst, etc. They can also seek jobs in government sectors.
PGDM Job Profiles
After successful completion of the PGDM course, candidates can find jobs in both the private and public sectors. They will become Project Manager, Data Scientist, Auditor, Tax Specialist, Consultant, etc.
Bottom Line:
Both course, PGDM and PGP have their importance and also have demand among students. These two are known as the best option under the management domain. As we described, there is a minor difference between both of them. So before pursuing any course, check the entire details from start to end.