While pursuing a bachelor program in management can get you plenty of academic and practical knowledge, learning the real concept and core knowledge of fundamentals can introduce you to the real world of businesses. Pursuing Masters in management program can provide a ton of benefits and allow you to learn more to improve the basic phenomenon.
The understanding toward operating, maintaining and managing a business enhances with the postgraduate degree. There are further courses options that students can take into consideration to figure out the optimal course. However, most students end up having confusion between MMS and PGDM program. At the end of the day, both courses seem similar with no certain differences.
But, if they are similar then why they are named differently? There must be something that makes them distinctive. Well, there are many differences that you can notice. Here, we are comparing both courses based on their key aspects and also mentioning some of the similarities so applicants won't have to stay confused. While making this comparison guide, we are looking at the primary factors only.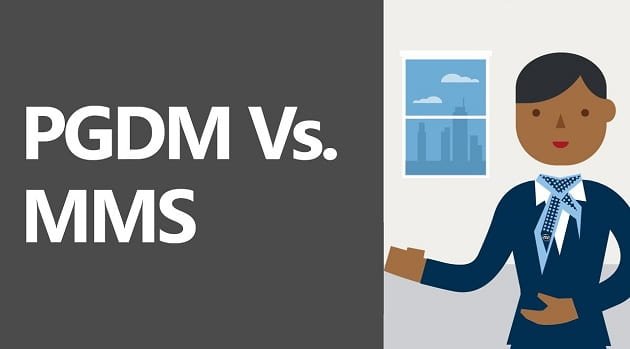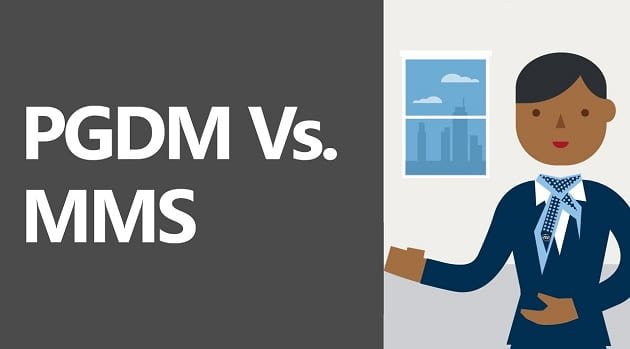 MMS – Explained
MMS full form is Master of Management studies and it is a postgraduate degree for management students. It is a two years course program further divided into four semesters. This course is approved by AICTE and it is a popular degree in management studies. As if you compare this degree to the other options based on the fees, it is available for an affordable fee structure.
To get admission to a top college for the MMS program, students would have to opt for an entrance exam test. Colleges conduct Common Entrance Test, also termed as CET. After passing the entrance tests, students are required to appear for an interview round. So, the admission is mainly based on the merit list and there are only limited seats reserved for the MMS course.
The other entrance exam test popular for the MMS course is MHCET and it is conducted on a state basis by Maharashtra Education Board. This examination is only for students who want to get admission to Mumbai management colleges.
PGDM – Explained
PGDM full form is Post Graduate Diploma in Management and it is an equal course program to Master of Business Administration. It is a diploma program with higher values for recruitment purposes. This course's duration is two years and it is also divided into four semesters. Each passing semester help students gain further knowledge into the working of businesses and this course focus on more practical knowledge.
Students get training while pursuing this course and most practical sessions will be in the industry training. To get admission to a top institute or college, students are required to opt for the entrance exam test. Students would have to appear for the CAT examination and some colleges enrol candidates based on their merit list.
Even, many colleges take the admission procedure to a higher level by conducting an interview round and testing students' knowledge before offering admission. Even, it is a diploma degree, the cost for this degree is higher than the MBA or MMS program throughout the country. Some of the top colleges for PGDM are SP Jain Institute of Management, IIMs, and more.
MMS Vs. PGDM – Top 3 Key Similarities
After comparing both courses on the basic level, you can easily figure out three vital similarities.Learning about the similarities will make things quicker to understand and eliminate any sort of confusion regarding the program. As you start pursuing any of the course, you will notice these three things –
MMS and PGDM have similar duration throughout the course. Both courses have a duration of two years and they are equally divided into four semesters. So, the students will be pursuing the same duration courses.
Both courses are provided by the same colleges and institutes throughout the country. So, you will be pursuing similar courses under the same roof. So, you can find all the top colleges offering MMS and PGDM course.
MMS and PGDM are preparing students for similar aims and that is management studies. The similarities might be less or more, but the overall aim of the curriculum is the same.
After knowing that both courses are equally divided into similar sections, there is one more similarity. The placement rate and is also equal. However, there are some key differences which differ from these courses in the education aspects.
MMS Vs. PGDM – Top 5 Key Differences
Over the complete duration of the course, you can figure out that five key differences distinctively make these courses unique.  If you choose any of the course, you will notice these five things –
The very first difference that you can notice that the MMS course has higher credibility as compared to the PGDM course. MMS is a Master's program and it is credible from a Diploma course.
In case of better structure and easy to understand the curriculum, PGDM takes over the MMS course. Studying PGDM will enhance your chances of placement due to better structure and ease while pursuing the course.
PGDM program is a comparatively expensive option to MMS course and it is also a diploma program. So, the MMS course seems adequate for students who don't want to spend too much on management studies.
In the case of placement factor, both courses are equally competitive in the Curriculum vitae or Resume. However, students who have pursued the PGDM program are more likely to get placement.
PGDM provide diverse studies as compared to the MMS or MBA program. Everything is simple from admission to enrolment in the MMS course but PGDM might be frustrating in this category.
These are the key differences that you can notice in both courses. Based on what you want to study, you can further conclude the right course based on the syllabus, competition, or you can opt for the entrance exam of both programs.
Note – During the admission procedure, you can find MMS course is competitive and more students are appearing for the entrance exam. The eligibility factor is almost similar so you can try for both courses' entrance exam and increase chances of getting admission in any of the programs.
PGDM and MMS – The Minimum Requirements for Admission
There is a minimum requirement for every student who is appearing for MMS or PGDM program. Well, there is no difference in the minimum requirement for both courses, so you can find both course competitive.
Applicant must have pursued a bachelor program in business or management. Having an undergraduate degree from the relevant field to the selected course is crucial.
Every applicant would have to possess at least 55% aggregates to get admission to the desired college. The minimum aggregates may differ based on the college you are selecting.
Some colleges require students to pass an entrance exam test and they further conduct an interview round to sort out the perfect candidate.
Meanwhile, students appearing for the MMS program might have to be on the merit list to get admission to the selected college.
If you compare all these things to PGDM, you can find that the cut-off marks are never mentioned by the top colleges and they conduct their interview round to figure out the perfect candidates.
Placement Rate – Is there any Difference?
It doesn't matter that if you have pursued MMS or PGDM, the chances of getting the job is equal in both cases. Something which can make a big difference throughout the recruitment procedure is your communication skills, aggregate in the respective management studies during postgraduation, and the college you selected for your respective program.So, it is all about candidate ability and recruiting companies care about the institute name more than anything else.
Additional Note
A few things that you must learn about –
If you don't make it to the MMS course due to a slightly lower score, then PGDM is a competitive and easy choose option.
The cut-off marks are not released by any top institute for the PGDM course.
Many institutes keep their deadline on the verge and it is important to keep an eagle eye to register for the upcoming program.
Make sure to decide on an institute by comparing the record, placement rate and other essential factors to avoid any problem.
The Final Verdict
During the selection of a postgraduate course program, you can focus on the eligibility factor. If you are eligible for both programs, then we would suggest you appear for the PGDM course as it provides better placement chances over the MMS. However, if you want to get admission to any of the top institutes in Mumbai and pursue management studies then MMS would be an excellent choice.
Both courses are equally competitive and provide students with a hope to have a better placement rate. If you want to pursue a competitive course, then choosing MMS or PGDM would be an excellent choice. MBA is also a prominent option and students are considering it due to the affordability, higher number of the institute for admission and curriculum of the course. We hope that this comparison guide regarding MMS Vs. PGDM will help you figure out the perfect course.