You go for an MBA degree as you get done with your undergraduate degree. Your undergraduate degree can be of three to four years. To get into the right B-School, you will have to work on yourself and your personality from the beginning. It is your personality and communication skills that matter the most in those interviews, after all. However, when going for an MBA, you will also have to go through the well-known entrance tests such as CAT and GMAT when you wish to end up in the most amazing B-Schools.
We have often seen candidates being confused about whether they should go for an MBA in India or think about choosing an MBA college outside India. And as we have spoken to many experts regarding these topics, we have done our descriptive work. Today, we have made a comparative narration between MBA in India v/s MBA abroad. We have also structured our entire work and kept all the information for you to analyze. Once you try reading everything on MBA in India and an MBA abroad, you will pick the right course.
Let us discuss everything below –
Why Must One Opt for an MBA in India?
When one thinks about education, they probably believe that the quality of it would be better abroad, and one cannot experience it in India. However, there are many B-Schools, such as all the well-known IIMs in various parts of the country, that are known to offer excellent exposure to their students. One has to study and go through a lot of concepts in their MBA. However, it is the exposure that is going to matter. If you get the right kind of exposure in the market, you will be able to work practically towards solving many situations and issues.
However, when you choose to go for an MBA in India, you will have to focus a lot on the type of college you choose. When we asked some experts about this, they had the belief that an MBA is not a tough course. Once you get into a college, the entire course's two years will get finished in no time. However, it is the entrance exams such as CAT that one could find tough. But students should still not run from it and always stick to aiming high. There are many other tier-I B-Schools other than IIMs that one can go for.
Always try to choose a college in India with a good return on your investment and the one that is known to offer many opportunities along with a good package.
Advantages of pursuing an MBA in India:
We have the advantages of pursuing an MBA degree in India given below –
When compared to studying abroad, you will find that doing an MBA in India is way less expensive. Many universities in Germany will not charge you the tuition fees for an MS or an MBA; however, studying in India is still less expensive. Other than that, when it is a college or university run by the government, you will find the charges being way too less, and yet the institutions would have a good package for you. This means that you will get the right return on your investment in India as you go for an MBA in your country.
As you choose to study in your own country India you will not have any problems with your VISA and passport. However, students who get to study abroad might have to struggle with such stuff. Not only that, we have seen many students getting a place at the university abroad, but when they are about to leave, their VISA gets denied. Matters like these can only jeopardize a student's studies as well as their entire career. Hence, one has to take such transportation and VISA problems very seriously when choosing to go for an MBA abroad.
One more important factor of studying in India will be your network. We have seen that like-minded people who come from a common background are known to flock well together really well. As you will have people of the same nationality, there will never be a communication gap. This way, your network will become stronger and stronger as you speak and communicate with your batchmates and peers. People who make their contacts during their MBA can also build relations of their organizations with the organizations where their acquaintances work.
You will not find it very difficult to adjust to India when you go to an Indian MBA college. This has got to be an important factor because, as we mentioned, an MBA is a course that will pass by quickly. Therefore, one has not to have any time to waste. When you are abroad, you will have to struggle and give some time to understand the country's culture and ways of living and the place where your college is at. Because of this, many students are not able to focus on their studies to their fullest potential. When things like this can hamper your career, you should decide a well-mannered way.
Who should not pursue an MBA in India?
People who only and only dream of settling abroad should stick to choosing an MBA college out of India. This is because studying abroad will help them create a network where they want to work. Hence, they will have better chances of working at a place they have always liked to work. Other than that, people who want to have global exposure should also stick to choosing an MBA abroad. With this, such candidates will get to have a worldwide corporate experience in a way that they will be able to settle in different countries.
When you show that you can work and settle abroad, you show your skills of adapting to your environment; this is something that every management graduate should develop. However, the ones who get to study abroad are the ones that can hone it. Hence, the organization you work for will give you chances of settling and working in different company branches. With that, you will get the best out of the whole world. If you surely are a person who could fit into this category, then pursuing an MBA in India will not bring you that many perks; hence do not go for an MBA here.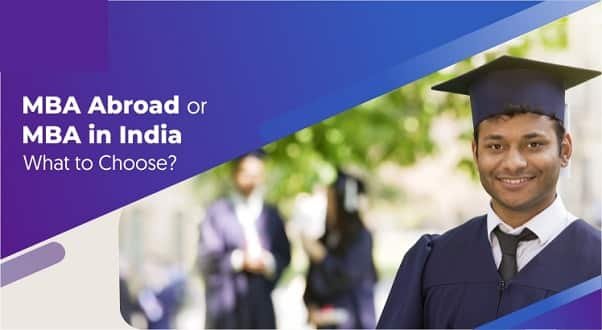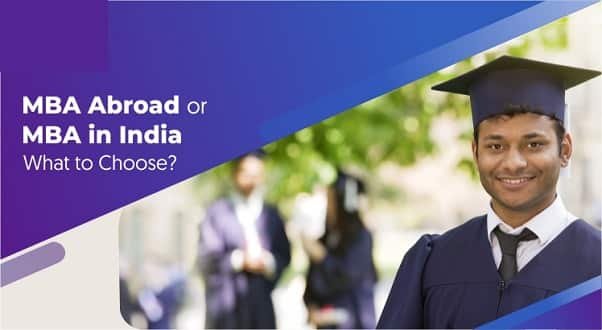 Why Must One Opt for an MBA abroad?
When one thinks about corporate life abroad, he/she would surely imagine skyscrapers, lit-up cities, and busy roads. While corporate life abroad can differ from country to country, we still find them to be similar in many ways. Additionally, you will have to be the absolute best in order to succeed in being a manager when you study management abroad. With the international exposure that you get by studying abroad, you will have fair chances of being the highlight of your organization. This will also make your resume look very good.
If you are someone with excellent command in English and Basic Mathematics, including Arithmetic and Algebra, nothing can stop you. Along with giving the entrance examination called GMAT, you will also have to appear for GRE, which will test you for your English language. While most of the average candidates will not be able to score diligently, you can have a good chance to work hard if you have the talent and the will. Many people constantly crave for having an international experience. For that, you can go for an MBA abroad.
Here also, we would suggest you choose the well-known and reputed universities that will offer you a stable career along with global exposure.
Advantages of pursuing an MBA in India:
We have the advantages of pursuing an MBA degree abroad given below –
Global Networking is something that one can enjoy when he/she chooses to go for an MBA abroad. You will not be the only student from a different country in your batch. Instead, you will get to see students from countries all across the world. With this, you will get a fair chance of working with the most diligent minds of the whole world. You will also learn a lot about the work culture and ways of working in different countries. All of this would be offered to you under the institution that you chose for your MBA.
An MBA abroad will make you much more accommodating and adaptive to your environment. For someone who thinks he/she is adaptable, learning abroad will make them take that thing to a higher level. Of course, you will take time to learn about the things that go on in the country that you choose for your MBA. However, once you get the right hang of it, you will surely be moving and gliding forward in a way that everything will be effortless for you. This will also make you mentally and emotionally stronger.
Almost all B-Schools outside India stick to offer a highly practical learning experience. Therefore, other than learning concepts, you will be spending a fair amount of time knowing how you can apply them in the organization that you start working for. The entire process of learning in a B-School abroad is highly experimental and interactive. With a lot of interesting internship projects, you will be able to get all the experience in the field of management that you have chosen. This will take you a long way for sure.
One of the best benefits that come when you do an MBA abroad is that, in a way, you are forced to expand your limits and also move out of your comfort zones. Hence, you are able to identify the areas that you have to work-on really well. When you are facing a challenge, you also tend to think out of the box when it is all beyond your scope. Hence, an MBA abroad will actually bring the creativeness and imagination skills out of you and push you in the right ways to bring out the best and strengthen your weak areas.
Who should not pursue an MBA abroad?
There are many options that will assist you financially. Many students have to take loans for this purpose. However, since the amount is high, you will also have to pay huge amounts as interest in those loans. Therefore, if your family background is such that you are not even able to think about moving abroad, then you should not choose such courses. Additionally, there are many people who might feel that what they receive from the course is way less than what they are putting in. for such people, an MBA abroad will not work.
Furthermore, if you have always been someone who feels so comfortable in India that you have a belief that you won't be able to settle anywhere else, you should not go for an MBA abroad. Of course, all good things are known to come at a cost. However, trading for a lifestyle abroad for your mental peace will be taking a toll on your for sure. We always stick to be transparent as taking a decision related to your career is indeed a big thing. So if you do not want to ever leave India, it will be better that you create a network here by choosing a B-School in India.
Conclusion:
While there could be a lot of doubts and matters of confusion in a person's mind, we are sure that you will get to decide what is best for you. You have to go through all the pointers that we have offered today and come to the decision that you think will take you to the heights that you always wanted to reach. With an MBA, one can indeed see a lot of doors open and a lot of opportunities knocking on your door. So, when you work hard in those entrance exams, try to be consistent as that is surely the thing that will help you end up in good B-Schools, whether it is abroad or India.