The level of competition among students for numerous competitive exams continues to rise. Students look for books and study materials for their studies from a variety of sources, and the library is usually the first place that comes to mind when they think of a source.
To be a librarian, you must possess certain abilities such as communication, organization, and knowledge of books, among other things. You should also be familiar with the electronic devices that are used as information sources in the workplace.
Eligibility
There is a unique set of eligibility requirements for each college or university, and each candidate must meet these requirements to be considered. The following are the most important eligibility requirements for the [B.Lib.I.Sc] degree program in this section:
The candidate must have completed his or her bachelor's degree in the discipline from a recognized university to be considered.
For consideration, candidates must have received a minimum of 50-55 percent marks in their undergraduate studies. Additionally, candidates must meet the admission requirements of the specific college into which they wish admission.
Some colleges and universities hold their entrance exams, which applicants must pass to be considered for admission.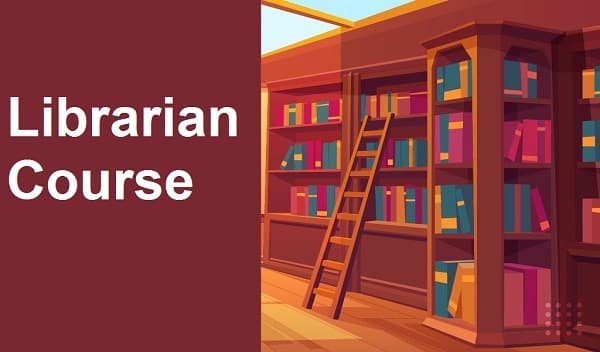 Main Responsibilities of Librarians
Look at a few of the important responsibilities performed by librarians, such as the following.
Cataloging– arranging information resources in such a way that users can quickly find what they are looking for Gathering, assembling, & indexing information resources are some of the responsibilities of this position.
Administrative duties– Manage staff, budget, library supplies, and stationery, to name a few aspects of administration
Assisting customers and responding to their questions
Organizing events and outreach programs for the community
Increasing the number of people who use library resources
Budget Management
Managing stationery & library supplies
Managing staff
Organizing Community Events
Assisting Patrons
Promoting the library resources use
Organizing knowledge resources in a way that is easily accessible
To respond to inquiries and assist library patrons
Keeping up with the latest publications is essential.
Increasing the number of people who use the library
Organizing reading groups is important.
Librarian courses
There are three main formats in which librarian courses are offered in India. They are –
Certificate courses
Bachelor's Degree courses
Diploma courses
Certificate courses
In this case, it is important to note that students receive training through library science certificate courses.
In addition, the fundamental principles of library science are covered in this course. Furthermore, it incorporates basic laws, library organization, management, and library & information services, among other things.
This is to emphasize that the most common courses are as follows:
Duration
It is important to note that this course will take place over six months. This is to emphasize that it consists of 250 hours of theory and 150 hours of practical training.
Eligibility Criteria
10+2 from a well-known board in any of the streams is acceptable.
Diploma course
One must note that these courses are at the diploma level in library science and are not intended for beginners. In addition, this course assists students in learning how to effectively manage information resources through case studies.
The purpose of this statement is to emphasize that this course assists students in understanding the significance and influence of information management.
It is critical to note that the most frequently encountered courses are as follows:
Duration
The purpose of mentioning this is to emphasize that the period of this diploma is one year.
Eligibility Criteria
10+2 from a well-known board
 B.Lib
This course provides students with knowledge of library procedures as well as the opportunity to develop their skills in these procedures.
It is critical to note that this is one of the library science courses that are focused on job preparation. Aside from that, the most common courses are as follows:
 B.LISc.
Duration
It will take two years to complete.
Eligibility criteria
It is critical to note that candidates must have a Diploma in library and information science or be a graduate from a recognized university to be considered.
Syllabus
Information services & sources
Library Classification (Practical)
Library Cataloguing (Practical)
Society & Information of Library
Library IT
Library information centers & management
Library cataloging & classification (theory)
Field survey & Literature (Project work)
Bachelor of Library & Information science
Admission Process
Every college or university has its own admissions process that must be followed. However, in the majority of cases, the procedure is very similar. Students will need to fill out an application form and then wait for the university to announce the cut-off date and time. If they meet the cut-off, they are permitted to apply for admission to the university of their choice. Additionally, in some cases, an entrance exam may be administered.
[B.Lib.I.Sc]: Direct Admission
The following are indeed the procedures that candidates must follow in direct admission, which is defined as admission based solely on merit depending on the list of candidate's graduation marks.
Step1: Complete the application form.
You must complete and submit your application form by the specified deadline. These days, application forms could be completed both online and offline, depending on your preference.
Step 2: The College declares a cut-off point for admission.
Universities will release their relevant cut-off scores after the deadline has passed. Students who meet the cut-off will be able to apply for admission to the institution of their choice.
Step 3: Fulfillment of the application and admissions processes
Applicants will be able to enroll in their desired colleges following the payout of the applicable admission fee.
[B.Lib.I.Sc]: Entrance Test
There are only a few colleges and universities that require students to sit for their entrance exams. The following are general steps that candidates can take to be considered for admission to the university.
Step 1: Admissions requirements
The very first step would be to familiarize yourself with the various eligibility criteria that each college has in place, as well as the documents required which must be submitted to the various colleges/universities in question.
Step 2: Complete the online application form.
Every college's next step in the admissions process is nearly identical to the previous step. You will be required to complete and submit your application form by the deadline specified on the form. You must also print out a copy of the form for your records in case you need it later.
Step 3: Show up for the entrance examination.
Afterward, you'll have to give the test and earn a high score to proceed. If you pass the entrance examination, you will be able to move on to the final phase of the application procedure.
Step 4: Acceptance into a college or university
Students who achieve a high level of success on the entrance examination will be permitted to apply for admission to the esteemed institution.
Jobs after Librarian course
The majority of librarians find work in the education industry.
The position of librarian can be found in a variety of settings, including universities and colleges, courthouses, museums, law offices, public schools
The position of librarian could be found in a wide variety of settings, including universities and colleges, courthouses, museums, law offices, public schools being enthusiastic about learning and books is a prerequisite for becoming a librarian.
Career opportunities
There are numerous career opportunities available in this field. You could move up to a more senior position as a manager. The responsibility of providing an expert service or collection may fall on your shoulders.
If you work in a library organization, you have a wide variety of options for advancement. Based on your best interest and background, it is necessary to easily plan your career from the beginning to the top levels of management.
Job Titles
Senior Information Analyst
Deputy Librarian
Library Attendant
Information Assistant
Library Assistant
Librarian
You may be hired as a university or college librarian, as well as the head of the library department. It is possible to work in the business world in areas like marketing, online content management & design, information sharing, database development, citation tool development, information management and coordination, publishing, and the Internet as well.
Top Recruiters of Librarian
Consulting Firms
Media Organizations
Research Institutions
Corporate Training Centres
Colleges
Universities
Libraries
Salary of a librarian
In both the public and private sectors, librarians receive competitive compensation packages.
 A Librarian can expect to earn between Rs. 2 and Rs. 4 lacs per year in salary. Generally speaking, a Librarian can receive an annual wage of $48 k per year in the United States.
Salaries will vary depending on a variety of factors, including the working environment, education, and experience. If you have a master's degree (see Online Master's in Library and Information Science) and a lot of experience working as a librarian, you can expect to receive a very decent wage package.