A lab technician works in a lab where he/she performs many lab procedures, maintain lab equipment, and assist senior scientists. Their roles are also seen in many hospitals and diagnostic centers around the country. They surely form an integral part of the medical industry in India. Such technologists might also conduct numerous research to come up with new techniques for the benefit of everyone. These individuals are all known well to be highly accurate in whatever procedure they conduct.
Medical Laboratory Technology helps in diagnosing many forms of diseases as well. It runs and goes complementary to medical science. If it wasn't for Medical Laboratory Technology, we might not be able to know about many forms of illnesses. It involves the analysis and proper study of body matter, which can further include tissues, blood, and fluid. The basic techniques in this technology involve sampling, testing the samples, and further reporting.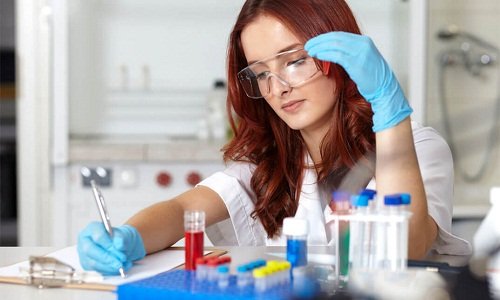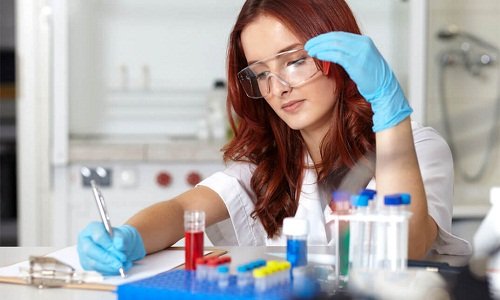 There are many students these days to have an ambition for such a field. Today, we will discuss everything that one might do and need to become a lab technician in India. We will cover everything this time and help you get to know every detail. Let us discuss below –
Skills needed to become a good Lab Technician
To become a good lab technician in our country, you need to understand how crucial your role will be. You must be highly disciplined and meticulous in reaching the desired results whenever you enter the laboratory. One must have a huge knowledge of how the equipment in laboratory works. He/she must also be precise with everything as you would be expected to reach the most accurate results with the tests you conduct. This will require stress management capabilities, high analytical skills, and a timely schedule. The work of a lab technician involves rigorous tasks. They are supposed to learn everything about living beings. After they are done with their diagnosis, further steps can be easily taken. This way, lab technicians, also known as lab technologists, help with everything that might go wrong in our bodies. A person who is interested hugely in the subject of Chemistry in their school might find this job lovely. There are also a lot of amazing career aspects and fields that one might opt for.
Eligibility:
You can pursue your ambition to become a lab technician in India by choosing a diploma course or a degree in Medical Laboratory Technology. Let us discuss the required eligibility below.
Diploma in Medical Lab Technology, also known as DMLT
The diploma program of MLT is a two-year-long program. You can choose to opt for it after you are done with passing class 12th. To apply for such diplomas, you will have to score at least 50% in your 12th standard results. Many famous colleges in India offer such Diplomas, including the Jawaharlal Nehru Medical College and PDM University. However, in such prestigious universities, one might have to go through written examinations and an interview for taking admission to such courses.
Following are the criteria for qualifying to enter in a DMLT course –
Some colleges offer DMLT courses after you have completed your 10th These colleges include the renowned Madras Christian College. Here, you will need a minimum 50% score to enter the course.
As mentioned earlier, other universities will help you choose the DMLT course if you have scored at least 45-50% in your class 12th. Additionally, the subjects that you must have chosen in your 11th and 12th standards must include: Physics, Chemistry, and Biology.
Degree in Medical Lab Technology, also known as BMT
BMLT stands for Bachelors's in Medical Lab Technology. In India, it is generally known as Clinical Lab Technology as well. Just like other Bachelor degrees in India, this degree is a three-year-long program. One can pursue it easily after they are done with their higher secondary or senior secondary education.
In this course, one will brilliantly learn how to conduct tests, collect information, document, handle equipment, and make reports. The general subjects that are taught in it include human physiology, human anatomy, microbiology, biochemistry, bio-medical waste management, pathology, and clinical hematology.
All those interested in this course must have a 10+2 education and a minimum of 50% in their 12th class examination. Furthermore, the subjects that they chose for the 11th and 12th standard education must have Biology, Physics, and Chemistry. You can go to famous colleges such as Madhav University, Mewar University, and many more to pursue a BMLT course.
Moreover, the minimum age of the student must be 17 years. If your intermediate results are not out yet, then also, you may apply for the course.
There is no prominent entrance exam for this course, but you might have to face written tests and/or interviews.
The admission is based on merit, where the students might be asked to fill forms from the university or college that they choose to go with. After the required documents have been uploaded, the institute will start shortlisting candidates based on their academic records. Generally, the final list of the students picked is displayed on the website or notice board of the institute. After your selection, you might have an interview. If the institute is highly renowned, it might also ask you to go through a written test. Once you are done passing all of that, you will be asked to pay the required fees, and you will be done with the admission.
After a participant is done with their diploma/degree in the medical laboratory technology course, they can also go for post graduate education. If they do so, they can choose their specialization from microbiology, immunology, histotechnology, forensic science, phlebotomy, and much more.
After the completion of the UG course, many people also opt for a six-month internship, which lets them have knowledge of the basics. An internship might also help you learn the work ethics and other requirements in the field. To pursue the UC courses, you must pass your 12th from a recognized school. A degree or diploma in MLT can surely help you become a good lab technician in renowned and popular labs and hospitals of the country.
Fees:
As far as the fees of the Diploma course in MLT are considered, you will find good colleges that ask you to pay the fees within the range of INR 20,000 to INR 25,000. Some universities also ask for an average fee of only INR 5000. One such university is the well-known Mahatma Gandhi University (MGU).
If you want to pursue a degree program in MLT (Bachelor's in Medical Laboratory Technology), the average fees of the course lie within the range of INR 20,000 to INR 3,00,000 depending upon the university you choose.
Therefore, the exact amount of money can be known if you have chosen a particular college or university. We have described the general range of fees for you so that you can have an idea about it.
Career:
The top recruiting areas for a Lab Technician include Hospitals, Pharmaceutical Laboratories, R&D centers, Blood banks, diagnostic laboratories, etc. as soon as you are done with your studies, you can look for many interviews that happen all across the country to get a particular position that you might want. Some of these positions include the position of a laboratory technologist, laboratory consultant, laboratory manager, health outreach coordinator, laboratory supervisor, laboratory system analyst, and more.
As you gain experience in your particular position, you might get promoted with respect to how much you are offering in the workplace. This will also help you have an increment in your salary. In just a single year, you will get to understand everything and gain the practical knowledge needed to stay in the field. Therefore, keep assessing every situation to get the results that you are expected to reach.
Bottom Line:
These days, the courses that help you become a laboratory technician are gaining a lot of popularity. Additionally, the career opportunities that one might get after completing their studies are also increasing. This has resulted in great salary packages that a person might go for. The role of a laboratory technician can prove to be highly crucial. You will get to understand how things work and how one can reach the correct diagnosis. You will love this field if you are interested in learning what happens in a laboratory.