From action movie to sci-fi movie genres, the storyline is incomplete without introducing something technical where someone hacks into the system and trespass. It might seem fascinating, but hacking isn't always about doing the bad stuff. Some consider it the part of the dark web, whereas some like the term ethical hacker. But what is ethical hacking, and who exactly is an ethical hacker? To find out the answers, let's jump into our mini-guide post about ethical hacking and how you can be an ethical hacker in India.
What's Ethical Hacking?
Ethical hacking is a broad term, and it consists of a range of criteria. White Hat is the common type of ethical hacker who is involved in penetrating computer devices by finding loopholes in the program. The main purpose of breaking into the system is to check the security of the program.
Ethical hackers' tests devices credibility, security, and other side aspects to ensure that customers won't have to worry about any data breach, security issue, or whatnot. Ethical hackers have skills related to computer programing languages and have enough patience to track a loophole while testing a program. Most IT companies hire ethical hackers to ensure the safety of their computer.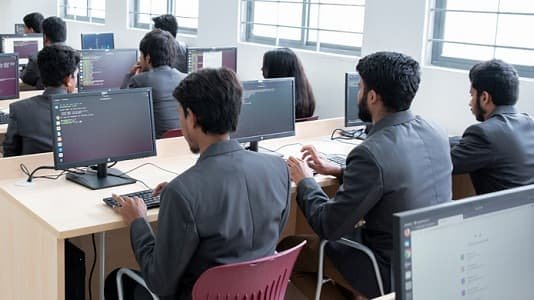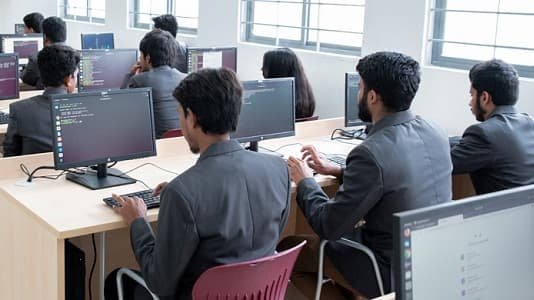 To eliminate issues of hacking, an ethical hackertries to prevent the computer by fixing bugs and creating firewalls. If you want to be an ethical hacker, then it is possible. Even anyone with excellent command of computer programming language and a keen interest in scripting can get into this field. But, where to begin is the primary issue.
Before getting deep into the topic, it would be a better choice to learn about the importance of ethical hacker.
Eligibility to Become An Ethical Hacker
Candidates who want to apply for admission in the Cyber security and ethical hacking must have fulfilled the under mentioned criteria:
After completing 10th, the candidates must have to choose Physics, Chemistry and Mathematics (

PCM

) stream with computer science as a mandatory stream.
After clearing 12th, the candidates must have to go for B. Tech, B.Sc. in computer science or Information technology.
The graduate's candidates can go for higher studies and choose MTech pr M.Sc. in computer science.
For doctoral programs and postgraduates, the candidates must have to clear the GATE entrance examination.
As per your merit, many government institutes like IIT and IISc provides scholarships.
You must have practical knowledge in C, C++, Ruby and Python.
Fulfilling these criteria enhances your chances of getting enrolled in a top institution. But, if you don't meet the eligibility criteria, some private institutions offer the ethical hacking course.
Learning Ethical Hacking Online – Is it possible?
Choosing any online source to learn hacking is also possible. You can consider distant studies, there will be no exam, and you can gain a ton of information online. No doubt that online video streaming platforms are quite effective and efficient to get started but if you want a certificate and degree then you must have to enrol for this course.
As per the number of ethical hackers around the globe, few of them learned hacking on their own from small tricks. Creating a .bat program in a computer to crash the operating system, and then trying to get into some website for free credit are common things. These are not possible in the current time, but you can learn more about such tricks online and keep getting better.
Certificates of Ethical Hacker
The candidate who is qualifying for an advanced diploma in network security can also purse ethical hacking as a career. A certificate from a recognized institute/organization enhances the chance of getting hired by reputed companies in the Information technology field. The below mentioned famous certificates are-
Once you enroll for the ethical hacking or security course, you can find that the course varies between the period of 3 months to 2 years. Based on the course you select; you will get the certification. There are four types of ethical hacking certificates offered in India, which are as follow –
Certified Ethical Hacker – EC Council
GIAC Certified Penetration Tester by SAN & GIAC
Certified Hacking Forensic Investigator – EC Council
Certified Intrusion Analyst – GCIA
After getting the certificate, you can get your resume ready and try out in reputed IT companies in India.
Skills and further knowledge:
The candidates have the technical skills which are required.
Aspirants have Working knowledge of the Penetration Software
The candidates have Working knowledge of Microsoft and LINUX servers, Citrix, Microsoft Exchange, Cisco network switches and virtualization
You have wide knowledge in network security.
Job opportunities and career options in Cyber Security and ethical hacking:
If you are a professional hacker, then you will achieve your dream job. There is a huge demand for professional ethical hackers. Many cyber-attacks cases are reporting every year. Lots of companies and bank hire professionals to develop new security networks and to prevent malicious hackers. Professional hackers help these companies in finding more security options and security. Professional hackers can find a job in the public and private sector. both. The salary of the professional ethical hacker is approximately Rs 5 Lac to 8 Lac. the salary will be offered according to your talent and knowledge. A long-term job gives you a high increment. The famous IT companies are following where the ethical hackers can find the various employment opportunities-
Reliance
IBM
Microsoft
Google
Apple
KPMG
Infosys
Deloitte
Dell
Accenture
Getting selected into any of these companies can offer you impressive salary packages. Make sure that you focus on selecting the right institution and employment sector to have a great future.
Areas of employment for an Ethical Hacker
Large corporations
Government- Defense, Energy and Nuclear, banks
Universities, Schools, and Institutes
IT Security team
Is there scope in Ethical Hacking?
Most candidates willing to take part in ethical hacking or security courses have this doubt regarding the scope of the future. Well, ethical hacking and hackers are high in demand in previous years. Most businesses are shifting to eCommerce and online services. At this time, no company would take risk of their and customers' data. It is the major reason that you should take part in this course and consider getting a certificate. To pour more light on this topic, we have some specific reasons to understand the importance. You can consider four reasons that we elaborated on in this post.
Top 4 Reasons to Understand Why Companies Hire Ethical Hackers
In the past couple of decades, most law enforcement authorities are looking deep into the importance of having an ethical hacker. In the digital world, most crimes are also digital. So, the need of hiring an ethical hacker is –
Constant Cyberattack on Companies
Most organization are having constant cyberattack in the past several years. You can easily find that organizations are an easy target as they can offer hefty fees to get things fixed. Hackers put ransomware into the system and encrypt crucial data. Such tactics by hackers cause serious loss to businesses, and the result is, organizations must pay what hackers are demand.
Create Defense Layer or Firewall
You might know that a security system prevents your computer from strangers accessing your device. When your computer, smartphone or any other digital device is connected to the internet, attackers would get access. But an ethical hacker is here to prevent such scenarios. By adding a layer of protection to the system that is hard to decrypt for an attacker is the key purpose.
Cloud Storage Prevention
Users save their data in cloud storage these days, and the same goes for most companies. No doubt that it is customers' data, and it is sensitive to leak. The recent data breach on some social media server brought a ton of attention to this topic. Due to this, most companies are paying close attention to the prevention of data breach. Any kind of data breach can cause damage to the brand image.
Limit Liability Risk
A breach can increase the liability of the firm but when there are ethical hackers in the group the liability factor reduces. Liability is an essential factor for most companies, and prevents any data breach is crucial to gain customers' trust.
The Final Verdict
The demand is getting high for an ethical hacker based on the recent data breach issues, and the role of an ethical hacker in a company. Anyone with basic skills of computer programming, bachelor's degree in IT field such as engineering, B.Sc., or advanced diploma. There are entrance exams that you must complete so that you get a reputed institution in India.
IIT is one of the reputed institutions to learn IT and software engineering. Getting selected into any IT field and then preparing for cybersecurity and the Ethical Hacking Course can come in handy. Once you get the certification for being an ethical hacker, you can get a job in any reputed company throughout the country.