Digital marketing is one of the fascinating fields. Digital marketing is an enhanced Industry all over the world, not only in India. Digital marketing is integrated with almost all the businesses that are going online. Digital marketers' demand is increased rapidly, and it is opening the doors for several job seekers.
Not only digital marketing is a way of advertising the product and services. It provides several career opportunities to go through. One can be a professional YouTuber, vlogger,website planner, and marketer by cracking the professional digital marketing course. So if you want to be a digital marketer, you have to get all the details about digital marketing courses.
In recent years, it has been seen that digital marketing plays a major share of jobs generated. As per several social media reports conducted the digital marketing provides more than 1.5 Lakh job opportunities. The career scope in the industry of digital marketing is booming day by day. This is one of the reasons many people are learning the digital marketing course. The current status of digital marketing is at its peak.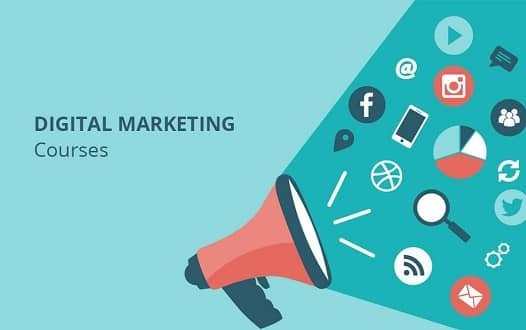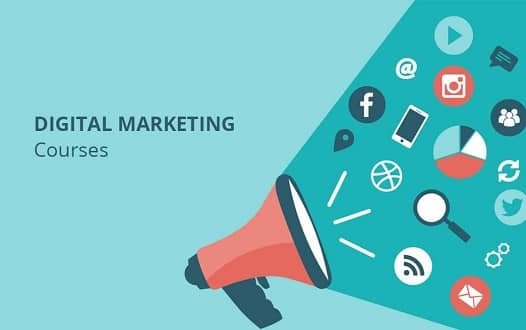 Why to study digital marketing courses?
After the internet boom, there is no surprise that business is bringing sales and market online. Digital marketing becomes the best strategy for targeted results and wide scope. The trend will follow in the future, so if you are unsure of doing this, get a degree, and complete a course in the field.
Social media growth
More than 2.8 billion people are active in the social media world, and businesses are taking advantage of steady growth. People spend most of the time browsing social media atthe right time, which will help the target market in an engaged and active way.
Online marketplace
After completing a digital marketing course, one can find main clients and customers online. Videos, emails, and Facebook ads have played a great role in finding customers. One can easily reach potential audiences with the help of digital marketing strategies. It's a great way to reach the required marketing opportunities quickly.
Flexible career opportunities
Would you want to know what makes digital marketing work so appealing? Practically, it is the best job worldwide when you enjoy customer connections with internet connectivity. Digital marketing promotes remote works, so if you are not capable of doing desk jobs, digital marketing is a great two way available.
Digital Marketing Course Details
Check out the complete course details of digital marketing. Be a master of the digital world after getting a diploma, graduation, and post-graduation-
1. Postgraduate diploma in digital marketing
The postgraduate diploma in digital marketing is a 1-year program. Students seeking to get admission in the course must have a bachelor's degree in equivalent and relevant discipline from a credible University and institutions. Admission to the program will be based on the candidate's performance in the entrance test that is followed by the interviewer. The average fee to get admission in the program is about 30,000 to 100000 Indian rupees.
Students who want to enroll in the digital field of marketing or are interested to learn about the fundamentals of digital media can study for the course. The career options in digital marketing courses are various as well as in universities and colleges. One can pursue a career as a customer relationship management, e-marketing, and online market research company, marketing manager, content writer and social media manager, and more.
2. MBA in digital marketing
In digital marketing, MBA is a 2-year postgraduate course about the promotion and branding of products and services. It is a new generation course that was on the principles of modernization marketing into opting the services. Nowadays, digital marketing has become an essential part of life.
MBA in digital marketing course provides a student with the required knowledge and skills to perform efficiently in the digital marketing industry. It has obtained successful digital marketing strategies with no doubt. The course is quite interesting because it has not only the creative skills, but it serves technical knowledge of digital platforms.
Full name, of this course is Master of business administration in digital marketing. The real stream of this course is about management. The average course fee is about 4 to 6 lacs. Once you are recruited as an MBA digital marketer, the average starting salary is 5 to 6 lacs per annum. The top recruiting areas are service aggregators, E-Commerce companies, online service providers, online course providers, and private organizations.
Eligibility
Any graduate interested in digital marketing can go for the certification course and get the required skills to start a digital field career. Digital marketing is about learning the right methods and getting updates with the latest methodologies used by professionals. Whether you want to be a graduate student in digital marketing, you have to opt for admission in the course. Make sure you choose recognized universities and institutes to get admitted.
There is no specific information about the eligibility criteria associated with this course. As well, it might vary from one Institute to another. Anyone can be a part of a digital marketing course that has basic knowledge. It doesn't matter that you are a graduate or undergraduate; you can apply for a digital marketing course. Moreover, you will be eligible for Digital Marketing courses after and before completing the 10th.
Admission process
When it comes to getting admission to a digital marketing course, you must know about the required factors. Let's check out the required steps of the admission process-
It is mentioned to fill the form correctly with all the details.
There is a need to scan and submit all the required documents.
You need to know about the registration fee.
You need to check out the cut off marks at the official website.
Students who want to get admission to the desired University and colleges to pursue a digital marketing course have to pass the cut-off marks.
Fees
Many institutes and colleges are providing digital marketing courses in India. Every Institute and college has its fee structure that students are capable of the program. It is mandatory to know about the required digital marketing field that is around 35000 for the certification. Moreover, the amount will be varied as per courses and certification of different Universities and institutions.
Digital marketing syllabus
Let's check out the complete status summary of digital marketing courses. Here we help you to move forward in the industry of digital marketing by choosing a relevant course. Nowadays, digital marketing has played a great role in the industry to improve the branding as well as the social presence of Companies.
Lead Generation & Marketing Automation
eCommerce and Payment Gateway
Remarketing Strategies – Advanced Level
Google Plus for Business
LinkedIN and Twitter Marketing
Google Analytics and Webmaster Tool
Search Engine Optimization (SEO)
Affiliate Marketing & Google AdSense
Case Studies and Practical Assignments
Google Certification Program Training
Digital Marketing Fundamentals
Website Planning and Structure
Facebook Marketing for Business
Google Adwords and PPC Advertising
YouTube and Video Marketing
Email Marketing for Business
Career
It doesn't matter whatever the company's size is when you start with digital marketing career options. You must follow the right digital marketing two techniques to achieve the targeted audience support. These days, companies are started online marketing or internet marketing ways to enhance their branding and contribution. There are many career opportunities for a Digital Marketing certificate to find candidates. Here we have given a list of all the job and career opportunities that candidates can fit after completing the digital marketing jobs-
Engineering mathematics
Content Marketing.
Search Engine Marketing (SEM)
Search Engine Optimization (SEO)
Social Media Marketing (SMM)
SEO Executives.
Search Engine Marketers.
Social Media Marketing Experts/Specialists.
Content Writers.
Content Marketing Manager.
Digital Marketing Manager.
Inbound Marketing Manager.
Conversion Rate Optimizer.
Web Analytics.
Email Marketing.
Job profile in digital marketing-
Website designing is one of the popular courses that you can obtain for. Website designing is a part of digital marketing courses. After getting the course, you have a bright future as a website planner, website designer, website manager, and more career options are available in the field.
Email marketing is a part of digital marketing. Email marketing might be the best way to get in touch with more and more customers. This will benefit you to generate potential leads for the business in a short amount of time. After cracking the course of digital marketing, you can start a career as an email marketing manager.
SEO is recognized as Search Engine Optimisation. Search Engine Optimisation plays an important role in getting popularity as well as the required traffic on the website. It might play a bigger role in the industry of digital marketing. One can pursue a career as a Search Engine Optimisation manager as well as an executive in private and government companies.
After completing the course of digital marketing, people have several career opportunities to move forward. One can start a career as a content writer. Content is King to get popularity in the social media world. Whether you want to become popular, you have to create effective and unique content. It might be the best way to popular and get the attention of all the authentic users. Moreover, the content is a way to publish new ideas into the industry. It is the way to meet people with something attractive and unique that they always want.
Content marketing manager
As it is mentioned above, content plays an important role in digital marketing. Whether you want to get home popularity in the digital world, you have to be unique and real. It doesn't mean that the task ends. Here's a digital marketing skill holder; you can start the career as a content marketing manager. You can manage content marketing for governmental and private institutions or organizations.
Conclusion-
Digital marketing plays an essential role in marketing. Certain facts will help to be a professional digital marketer, but before you have to consider all the details. It is imperative to grab all the required information about a digital marketing course, syllabus, fees, eligibility, career, and more. This will help consider all the details about the digital marketing course and be a part of the wonderful digital world soon.