The finance domain is enormous, and people often get confused between the different certifications and courses available in the finance domain. Today, we will talk about two such certifications, which have grabbed a lot of attention from the present and upcoming generations. We are sure that you already know about the CFA course, which stands for Chartered Financial Analyst. Another course that has been gaining popularity is CFP which stands for Certified Financial Planner. We received many queries about these two courses, and we decided to compile an article sharing all the differences between the two.
So, to begin with, CFA is all about investments, asset allocation and portfolio management. It teaches you about active and passive portfolio management. Apart from this, it also teaches you about financial risk. Talking about the CFP, it teaches you the trick of financial planning. Most of the financial advisors that you meet are CFP certified. These people are also found in the banking and insurance domain and are the minds behind the retirement products.
In this article, we have shared the major points of difference between CFA and CFP. You can go through the points, and we are sure that it will help you choose the right course for yourself. So, go ahead and check out the details now.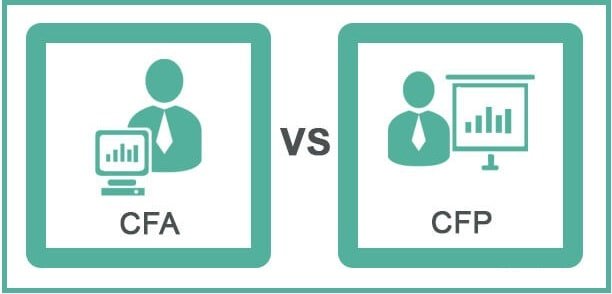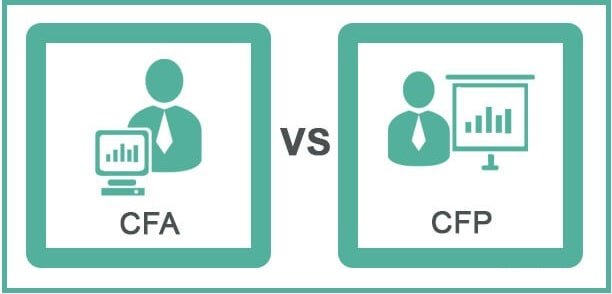 What is CFA?
CFA, which is also known as Chartered Financial Analyst, is a professional certification course in the financial domain. It is one of the toughest certifications, and if you are willing to work in the finance domain, then CFA can be considered a gold standard certification. During the certification, you learn about portfolio management, fund management, hedge funds, capital gains and other important finance concepts. As per a general observation, many graduates opt for CFA certification once they meet the eligibility criteria. We have shared more details about CFA in the sections below.
What is CFP?
As mentioned in the starting, CFP stands for Certified Financial Planner, and this certification helps you plan your financial well-being. The main focus of CFP is on investment planning and designing the ways to reach your financial goals. CFPs are responsible for helping the clients in reaching their long term financial goals. They often study the markets and advise the investment structure for the clients based on their risk appetite and the goal.
Eligibility Criteria
Coming to the eligibility criteria for CFA, there are certain points that you need to take care of. You should have completed a formal bachelor degree from a recognized university, and the degree should have a duration of four years. Alternatively, you can have work experience of four years in any domain, and you will be eligible for the CFA exam. In India, many degree courses are of 2 and 3 years. In such a case, a combination of the degree course and work experience should total up to 4 years. This will make you eligible for CFA, but it is also mandatory for you to have a passport as ID proof.
If you are willing to opt for CFP, you would need to have a bachelor degree. Apart from the bachelor degree, you would need to have relevant experience of 6000 hours. This translates to 3 years of work experience. Alternatively, you can have 4000 hours of apprentice experience if you do not have 6000 hours of relevant work experience. This translates to two years of work experience.
Organization Body
CFA exam is conducted by the CFA Institute in the USA. The organizing body for the CFP exam is the CFP board. These exams are available in several countries, and hence you can take benefit of the same.
Exam Pattern
You start by registering for the institute, and then you get some time to prepare for the Level I exam. After you clear the Level I exam, you need to appear in the Level II and Level III exam in the same order. You have to wait for a certain specified time before appearing for the next exam, and you need to clear all the exams to get the certification. You will be glad to know that CFP has only one level of exam. That means that after clearing the Level I exam, you get your certification. It is indeed an easier option when compared with CFA.
Course Duration
As we mentioned in the previous section, you have to appear in various examinations for CFA certification. There is a certain wait time between the two groups. So, we can say that you would need a minimum of 4 years to complete CFA certification. If you increase the gap in the two exams, then the course duration will increase. As per observation, the students usually complete the CFA in 6 years. The duration of the CFP course is three years. Since there is a clause of 6000 hours of professional experience, you would need three years. Otherwise, you can clear the exam in a single attempt if you are well prepared for it. So, if you already have professional experience in the field, then the duration would be significantly shorter for you.
Syllabus
The syllabus of CFA varies as per the exam level that you appear in. We can share some information about the general subjects that you will study during the CFA. The subjects are alternative investments, corporate finance, derivatives, economics, equity investments, ethics & professional standards, financial reporting & analysis, fixed income, portfolio management, quantitative methods. You can find more information on the CFA syllabus on the official website.
In CFP, you learn about financial planning, education planning, investment planning, retirement goals, passive income planning, insurance planning, risk management, estate planning, tax planning and financial planning. You also learn about personal financial planning, and that helps you a great deal in your life.
Course Fee
There are different components of the CFA fee. The total fee would include the annual subscription charges, exam fee and the cost of material as well. For every exam, you pay anywhere between $700 and $1000. The one-time registration charges are $450. Now, assuming that you have opted for early registration for all the exams and you have cleared them all in one attempt, you will be spending around $2550 as a fee. This can go as high as $3500 if you miss any of the early registration benefits.The cost of the CFP program is a lot less. The fee for registration &exam is between $825 &&1025. If you register well on time, you will be able to complete the certification is $825, but you will end up paying extra if you are later for the registration.
Job Roles & Salary
CFAs find it easy to get a job in the relevant industry. As mentioned earlier, CFA is considered to be a gold-level certification, and this is what makes it easy for you to find a job after CFA. Usually, the recruiters include asset management organizations, hedge funds, banks, wealth management organizations and consultancies. There are also designations available. Some designations that may interest you are financial advisor, financial strategists, fund manager, investment analyst, investment manager, portfolio manager, private banker, relationship manager. There are many other designations, but the ones mentioned by us are the most popular. The salary can vary depending on your bachelor degree, experience and skillset. The average can be anywhere between Rs 3.5 Lakhs per annum to Rs 25 Lakhs per annum.
There are many designations available for you as a CFP. You may get to work as an estate planner, financial manager, retirement planner or even financial manager. You may also get roles in the financial constancy, or you may find yourself working as a trading or equity research associate. Many CFPs also work as financial analysts since there is a mild overlap between CFP and CFA.
Difficulty Level
A lot of students have questions about the difficulty level of the CFA exam. CFA is a difficult certification, and as per a survey, only 10% of the students are able to clear the exam. Many of them drop out because of professional commitments and difficulty levels. Level I is the most difficult CFA exam, and the difficulty level falls in Level II and Level III. In comparison, CFP is an easier one. The pass rate for CFP stands at close to 60%, and as many as 65% of first time exam takers are able to crack the CFP exam.
Final Verdict
This was all the possible information about CFA & CFP. You can choose the course depending on your interests. If you would like to understand the financial industry in-depth, then you can opt for CFA. However, if you wish to learn about financial planning, CFP will offer you the best possible value. You can choose one of the courses depending on your interest and how you see the financial domain. Both of them are exciting options, and they will help you learn many new things during the career path. You will be able to use your knowledge from both the courses in your daily life as well.