Indian educational system mainly depends on the entrance exams; many entrance exams are available for different courses. Very few candidates know about the Sat exam, it is just not an entrance test. It is also a golden chance for candidates who have a desire to pursue education in international universities or institutes. Keep scrolling the whole article and you will know about the Sat exam in-depth. The few aspects like eligibility, registration fees, and syllabus and admission process of the course mentioned below down:
What is the SAT Exam?
The full form of SAT is, Scholastic Assessment Test, directed by the College Board. The exam is specially designed for candidates who are seeking admission to UG schools. Certain national and International universities offered admissions through SAT exams. The main aim of the exam is to enhance the mathematical skills, verbal skills of the candidates. SAT can prepare candidates to understand Mathematical equations and enhances their knowledge of English writing and learning.
It is a good choice for those, who are school students and wish to prepare for upcoming entrance exams for higher education and also have a keen interest to pursue studies abroad. The exam lifts your English speaking skills; provides basic concepts of Maths and English and helps in improving numerical knowledge.
The SAT exam covers a wide range of areas like a foreign language, Sciences, Mathematics, History, and Literature. Candidates can pick one area as per their interest and stream in which He/ She wants to establish a career. One of the major benefits of attempting the exam is that it expands GK knowledge and current affairs knowledge. The exam format is comparable and easy and results are considered for endowment.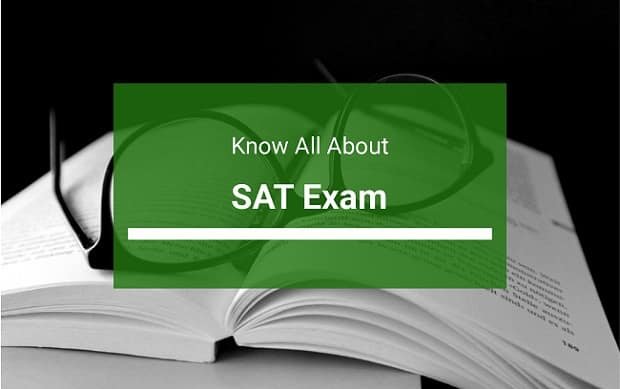 Types of SAT
There are two types of SAT namely SAT 1 and SAT 2. SAT 1 is commonly taken by a candidate who seeks admission to UG schools. On the other hand, SAT 2 is focused on a specific subject. Those who look to get admission to a specific course are required to pick the SAT subject.
Eligibility for SAT Exam
The eligibility criteria of SAT are compulsory for each student but there is no harsh eligibility set by the College Board. The entire details are mentioned below-
Age Requirement for SAT:
As we have said earlier, SAT is an Undergraduate entrance test, so there is no bounded age limit for this exam. As per the research, students 17 to 19 years old can participate in this exam. Overall, there is no minimum and maximum age required to apply for the SAT exam.
Number of Attempts for the SAT
The SAT exam is organized 5 times a year by the SAT College Board. In the months of March, May, August, October, and December you can attempt the exam. For further details, you can visit the official website of the exam.
Academic Eligibility Criteria
There is no specific academic qualification to apply for the SAT exam. SAT can be given by candidates who are in high school and wish to learn about Higher education to enhance their skills and desire to move forward in foreign universities.
Identification Proof/ Documents
SAT is accepted by both national and international universities. Those who wish to pursue education in foreign institutes then he or she has a valid Password. Other than that, he or she must possess Indian Citizenship; have valid Identification Proof (Adhaar Card, Pan Card, and Voter ID) for taking admissions in Indian Universities. Passport size and signature must be required.
SAT Exam Pattern:
Candidates are advised to pick an exam date three or months before their application. It is an easy exam but candidates who are unsure about the exam takes few months in practice to solve mock tests and previous papers of the exam. Candidates haven't faced so many issues at the time of preparing for the exam. The candidates must clear all basic concepts in the schooling period. Here, the whole detail of the syllabus is mention below-
The SAT exam is divided into two parts- SAT General Test and SAT Subjects Test
SAT General Test – The test is generally used by the UG Colleges for admissions. SAT or Scholastic Assessment Test involves the verbal, written, and mathematical skills of the students.
SAT Subject Test – This test involves 20 subjects which are categorized into 5 subject areas. The SAT Subject Test involves subjects like Mathematics, Science, English, History, and Language.
The exam has three main sections namely: Reading sections, Writing, and Mathematics
1. Reading – SAT holds three critical reading sections ( Total 52 Questions)
Reading Comprehension
Sentence Completions
Paragraph-length critical reading
2. Writing – This section cover two sub-sections (A total of 44 Questions)
Essay section
Multiple choice sections
3. Mathematics – The Mathematics cover three sections (A total of 58 Questions)
Algebra and Functions
Geometry Statistics
Probability and Data Analysis
4. SAT Essay ( Total 50 Marks)
Overall, the exam format is set for 3 hours and 50 minutes. When the candidates choose to write the essay the score may increase up to 1600.
Exam Syllabus:
1. Reading- The reading section covers Evidence-based reading and writing components. In this section, 5 passages and 52 questions are given. Candidates have a total of 65 minutes to solve these questions and passages. 2 passages are from science fields, 1 from the Classics or contemporary texts of world literature and US. Topics covered under this section are Human rights, Freedom, Dignity, etc.
2. Writing and Language – The writing language section holds 4 passages and 44 multiple-choice questions. You have just 35 minutes to solve both. The topics of passage are resolved around the topics like Science, Humanities, History and Arts, Social Science, and Careers.
3. Mathematics – The mathematical section is divided into two parts. One with Calculator and Second without Calculator. In this section, the number of questions is 58 and you have a total of 80 minutes to attempt all questions. 15 multiple questions without a calculator are mentioned in girds. The major topics of this section cover topics like Data Analysis and Problem Solving, Algebra, and Advanced Math.
Mathematic 2 – Topics are covered under this subject are Number and Operations, Algebra and Functions, Geometry and Measurement (Coordinate, Three-dimensional, and Trigonometry).
4. Essay – The main purpose of this section is to check the writing, reading, and analytical skills of candidates. The essay format will be expected to read a 700-750 word count. You have a total of 50 minutes duration to attempt this section.
Fees for SAT Exam:
In India for attempting the SAT exam, you have to pay $101, the amount charged without the optional essay. If you want to attempt an optional essay then you should pay $117. The international fee of $49 is included in both of them. In case, you can change the Centre or Date, then you should additionally pay 30$. The fee details are mentioned below in-depth:
The total fee is $101 – Including $ 52 + Non-U.S. Regional Fee, $49 Regional Fee for candidates who are giving the SAT Test in India.
The total fee is $117 – Including an Essay fee of $ 68 + Nom U.S. Regional fee and a $ 49 Regional fee for candidates who are giving the SAT Test in India.
Additional $26 – The fee for candidates who wish to attempt the basic subject test.
Some additional fees might be required for SAT subject tests.
SAT India Scholarships:
The College Board has tie-ups with some Indian Universities and provides scholarships to candidates. To be eligible for SAT endowments, candidates must fulfill the under mentioned criteria:
Candidates must have Indian Citizenship.
The applicant should be a 12th class student.
The annual income of the candidate's family is less than 8 Lakhs.
He or she must have a score of 1300, which means he or she must be a good performer.
He or she should apply for admission to India Universities.
The Registration process of SAT Exam
Candidates, who are willing to appear for the SAT Exam, should know the entire registration process. The students can register for SAT through the offline or online. The mail facility is also available. The registration process is mentioned below-
Online Registration Process of SAT Exam:
Few steps are given below that you should follow during the registration for the SAT exam.
Step-1 Firstly opened the official website of the College Board.
Step-2 Next step is, generate your account on that.
Step-3 Fill up all the required details.
Step-4 Next step is, pick an exam that you want to give.
Step-5 Pick the nearest test center.
Step-6 Upload your passport size photo.
Step-7 Submit the application form and pay the application fee. Make sure, the payment will be deducted. Collect print out of application form before leaving the site.
Registration by E-Mail
Step-1 Before applying, you need to check the Students Registration Guide for the SAT Test and SAT subjects, which are offered at schools.
Step-2 the mentioned guide includes an application form and an arrival envelope.
Step-3 Fill the form and send it with a demand draft.
Step-4 USIEF is the Indian agent of SAT, so the mailed form will be automatically submitted to the regional office.