Every task requires management. Managing is an art in the business world. To manage is to acquire responsibility in an organization. Today, several Organizations work efficiently due to management. Management creates a disciplined or professional environment in any business. Management can include overseeing, supervising and regulating duties in a workplace. It needs plenty of skills to manage a business and keep it under the norms. The bachelor of business management studies is one such course that trains candidates as future managers.
The BMS is a three-year graduate program that educates the candidates about business management. The three crucial aspects of this study program are resource management, economic management and business studies. Candidates who are expecting to work in a corporate environment enjoy this course. The BMS course is similar to BBA and BBM, but it is more about the business management field. It is a course that provides candidates with wide-ranging knowledge about the subjects such as business techniques, entrepreneurship, finance, trading, economics and the dynamic management factors of the business world. It is a theory-based subject with a decent amount of practical sessions. Candidates can learn to face real challenges in the business world here.
The major requirement for the candidate's pursuing this course is team-building quality and communicative skills. Also, some knowledge about the world current-affairs and the stock market is essential for this course. It is a complete training program to develop critical thinking to solve the difficulties in management. Let us take a look at the course details to join a BMS course.
Why study BMS course?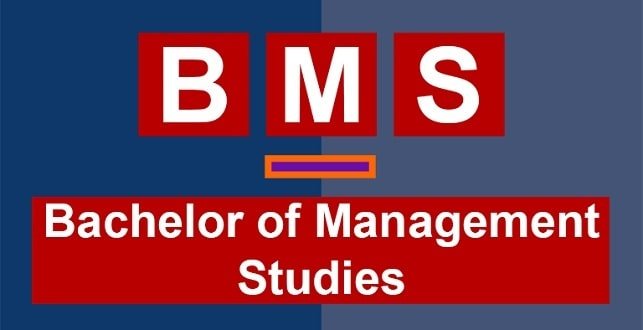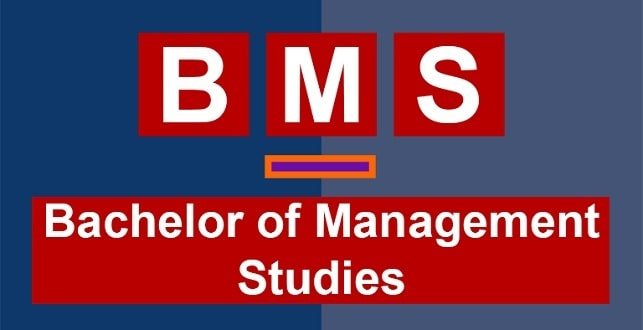 Management is combination finance, accounts, marketing, and supply chain and operation systems. These are the highly demanding fields in today's business world. Candidates choosing the BMS course are eligible to perform these roles well in a business organization. There are many reasons to choose this course, and some of the reasons are as follows:
Professional career options such as a specialist, professor, and business manager are available for you. Without even pursuing PG, the BMS candidates fulfil these job roles and earn a decent salary. Students who prefer the ease of career choose this BMS course.
Individuals who are interested in problem-solving prefer the BMS degree. It allows them to provide innovative solutions to solve complexities in management. If you are interested in business manager positions in any organization, it is the most suitable degree.
Candidates aiming for a postgraduate degree in MIM find the BMS degree useful. The BMS degree is an outstanding foundation course for Masters of management studies. It opens up international career prospects for candidates.
BMS Course Details
The three-year graduate course of BMS is all about developing critical skills. It is a course that helps candidates to understand the difference between management and being managed. It educates them to be a team player, leader and entrepreneur. Some of the crucial options in this course are.
Human resource management:
It is a course that highlights the importance of managing the most precious resource in the organization that is humans. You can learn about several HR policies, laws, practice, analysis and relationships in the organization. The HR concept has a brilliant scope for candidates choosing a masters degree and job.
Economics for management:
The objective of this course is to show the importance of economics and managerial decisions in an organization. It is a concept that concentrates more on the allocation and distribution of resources. Candidates interested in economics have a bright future when pursuing masters in this field.
Organizational behaviour:
The organizational structure is the primary aspect of the management. Without a structure, it is impossible to manage. It is an area where you can learn how group effort works for the betterment of an organization. Some of the skills you can develop here are team spirit, leadership and unity.
Eligibility criteria for the BMS course:
The candidates need to fulfil some of the essential eligibility criteria before joining the BMS degree. The colleges are very strict about the requirements of this field. The individuals with 12th pass to acquire the BBMS degree. Also, candidates should secure at least 50% marks in the 12 examinations.
All the candidates are required to have some English and communicative knowledge. At the time of admission, it is essential to provide documents that the college administration requires. Remember the cut off marks before applying for the course. Some colleges may conduct an admission exam. You need to qualify in all these aspects to be eligible for the BMS course.
Syllabus for the BMS course:
The candidates choosing the BMS course have a total of 6 semesters. In all these semesters, the candidates learn about all the aspects of management studies. The common syllabus is as follows:
Entrepreneurship
Accounting
Strategic management
Managerial economics
Introduction to international business
Advanced financial accounting
Operations of system management
Human resource management
Microeconomics
Business law
Organizational strategy
Leadership
Bank management
BMS course fee and duration:
BMS is the most affordable commerce course in many parts of the country. The fee plan may vary depending upon the standard of the college. The BMS is a three-year undergraduate degree consisting of six semesters. You may have to pay the fee for every semester. Some colleges also follow the annual fee-paying method. The fee for the BMS course starts from 8000 to 3 lakh per year. The top colleges may charge 2 lakh fees per annum for this course.
Future scope for BMS course

The BMS degree exposes the candidates to the basics of the corporate world. It is a course that helps the students to develop problem-solving, team building, target aiming and strategically thinking. Apart from these skills, the students gain knowledge to pursue higher studies in this field. Some of the higher graduate prospects for the BMS course are as follows:
The BMS graduate can choose PGDM or MBA for a higher salary. These courses offer expertise for you in the supply chain, business analytics and business operations. Both the PGDM and MBA courses are 2-year duration. You can easily join these courses when getting 50% marks in your BMS.
Masters of management studies:
The master of management studies is another excellent area to increase your expertise in management. The MMS graduates have a superb career scope internationally. Many top companies easily hire these graduates for excellent pay. You can join an MMS degree in an honourable college to earn more recognition in your career.
Professional diploma courses:
Not only are the certificate courses but there also plenty of diploma courses for BMS. The BMS diploma courses will equip you as a business manager, HR or in some other specialized position in the management field. There are plenty of diploma degrees such as PG in business management, mass communication, statistics and hospitality management.
Career opportunities for BMS course
Not everyone loves doing the job after a BMS undergraduate degree. Some like to join postgraduate courses after BMS. If you want to improve your knowledge in this field, then you have many options. You can choose a master degree, doctorate programs, online programs and diplomas to explore in this category. Some of the postgraduate degrees are as follows.
Top job roles for the BMS course
BMS graduates acquire strong analytical skills. It can help you to be business consultants in human resource and other areas of management. You can get job opportunities for any business such as hospitals, corporate and industries. The salary for the HR job ranges from 3 lakh to 10 lakh per annum.
The financial management is a perfect job position for BMS graduates. It is a job role that requires supervision, regulation, interpretation and monitoring in an organization. It is a job that exposes you to the several complexities of financial management in an organization. The salary for the job as a financial manager is approximately 3 to 10 lakh per month.
The human resource manager is a weighty job position in the management field. The BMS degree trains the candidates to develop recruiting, staffing, communicating, counselling and monitoring skills. It is an ideal position for BMS candidates as they have the required knowledge about this field. You can get up to 5 lakh per annum in this job position.
The marketing manager is a job role that has complete exposure to the marketing aspect of an organization. The manager controls and suggests ways to make the marketing of a company efficient. The BMS course educates the students about the current market strategies that make the marketing manager job ideal.
BMS Course Frequently Asked Questions
What are the requirements for admission to the BMS program?
The candidates will meet certain eligibility criteria before taking admission into the BMS course. An aspirant should have passed their 10+2 with management subject and secure at least 50% in their qualifying examination. Besides academic qualifications, candidates must possess communicative skills and have good English knowledge. Candidates should have passed an admission exam conducted by the college authority.
What careers may I pursue with a Bachelor of Management Studies?
On successful completion of the BMS programme, you will get numerous job opportunities worldwide. Apart from this, you can pursue higher studies in your respective field. Some of them include MBA (Master of Business Administration), Diploma Course in Management, etc. Or you will become Business Consultant, Human Resource Manager, Marketing Manager, Finance Manager, CEO, etc.
What subjects are there in the BMS course?
BMS course curriculum involves various core and elective subjects. BMS subjects include Accounting, Entrepreneurship, Managerial Economics, Strategic Management, Bank Management, Leadership, Organizational Strategy, Business Law, Microeconomics, Operations of System Management, Advanced Financial Accounting, Introduction to International Business, etc.
Can a science student do a BMS programme?
The answer would be yes!BMS is all about the management field where students will prepare for the business world. Well, BMS is quite similar to BBA and BBM courses but in this course, you will learn about business aspects in-depth. Whether you have a commerce background or have a science background, the course is being offered to all. But you should have good communication and business knowledge. Moreover, you have the skills to understand business world strategies and planning.
How can I get BMS degree?
BMS or Bachelor of Management Studies is a three-year degree course. You will have passed all three years with a good aggregate to get a BMS degree. To get a BMS degree, you can read world current affairs and gather information about the stock market. Also, you have to undergo training to complete this degree course.
Is there any benefit of doing the BMS course?
BMS course is thoughtfully designed for those who have a keen interest to learn about business planning, marketing and organisational behaviour. By doing a BMS course, you will get decent salary options and perks. With a lucrative salary, you will get a chance to do better growth in the respective field. Also, you can run your own business with business skills. Entrepreneurs who have a business mind should pursue a BMS course.
Conclusion
Every individual is in search of a successful career path. If you choose a BMS degree, there are tons of higher education and career choices awaiting you. BMS is a degree that can change your lifestyle by making your future bright. It is a promising course that can offer you management roles in any organization. You can upgrade your BMS degree by choosing PGDM and MBA courses to experience best career opportunities.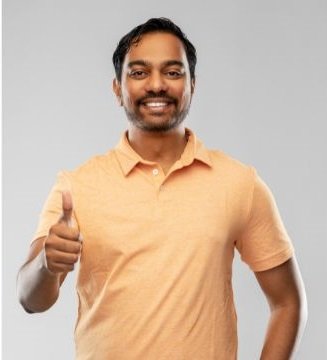 Rahul Kumar is a passionate educator, writer, and subject matter expert in the field of education and professional development. As an author on CoursesXpert, Rahul Kumar's articles cover a wide range of topics, from various courses, educational and career guidance.