Studying abroad is a dream of many young people nowadays, but it is not that easy to crack the English language ability test. IELTS is one of the tests that will help in pursuing higher education abroad. It is a standard test used to determine the language proficiency of a person who wishes to proceed to work or study in places where English is used to communicate.
By clearing this International English Language Testing System, you will be able to get admission to institutions for higher education in English countries like Europe, British, Australia, Canadian, New Zealand, United States, Germany, United Kingdom, etc. This test focuses on the willing ability to communicate in all the necessary skills needed to practice listening, writing, reading, and speaking the language. The higher the band score, the higher the chance of getting ranked at the top institute outside India.
List of Best IELTS Coaching Centre in Kochi
Kochi is a major hub of India's best IELTS coaching institute that played an essential role in making a strong foundation for candidates. If you are planning to study further studies abroad, you must check the list of top IELTS institutes in Kochi and decide which one is best for you.
1. British India Academy
Website: https://www.britishacademy.in/
Address: Second Floor, Manavalan Building, SRM Road Lissie Junction, near Lissie Metro Station, Kochi, Kerala 682018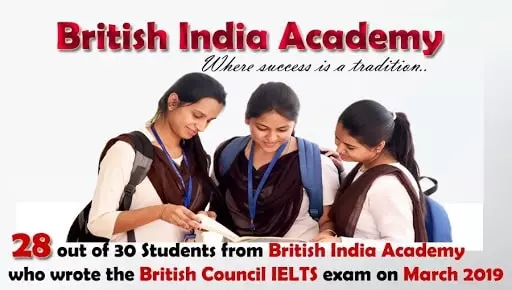 British India Academy is one of the leading English Proficiency Testing Institutes in Kochi. The institute offers PTE, IELTS, and Spoken English to students who dream of studying abroad. These ability tests cover all the factors of Spoken English, IELTS, and Personality Development. All the experts here have created an innovative and unique training method, which helps the students to learn and read English with utmost fluency. Teaching methods are most natural, realistic, scientific, and time-saving.
2. Britfort Academy
Website: https://britfort.com/
Address: 3rd Floor, Indian Express Building, Kaloor, Kochi, Kerala 682017
Established in the year 2015 by Noushad Nilgris, The Britfort Academy aims to impart customized training programs and proficiency courses to learners. This coaching institute provides you with a wide variety of English proficiency courses like ACME, OET, IELTS, Spoken English course, PTE, SEP, BEP, BETT, and BEME in the city. With a huge success rate, this institute has spread its branches in Bangalore, Calicut, Gujarat, and Delhi. Britfort Academy has tie-up with numerous universities across the world to distribute quality education services to aspirants.
3. Cosmo Centre
Website: www.cosmocentre.in/
Address: 2nd Floor, Kamalam Tower, Narayanan Assan Rd, Ponnurunni, Vyttila, Kochi, Kerala 682019
Cosmo Centre is a sought-after IELTS coaching institute in Kochi. The institute is engaging to impart course training such as test preparation for PTE, IELTS, GRE, TOEFL, SAT, GMAT, University selection, English Speaking, accommodation assistance, visa guidance, and ACT. With its presence in Kottayam, Coimbatore, and Trivandrum, the academy is continuously expanding its footprint. Students who are not able to attend regular classes at the center can join online classes. Cosmo Center also provides free IELTS preparation material including potentially innovative and original content by a team of professional experts, which will help the aspirant practice comprehensively.
4. Apple Academie
Website: www.appleacademie.com/
Address: Kulangara Building, Shine Rd, near Welcare Hospital, Vyttila, Kochi, Kerala 682019
Apple Academie is one of the famous IELTS coaching centers and offers specialized and customized courses training for SAT, IELTS, GRE, GMAT, TOEFL, SAT, PTE, and OET. These programs cover all the factors of the IELTS course like listening, reading, writing, and speaking. With experienced and dedicated faculty members, Apple aims to teach every topic in depth. This institute is perfect for those who are below average in English. Aspirants preparing for IELTS learn a lot of things here and will be able to score a good band score in the IELTS exam.
5. Ajinorah Institutions
Website: https://ajinorah.com/
Address: 2nd Floor, Madhushila Chambers, Near St. George Forane Church, KMRL Pillar No.435, Kochi, Kerala 682024
Kochi-based IELTS institute offers premium quality education service to students across the globe to turn up their goals of studying abroad. It has multiple sub-centers at Kozhikode, Kannur, Kottayam, Bangalore, and Kochi to distribute numerous courses like OET, IELTS, PROMETRIC, PTE, TOEFL, CRNE, DHA, HAAD, AHA, and NCLEX-RN. The institute is famous for having experience and well-qualified IOP-Trained and British Council Faculty that provide unique teaching methods.
Conclusion
IELTS is said to be the world's most famous and common language test for the English language, and thousands of students sit for this test every year. These are some famous IELTS institutes to enroll for.