Because of the rising interest among today's youth in entering the civil services as an IAS, IPS, IFS, or any administrative position, we have compiled a list of the best 5 IAS coaching institutes in Allahabad. The civil services test is not only extremely competitive, but also one of the most difficult tests you will ever take.
Nearly all the facilities advertise rapid IAS exam clearance. But alas, such is not the situation.
Top IAS Coaching Centers In Allahabad
1. Vajirao and Reddy IAS coaching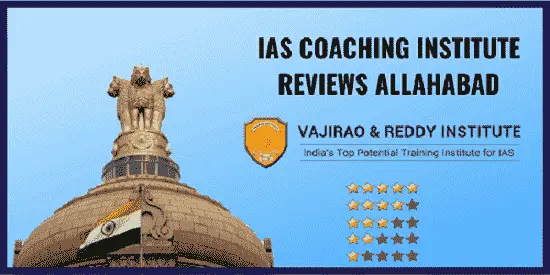 Vajirao & Reddy was founded in 1989 with the goal of providing highly structured IAS training to candidates with an emphasis on perfectly clear concepts & a methodology that is interdisciplinary.
Vajirao is now a household brand for aspiring civil servants all throughout India and it is widely considered as the country's premier IAS coaching institute. You have the option of attending the regularly scheduled weekday and weekend classes, or taking the well regarded correspondence option.
2. Chanakya IAS Academy
Founded in 1993 by Mr. AK Mishra, also known as the Success Guru or Chanakya Academy operates on the principle that everyone possesses innate abilities for success. The academy's English and Hindi language aspirants are their primary focus, and the academy's faculty and staff work tirelessly to help them succeed in the IAS exam and join them in contributing to nation-building.
Their 12 centers are staffed by eminent academics, former military personnel, and other leaders with extensive experience in their respective fields. Experts and government employees regularly host seminars and workshops designed to help aspiring administrators develop the "soft skills" they'll need to succeed in their careers.
3. Dhyeya IAS coaching
Over the course of ten years, Dhyeya IAS has established a reputation as one of the leading UPSC coaching schools in Allahabad. Dhyeya has emerged as the go-to for IAS hopefuls because of their unmatched track record of accomplishment throughout the years.
The applicants who come from the lower social order are another major focus of the institute's efforts, with the goal of integrating them into mainstream society. A student's aptitude and the development of necessary skills can be enhanced by regular testing and skilled one-on-one supervision.
4. Samarpan IAS
Samparpan has risen to prominence as a premier school for preparation of students for National and State level competitive examinations as a consequence of its highly skilled faculty and result driven teaching methods.
The institute's leaders have worked tirelessly for the past five years to fulfill their aim of creating a new breed of creative, principled bureaucrats and making the institution a national model for educational excellence.
The institution has everything students need to succeed on these tests, including classrooms outfitted with digital projectors as well as a large library. Guest lecturers given by professionals in their fields, such as State and federal government bureaucrats can be extremely motivational for students.
A team of professionals has designed an active classroom program and frequent exam series to help aspiring candidates get a leg up on the competition they will encounter in the real world.
5. Niraman IAS coaching
Since its beginning in 2007, Nirman IAS has been the institution of choice for a large number of aspiring civil servants by offering innovative programs that promote peer learning and exceptional assistance from highly educated instructors.
The institute's unique selling proposition (USP) is that they do more than simply teach the required material; they also focus on developing students' analytical skills and their personalities. Nirman's impressive track record on the IAS exams is the fruit of his hard work and dedication.
Their rigorous instruction, coupled with regular assessments and changes, allows students to better understand and develop their latent abilities. They help their pupils realize their full potential by creating an environment that fosters exploration and provides ready access to guidance from knowledgeable teachers.
Conclusion
If you want to make it as an IAS officer, picking the correct IAS coaching is essential. Choosing the right coaching institute might be challenging because there are so many to choose from. However, the above-mentioned has ranked the 5 finest IAS coaching institutes in Allahabad, so they're a good choice if you're seeking for expert instruction in the civil service exam.