Today, commerce is the most successful field in the world. It is a field that encourages the young generation to be aspiring business personalities and entrepreneurs. Bachelor of business management is one such excellent course in commerce. It is a three-year undergraduate course that educates about business management, trade and commerce. There is a high scope for this course. As the commercial sector is growing the demand for business managers is becoming high. Individuals opting for this course have a sea of job opportunities ahead.
If you want to become a business manager or entrepreneur, then this course will train you well. It is one of the most advised undergraduate courses. The BBM course provides practical training for the candidates about the business world. Individuals will develop both critical and analytical skills during the three years of the BBM course. It is a course that can make you successful in the corporate field. Working under a boss or organization has several restrictions. The BBM course helps you to be independent and be the boss of your own business.
The BBM course is similar to other commerce courses such as BBA, BBS and BMS. However, the BBM course is suitable for candidates who want to learn complete skills to become entrepreneurs. Individuals join the BBM course to get a job in business, health, retail, fashion or other business fields. The subject-related aspects that candidates can learn in this course are accounting, business management, company law, income tax, business statics and much more. The skills that candidates can develop this course are decision-making skills, entrepreneurial skills, leadership skills, managerial skills, corporate skills and more. If you are interested in the BBM course to become a business personality in the future, then here are the complete details about the BBM course.
Why Study BBM?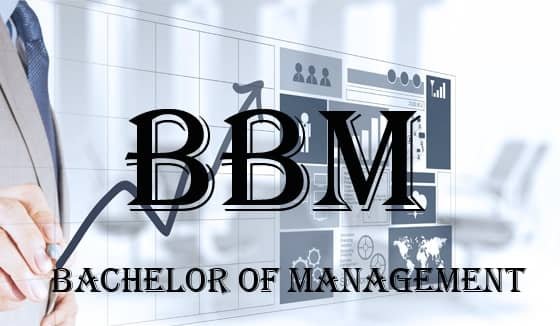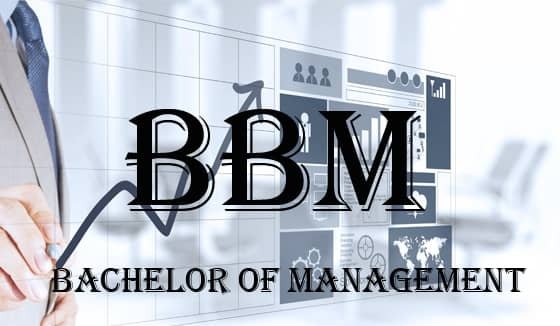 Many individuals prefer BBM, as it is a unique and versatile course. It is a perfect undergraduate degree that is an excellent stepping stone to do an MBA. Many choose the BBM course to get a satisfying career in the future. Now let us see some of the other crucial reasons to choose BBM.
Individuals with interest to start a business or manage a business often choose this course. Individuals can use this opportunity to do an MBA to gain specialization. If you are an independent person passionate to start a business, then it is an ideal course for you.
Many choose the BBM course as it has a wide range of job opportunities. Individuals doing this course can work in almost any business or commerce organization.
If you want to achieve more academically, then this is a perfect course for it. There are plenty of projects and academic opportunities in this course. You can achieve great fame and knowledge in this course.
BBM course details
| | |
| --- | --- |
| Full Form | Bachelor of Business Management |
| Level | Undergraduate |
| Duration | 3 years |
| Exam Type | Semester |
| Eligibility | 12th Pass from a recognized board |
| Admissions | Merit-based with some colleges conducting entrance exams |
| Average Course Fee | Rs.50 – 2 lakhs Expected |
It is a course that helps candidates to develop extensive knowledge in finance, marketing, operation and strategic management. More than the theory, the content of this course focuses on practical application. There are three different specializations under the BBM course let us see what they are.
International business
It is a variation you can choose in the BBM course. The course focuses on the crucial aspects of international business. Apart from business in the country, the candidates can gain worldwide business knowledge. You can learn both theoretical and practical information.
Marketing management
Marketing management is an excellent course option in BBM. Candidates who want to gain extensive knowledge about marketing research and marketing techniques can opt for this course. It is a course that trains about marketing strategies, customer behaviour and techniques to survive in business. In this course, candidates are introduced to a business environment to learn management skills practically.
Human resource management
It is the most informative course in BBM. Candidates choosing this variation can know how to handle the human resource in their future business. It is one of the most interesting concepts that helps individuals opting for higher courses like MBA. It is an advanced program in BBM that is suitable for any candidate.
 The eligibility criteria for the BBM course:
As BBM is an academic course, candidates need to fulfil eligibility criteria to join the BBM course. The first and foremost requirement to join the BBM course is to complete secondary education.
It means that the candidate should pass the 12 the examination. Candidates should have secured at least 50% marks in the 12th examination. Candidates below this category may not qualify for the course. Also, most of the institutes require candidates passing higher education from English stream.
Commerce students receive some consideration in the cut off mark during the admission. Also, it is essential to pass an eligibility test conducted either by the college or any institute.
Further, before getting the admission, it is a criterion to pass the entrance test. The admission process may have a series of test or interviews, and the candidate may pass in these. The entrance test in some institutes may be hard to crack, so it requires serious preparation. Moreover, submitting the admission documents before the deadline is necessary.
The syllabus for the BBM course:
The syllabus of the BBM course helps candidates to develop logical and analytical skills. Topics or subjects of this course may slightly vary for every college.
The List of the syllabus for BBM course is as follows.
Principles of management
Financial accounting
Business communication
Business mathematics
Business economics
Business statistics
Managerial economics
Cost accounting
Business regulatory framework
Office management
Entrepreneurship Development
International Trade and Finance
Income Tax
Corporate Accounting
Indian Financial System
Company Law and Secretarial Practice
Human Resource Management
Auditing
BBM course fee and duration
Depending upon the standard of college, the fee may differ across the country. The admission fee for BBM course can range from 45ooo to 3 lakh per annum. If you get admissions in popular colleges, then you may need to pay the higher fee. The BBM is a three-year undergraduate course. The duration of the BBM course is the same in every college in the country.
Future scope for BBM course
BBM is the best undergraduate course that provides you with plenty of options to join a spectacular master course. If you do not want to get a job after your BBM, then you can opt to extend your knowledge in any other field. You can opt for a masters degree in commerce after BBM. Let us see the new doors BBM opens for your postgraduate studies.
Masters for business administration
MBA is the perfect course for BBM graduates. BBM trains the candidates with the basics of MBA, and the average fee for the course is 5 lakh. MBA can offer the top job opportunities with high salaries. Some of the reputable institutions charge up to 15 lakh fee for the course.
Post Graduate Diploma in Management
PGDM is the most unique and excellent PG opportunity for BBM graduates. Even though its curriculum is the same as the MBA, the scope in this field is higher. The fee is similar for this course like MBA.
Many candidates prefer LLB after BBM. Having a degree in business and law field can help you to earn a good salary in future. If you want to choose any out of the box courses after BBM, then LLB is the most recommended law course. You can join a legal firm or take up the lawyer job after completing this course. The LLB fee ranges from 50000 to 5 lakh.
Other postgraduate courses
There are plenty of other courses to choose from after BBM. The chartered account is one such popular course you can join after BBM. As you learn the basics of financial BBM, it is effective to opt for a CA course. You can expand knowledge in your field by taking up CA. Some of the other opportunities after BBM are banking and marketing courses. These courses will make your career bright.
Career opportunities for BBM course
As the business environment is dynamic, there are high job prospects for candidates opting for the BBM course. After completing the course, you will get a job as a business professional in different organizations. Let us see some of the job roles you can get when choosing the BBM course.
Business development manager
The business development manager is exposed to the marketing sector of the business world. The main job is to ensure that customers are getting satisfactory services from the company. It is a promising job that helps you to work with the lead development team. This job can offer candidates a 6 lakh salary per annum.
The business application manager
The business application manager is a position that requires both business and computer knowledge. This job position is about working with the customer service team of a company. The manager must supervise the business needs and feedback of the customer. This job position offers over 20 lakh salary per annum for the candidates. It is a high-quality job that can provide you with excellent pay and experience.
The role of the operation manager is to regulate and plan the operations of a business efficiently. The operation manager should work consistently to enhance and grow the business. This job position is crucial for any organization. The candidate must possess extensive knowledge in a managerial position. This position can offer candidates up to 8 lakh salary per annum.
The role of the business analyst is to provide a statistical suggestion for the company. This excellent job can provide an excellent experience. This role offers more than 7 lakh salary for the candidates.
A relationship manager takes care of both the real hip in the organization and with the public. BBM graduates can get a job as a relationship manager and earn 4 lakh per annum.
The commerce and business fields are highly dynamic and opens new doors for fresh candidates with innovative ideas. When doing a BBM course, it is possible to establish yourself as a successful business person in the industry. This course needs eligibility and skills. Consider the above information to join an excellent BBM course in an honourable college.
Frequently Asked Questions
Who should pursue BBM Course?
Nowadays, students would more interest to pursue professional courses like MBA, BBA, and BBM. If you have an interest in learning about the business and its growth, you can choose BBM course. Those students who have a business mind are passionate people to start a business, organization or firm, can choose BBM course. Individuals can think about their start-up or pursue MBA right after completion of BBM.
What are the degree programs for which I can enrol after completing my BBM?
If you are one of those who have a interest to know about the business field and pursue higher education in the respective domain, you can pursue any of one course –  MBA (Masters for Business Administration), Post Graduate Diploma in Management. Apart from UG and PG degrees, you can do professional courses like Bachelor of Law, Chartered Accountant, Company Secretary, etc.
What subjects come in BBM Course?
Well, BBM is a sub-domain of business administration. So that it covers a wide range of topics in a limited duration. Here are some of the subjects that you should have to learn during the course period. Some of them include:
Auditing, Business Communication, Business Mathematics, Cost Accounting, International Trade and Finance, Human Resource Management, Indian Financial System, Corporate Accounting, Business Statistics, Company Law and Secretarial Practice, Entrepreneurship Trade and Finance, Business Regulatory Framework and among others.
Is BBM good for career growth and the future?
There is a huge demand for BBM degree holders in India and abroad as well. A wide-ranging of job opportunities are being offered to BBM degree holders. They can earn well based on their experience, knowledge and ability. By doing BBM course, candidates will get a job as a businessman in a specific organization or start their own business. This professional can work as Business Development Manager, Business Application Manager, Business Analyst, Relationship Manager, Operation Manager, etc. Such a designation will give you a chance to get a high salary package.
What is the eligibility criteria required to pursue BBM program?
BBM is a three-year degree course so candidates should have the 12th examination. You should have secured at least 45% to 50% in the qualifying examination. Many institute/ colleges/ universities in India conduct own entrance test for BBM course. But there is no specific entrance exam for this course. You should secure the minimum percentile and have good knowledge of business and accounting.