Bachelor of Ayurvedic Medicine and Surgery or BAMS is a popular choice for students who are interested in the medical industry but aren't too keen to go with the modern trend in the medical industry. The course is a great way to learn about the Ayurveda and natural healing of the body without any harmful side-effects in the long term.
In the past few years, people got deviated to Ayurvedic medicines more than allopathic medicines. And that makes it a great career option. A BAMS student can easily work in a reputed Ayurvedic college or hospital and get a great career opportunity that not only has a great salary but also provide them a great reputation in public. So, if you are looking forward to enroll in a course that has a great career option and reputation, BAMS is the right course for you.
In the article, we will be talking about the BAMS course in detail and will talk about the different aspects that you should know about the course as a student. So, spend a few minutes on the article to get a detailed knowledge of the course and whether you should go with it or not.
BAMS Course Overview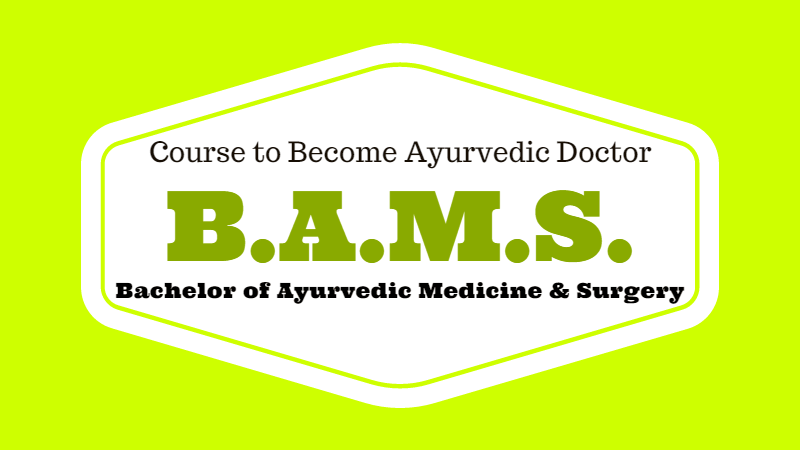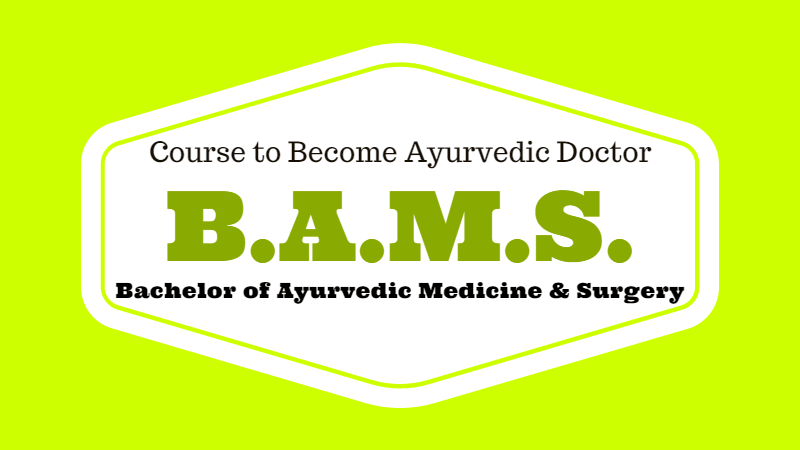 BAMS is a graduate degree that you can enroll in after completing your 12th. Unlike the other courses, BAMS is a long-duration degree and requires 5 years and six months to get completed. In this, the one-year mandatory internship is included. After completing the course, you can either go with further studies in your specialization or choose to work as a doctor ina reputed Ayurvedic Hospital or work as an individual practitioner.After the course completion, you will be entitled to Suffix Vaidya to your name. There are numerous institutes and colleges that hire BAMS students to their firms on a regular basis. So, if have an interest in the medical field and Ayurveda, BAMS will be the best course for you after the 12th.
BAMS Course: Eligibility and other Criteria
Here are the minimum educational qualifications that you should fulfill in order to enroll in BAMS. Have a look at this and then decide whether you are eligible for the course or not.
12th: At least 50% marks in science stream
NEET UG scorecard
If you fulfill these prerequisites, you can easily choose to become a BAMS doctor after enrolling in the course. Along with the NEET qualification, there are a few colleges and universities that enroll the students directly on the basis of their school performance and merit. So, be sure to check the eligibility from your shortlisted college before enrollment.
BAMS Course: Syllabus
The syllabus plays an important role in the medical field, and the BAMS is also not an exception. Depending on the specialization you choose and the university that you have chosen.However, there are a few subjects that are common among colleges and universities. Some of these subjects are listed here. This will help you get a perfect overview of the topics that you are going to learn during the BAMS course.
History of Ayurveda
Medical Ethics and Yoga
Anatom
Pathology
Dissertation
NadiPariksha
PanchkarmaVajikarana
Apart from the common subjects, BAMS also offers different specializations for the students.Some of the popular specializations are
PadarthVigyan
SwasthaVritta
SharirKriya
CharakSamhita
ShallyaTantra
ShalakyaTantra
PrasutievamStrirog
Choose the right specialization according to your interest and availability of the subjects in the college you are enrolling in.
BAMS Course: Fee Structure
The Fee structure plays an important role in a medical degree, and the same thing applies to the BAMS course also. And as the BAMS is a course with a long duration, fee structure becomes more important than other courses.
And though the course fee totally depends on the college you choose and the specialization you are planning for, the normal yearly fee for BAMS can roughly cost you around 50,0000-75,000. This solely depends on the college, you can get a rough estimate that the amount of money you need to pursue BAMS from a renowned college.
In case you are planning to enroll in a government college, the fee may get reduced to 20,000-50,000 per year. So, choose the college wisely and get an exact fee structure by contacting the college administration.
BAMS Course: Colleges & Institutes
In India, BAMS is a popular course for medical students who are looking for a reliable course that can assure them a better career and salary after course completion. And this is the major reason why you can easily find numerous colleges that offer BAMS degree with a reasonable fee structure. However, in order to choose a better college, there are certain things that you need to check before enrolling. We have gathered these points for you so that you can find a better college in your budget.
Teaching staff
Facilities
Recognition
Placement History
Availability of resources
Depending on these things, you can easily find a perfect college for BAMS. In India, there are numerous popular Government andprivate colleges that provide a degree in BAMS. Some of the best colleges in India for pursuing BAMS are
Armed Force Medical College, Pune
Maharashtra University of Health Sciences, Nasik
Banaras Hindu University, Banaras
AIIMS, New Delhi
Kerala University of Health Sciences, Trissur
Gujarat Ayurveda University, Jamnagar
So, these were the best colleges to opt for if you plan to enroll in BAMS. Look at the admission process for these colleges and try if you can get admission in any of these colleges to get better knowledge and career opportunities.
BAMS: Further studies
After completing BAMS, you can start working as a practitioner or apply for numerous other job profiles. However, if you are looking for further studies and want to gain more knowledge, then you can opt for
MBA In Ayurveda Pharmacy
Doctor of Medicine in your preferred specialization
Master of Business Administration in Geriatric Care Management
Along with these, there are several PG diploma courses for different specializations. In other words, there are numerous options to look for if you are looking for further studies after completing BAMS.
And though you can opt to work after the degree, these further specializations and courses will help you gain a better knowledge of the field. SO, try them if you want and get better job opportunities.
Career options you can choose after BAMS Course
After completing BAMS, you can work individually to earn a great amount as a Vaidya. And along with this, there are numerous other career choices that you can make after completing your BAMS from a reputed college. Some of the job profiles you can work for after completing BAMS are listed here. Have a look at them and choose the right career path for yourself.
Ayurvedic Doctor
Sales Executive
Counselor
Educator
Research scholar
Pharmacist
Medical Officer
Along with these, there are numerous government and private institutes/hospitals that recruit BAMS professionals. So, the choice is yours, you can either choose towork independently, or work in a firm for better stability.
BAMS Course: Should you opt for it?
Lastly, let's talk about whether you should consider doing BAMS or not. So, if you are after an alternate career in the medical field, there won't be a better option than BAMS. A great medical knowledge, better understanding of human anatomy along a great career opportunity make BAMS a perfect choice for the students who have just completed their 12th and are looking for amore promising career after graduation.
The only downside of the BAMS course is the duration. However, as you are getting an internship too, it won't hurt you much as you will get practical knowledge of the field too with completion of the course. So, if you are after a great career and amazing knowledge of the field, BAMS is a worthy option to go with. Just makes sure that you have chosen the right college along with the right specialization, and then you won't have to worry about the career opportunities at all, you will get a great wealthy and stable life ahead after completing the course.
Conclusion
So, this was all the information that you are going to need to know and decide whether you should opt for the BAMS course or not. We have covered all the points in detail and if you still have any doubt about the fee or syllabus, we will suggest you to finalize a college for the course and then ask the administration about these two things. The exact information of these two fields can only be cleared by the college and thus we will suggest choosing a good college for yourself. There are numerous institutes in India that provide recruitment drives for students. So, besure to check this too before enrolling in the college.
In all, if you are looking for an alternate medical career and aren't too keen to go with modern medicines, BAMS can be a great option to go with and enhance your knowledge about the human body and Ayurveda.