If you are after a perfect graduation course that can help you achieve great career goals and offer a good salary after course completion, the Bachelor of Engineering is the best course to opt for. Being one of the most popular courses for undergraduate students, BE also is one of the most diversified courses available in India.
In the article, we will be talking about the BE course in detail, so that you can decide whether you should opt for it after your schooling or not. Along with the perfect career options after the course, the course also lets the students to have brilliant knowledge of their field. The best thing about the BE course is that this is available in various streams. Depending on your interest and course availability in your preferred college, you can easily choose the best-in-class BE stream for yourself. So, just spend a few minutes on the article and get the best information about BE course and then decide whether you should opt for it or not.
Bachelor of Engineering (B.E.) Course: Overview
BE is a graduate degree program for students who have completed their 12th with a science stream and have good academic records. The course is cleverly laid out for the students who have an interest in the engineering field and are looking forward to earn good money and reputation after completing the course.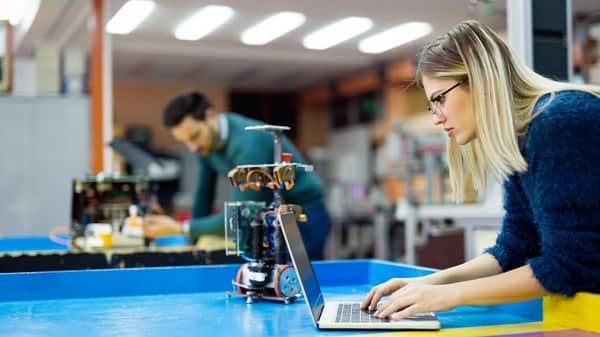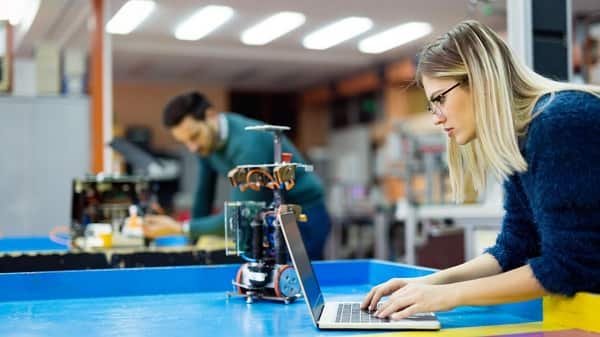 Apart from having great career opportunities after course completion, BE students also have brilliant options to go with for further studies. Students can either go with MBA or go with the more detailed PG degree in Engineering in their respective field. Unlike many other graduate degree courses, BE is a 4-year program that is divided into eight semesters. In all, the BE course is an excellent choice for students who are looking for outstanding career opportunities after their graduation.
| | |
| --- | --- |
| B.E. Full Form | Bachelors of Engineering |
| Eligibility | 12th Pass with physics, chemistry, and mathematics as mandatory subjects |
| Course Duration | 4 years |
| Fees | Rs.45,000 to 1 lakh Rs. per semester (Expected) |
| Course Type | Classroom program / Distance learning program |
| Starting Salary | Rs.15,000 – Rs.30,000 per month (Expected) |
B.E. Course Eligibility
As said, the BE is a graduate degree that you can enroll in after your schooling. The BE course requires the students to have a science stream in 12th along with 65% of minimum marks. If you have this, you can enroll in Pre-Engineering Test conducted by the state government or go for AIEEE or other equivalent exams. After getting the scorecard, you can register for college-level counseling that will help youget to the desired college and engineering branch.
Apart from the PET tests, some colleges also conduct college-level interviews and merit-based entrance tests that can help you get scholarships. So, if you are looking forward to buy a highly efficient and career-oriented course, BE will be a perfect option to go with.
B.E. Course Syllabus
The syllabus is something that varies a lot in terms of the university you have opted for, and the course stream you have chosen for yourself. IN this section, we will be talking about the common syllabus that you are going to learn about during your graduation. During the first year of BE course, you learn about the common engineering subjects that offer you knowledge about almost every engineering field. The core subjects start from the second year of the curriculum.
Engineering Mathematics: I,II,III
Electrical Engineering
Civil Engineering Concepts
Engineering Mechanics
Engineering Physics
Engineering Drawing
Computer Programming: I,II
Apart from these, you will be able to find some core subjects related to your streams like Network Analysis, Gears and Machine knowledge, Civil Engineering and Structure, and many others. In all, BE is an excellent course to gain knowledge of a particular field.
Along with the detailed course books for the universities, there are several national and international authors that offer brilliant reference books for the subjects in Engineering, so it won't be an issue to get the knowledge for the subjects and concepts during your studies.
B.E. Course Fee structure
The fee for Bachelor in Engineering varies a lot according to the stream you have chosen and the college you have opted for. Typically, the fee structure for BE roughly ranges between 50,000-80,000 per year. However, this is for the private and esteemed institutes.In case you are able to get a government engineering college, the fee would be roughly around 25,000-45,000 per year.
In addition to the normal fee structure, you can also opt for the scholarships if the college supports any of the available scholarships for their courses. For this, you should consider talking to the college admin and see whether you can get some relaxation on the fee.
The fee for BE depends heavily on the college and university. To get the exact amount for your graduation, you should once consult with the college administration.
Bachelor of Engineering (B.E.) Course: Colleges and institutes
As said earlier, BE is a popular course in India after the 12th. And due to its immense popularity, you can easily find hundreds of colleges across India. This not only makes it easier for the students to get the degree but also to find a better college in their budget. Whether you are living in a state capital or a normal tier 2 city, there are several colleges that you can completely rely on.
As the BE is a career-oriented degree, we will suggest you choose the right college according to the placement history, resources for the engineering stream that you have chosen for yourself, and the quality of education they are providing.
For a BE course, in-college placement plays an important role. So, we will suggest you to choose a college that has better placement records and invites better core companies for the students. This will help you get better career opportunities while you are pursuing the course.
Apart from the colleges you have in your city and state, there are a few top-notch engineering colleges in India that are renowned for their Engineering courses. Some of them are listed below. Have a look at them and then decide which college would be a better buy for you and is in your budget.
IIT Delhi
IIT Bombay
IIT Kharagpur
BITS Pilani
Bachelor of Engineering (B.E.) Course: Further Education
Apart from providing the students a great knowledge and career opportunities, the BE also has great PG options to go with. IF you are willing to gain more knowledge about the field and are looking forward to get even better career opportunities after PG, you can either opt for an MBA, ME (Masters of Engineering), or M.Tech. After completing PG in Engineering, you can even better career opportunities and salary.
Bachelor of Engineering (B.E.) Course:  Career Opportunities
After completing the BE, you can easily choose to work in a company related to your field. After completing your graduation, you can opt to join a company as an engineer. After completing the course, you can easily get a starting salary of 4.2-6.0 Lakhs in a reputed company. Depending on your skills and academic records, you can easily get a perfect job profile in a core company of your field.
Some of the job profiles that you can opt for after completing the BE are listed as follows
Design Engineer
Quality Control Engineer
Development Engineer
Computer Architect
Professor
Computer Software Engineer
A few companies that recruit Engineering graduates regularly are
Infosys
Accenture
Tata Industries
Reliance
Apart from these, there are regular openings for engineering graduates in the Government sector. So, whether you are after a private and high-paying job, or a stable and reliable government job, BE is the right course for you.
Bachelor of Engineering (B.E.) Course: Should you opt for it?
So, now, the most important question. Whether you should opt for BE after your 12th or not. The answer is if you fulfill the eligibility criteria, you should try your hands on the course. With great career opportunities after course completion and a great starting salary, BE is a perfect course to choose for. With the brilliant course structure and a better job opportunity along with many other options to choose from, BE can be taken as a gateway of opportunities. No matter what your future plans are, BE is going to be a worthy course to go with. Try your hands on a good stream that has the potential in the future and you can be assured to earn a good salary and respect among your friends for working in a reputed firm and with a good job profile.
In all, if you were looking forward to have better opportunities, a good salary, and a stable life, BE can be a worthy course to opt for after completing 12th. And in case you think that you need more detailed knowledge about the field, there are several top-up courses along with the certificate courses that can help you achieve more knowledge about the field.
B.E. Course Frequently Asked Questions
What are the eligibility requirements for the Bachelor of Engineering degree programme?
Students who want to pursue a career as future engineers should enroll in science-related courses. At the time of 10+2 examinations, students are required to have completed the subjects of mathematics, chemistry and physics, as well as any other elective subjects.
Achieving 10+2 schooling from a recognized board is required for students who wish to pursue an B.E degree with a specialization of the choice. Minimum 50 percent scores in the boards are required, but some colleges also require 75 percent marks in the class XII board exam to be admitted. The most important criterion, however, is passing the JEE or an equivalent examination in order to be considered.
How do you go about pursuing a Bachelor of Engineering degree?
There are two options for students pursuing their B .E degree. The Bachelor of Technology degree programme is divided into eight semesters. A B.E. degree can be done in 3 years after completion of the Diploma in Engineering course, but students who successfully complete their 10+2 levels of education can also pursue a four-year degree in B.E. after completing their education levels in 10+2. In terms of experience and syllabus of the subjects, a four-year bachelor's degree in engineering has a greater impact than a two-year diploma.
List the most sought-after recruiters after completing a Bachelor of Engineering degree.
People who have passed their B.E. degree programme can find employment in a variety of fields. Learners from this field can be recruited by private companies, government agencies, and other organisations of any size. In the engineering field, there are many companies that hire new graduates for their technological as well as knowledge gained. The following are the main recruiters of B.E. graduates in the following industries:
Google
Microsoft
CTS
TCS
Apple
Infosys
Intel
ISRO
Tech Mahindra
HCL Technologies
IBM Global Service
Morgan Stanley
Accenture Services
Amazon
Sysmex
How much a Bachelor in engineering graduate can earn?
The Graduates begin their careers with salaries that are significantly higher than the national average. The salary a person earns is usually determined by their specialization and the company for which they work. People who have a few years of work experience can help them find better career opportunities. The average salary for B.E. graduates ranges from Rs. 6.5 lakh to Rs. 6.5 lakh per year.
Conclusion
So, this was the complete information of BE course and whether you should go with it or not. If you are looking forward to get a perfect career opportunity right after your graduation and are looking for a great initial salary, BE can be a worthy graduation course to go with. Just choose the right college and you will be able to get better career opportunities along with better knowledge of the subjects.