Polytechnic or diploma of Automobile engineering is a course focused on professional working as an automobile expert. It is a three-year course and all about the automobile industry. Candidates pursuing this course learn about basic skills and essential knowledge regarding automobiles.
Students can opt for this course after the completion of their 10th class. Candidates will explore chances of exploring more into vehicles. From installation to manufacturing, most of the essential aspects are taught in these three years of the course. It is all about devices and the use of the right equipment for maintenance.
Aspirants are well-trained in the designing aspect and they are going to understand the basic parts from working in various fields to automobiles. This will help them get a job in the upcoming field like the automobile industry. Students who are willing to work in this industry can get direct admission to the 2nd year of this bachelor's degree.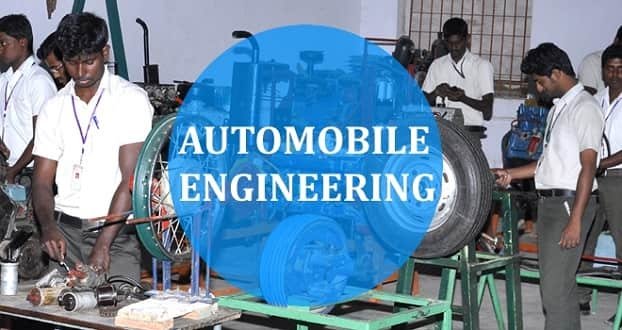 Eligibility Criteria
Eligibility might vary based on the institution that you are choosing. You must select a reputed institution to have better placement scope. The candidates must have to fulfill the following mentioned Criteria-
The applicants who have completed the class 12th with Science and Mathematics or any further equivalent examination from a recognized board or any institute can seek admission.
The Candidates who have scored aggregate 60% marks in class 12th can apply for the course.
Candidates also passed their 10th board with a minimum percentage.
For reserved categories, there is a relaxation quota which will aid in lower fees along with seat reservation.
Once you fulfill all these requirements, you can enroll in the top institutions of India. Apart from these requirements, there are aspects like entrance examination that you have to clear to get enrolled.
Admission Process
Mostly, the admission process had based on merit or entrance exam. For Automobile Engineering's admission, the candidates must have to clear the entrance exam. Some Reputed colleges or institutes conducted their entrance exam.
The selection process includes the basic knowledge, reasoning, and skill test of candidates. Across the nation, the candidates apply for the course and directly get an application from the college admission office. Some states like Rajasthan, Tamil Naidu, and Haryana centralized an online admission process.
Here are some Entrance Exams mentioned-
National- Level Entrance Exam
State-Level Entrance Exam
Online/Centralized Counselling
Private Universities Entrance Exam
Direct Admission
After these examinations and the whole procedure, you will be enrolled in the institution. These are all the possible methods that you can choose.
Entrance Exams To Enroll IN Automobile Engineering
The candidates who are willing to get admission to the dream colleges will clear the entrance exam first. The following mentioned list of entrance exam as per state are-
APJEE- Arunachal Pradesh Joint Entrance Examination
Assam PAT-Assam Polytechnic Admission
Rajasthan Polytechnic Admission DTE Rajasthan
AP POLYCET- Polytechnic Common Entrance Test Andhra Pradesh
UBETER JEEP- Uttarakhand Polytechnic Entrance Exam
MSBTE- Maharashtra State Board of Technical Entrance
HSTES DET- Haryana Diploma Entrance Test
CG PPT- Chhattisgarh Pre Polytechnic Test 2020
JEECUP- Joint Entrance Examination Council of Uttar Pradesh
JKBOPEE Polytechnic- Jammu and Kashmir Diploma Polytechnic entrance test
Delhi CET- Delhi Polytechnic Common Entrance Exam
Jharkhand PECE- Jharkhand Polytechnic Entrance Competitive Entrance
DET- Odisha Diploma Entrance Test
PET- Punjab Joint Entrance Test
DCET-Karnataka Diploma Common Entrance Test
These are some of the approved and recognized entrance exam tests that you can consider for the automobile engineering course. Passing any of these entrance exams and then going for admission to a reputed institute will be easy for you.
Top Institutions
India has several excellent Automobile engineering institutions throughout the country that you can choose from. Going with any of the below-mentioned institutes will be a great choice. Let's have a look –
Integral University, Lucknow
Rai University, Ahmedabad
Lovely Professional University, Chandigarh
GLA University, Mathura
Integral University, Lucknow
Al these universities have lower eligibility criteria but their own entrance exam tests that you have to complete so that you can get enrolled. Fees might vary based on the institute you are selecting.
Benefits of doing Automobile Engineering
The candidates who are willing to do vehicle-designing, manufacturing and have known about the parts of the vehicle can pursue the course. During from last few decades the development of various sectors established across the world. This course is the most demanding sub- Domain of mechanical Engineers.
The course offers different carrier opportunities in the private sector as well as in the public sector. The global development of vehicles and transportation includes a study of vehicle designing. Through this course, the candidates will learn how to manage high compliance, how to implement the new strategies in the automobile industry.
After completing the course, the candidates who know about the various part of the automobile and are well trained in designing will get top-notch job offers.
Syllabus and Course Description
The Automobile course duration is just like every engineering course of 3 years and it is divided into 6 semesters of the whole course.
Semester 1 –
Applied Physics I
Applied Mathematics I
Applied Chemistry I
Basics of Information Technology
Labs
English and Communication Skills
Engineering Drawing-I
Workshops
Semester 2 –
Applied Physics II
Applied Mathematics II
Applied Chemistry II
Engineering Drawing II
Workshops
Environmental Studies
Labs
Semester 3 –
Automobile engineering Drawing
Applied Mechanics
Thermal and Hydraulic engineering
Automotive materials
Electrical and electronics
Labs
Workshops
Semester 4 –
CAD in automobile engineering
Auto Engine
Strength of Material
Workshop technology
Chassis body and transmission
Workshops
Semester 5 –
Auto engine II
Auto Electrical and Electronics equipment
Auto Repair Maintenance
Basics of design
Basics of management
Projects
Semester 6 –
Vehicle and transport management
Auto Repair Maintenance II
Elective subjects
General and entrepreneurship skills
Tractor and heavy machinery
Projects
These are all the six-semesters that you will be studying in this course. While choosing the institution, you can find that few of the institutions might have a different approach to the teaching of subjects. So, make sure that you go with a reputed institution to have the best kind of experience.
Admission Process
As you can find that this course is popular and has slightly lower eligibility criteria which are easy to fulfill. This thing creates hype for all the 10th pass students. You can find that most of the students choosing this field are 10th pass mainly. But, if you want to enroll in a reputed institution, the eligibility criteria are different.
Most institutions accept admission on a merit basis. All the candidates should be meeting the minimum eligibility criteria which will be based on the performance of the student. But, if you go with a few well-known and widely popular institutions, they may conduct an entrance examination to test the skills and knowledge of applicants.
The examination is based on 10th class subjects and getting admission in automobile engineering becomes easier after the course. All the inserted students who want to complete a diploma can consider automobile engineering based on the institution and they can fill the application form. This will complete the admission process.
The admission process might be different from some local-based institutions which are affiliated with any other institution. The only problem with such an institution is, getting a job in well-known companies might be typical and they might not consider the degree as it is not from a recognized institution.
Career Options
After completing an automobile engineering course, candidates have a wide range of career options. Few of the career options mentioned on top of our list offer a great salary package and have a higher placement rate. As you get the degree, you can consider these career options –
Automobile Mechanic – Under this job, you will be working on the mechanical parts of a vehicle. Your job will be maintenance, repairing, and diagnosis. This job is one of the security and offer jobs in many reputed companies.
Quality Engineer – Checking the quality of work, ensuring the quality of parts, their durability, and such other jobs will be under your criteria.
Automobile Technician – All kinds of technical issues related to an automobile will be your job. From installing new parts to replacing them, you will be doing this job of diagnostic.
Engineer Trainee – Getting selected in an institution to train new candidates is part of this job. You will be doing some of the key things like teaching your student, training them about the automobile, how parts work, and much more.
Design Engineer – Working on the new design of parts, checking their efficiency, effectiveness, and usability factor is under this job. You will be doing this job with a great salary package with limited work.
Automobile Maintenance Engineer – Maintaining the engine of an automobile and assuring high-end performance is part of this job. You are working in this job as an engineer and you will have your team.
Production Engineer – Production of automobile parts, their quality check, diagnosis, and few other things are part of this job. There will be some high-tech machinery that you are going to use in this job.
These are some of the popular career options you will be looking after completion of automobile engineering.
The Final Verdict
Once you are done going through all the aspects, it is easy to claim that you have harnessed all the essential aspects of this course. There are plenty of job options that you will get after completion of this course. Make sure that you do choose a recognized institution to avoid having further issues.