Among all career options, the healthcare field is the toughest one. Being a part of the healthcare field as a doctor is not an easy task. This field requires years of experience, dedication, skills and high-level qualification from a reputed institute like AIIMS.To get admission to a popular medical institute, candidates have to pass the relevant entrance exam. If you have a keen interest in medical science and wants to establish a career in the healthcare field then you must pursue a UG level degree program along with relevant subjects. In India, a total of 15 AIIMS institutes offers admissions to the MBBS program through an entrance exam namely AIIMS. So here, we have mentioned some important aspects regarding AIIMS that you should consider before applying. Let's discuss them:
What is AIIMS?
AIIMS or All India Institute of Medical Science, popularly known as AIIMS MBBS, a national level entrance exam for taking admission to UG medical seats offered by 15 different AIIMS institutes namely New Delhi, Rishikesh, Bhubaneswar, Jodhpur, Raipur, Bathinda, Nagpur, Raebareli, Gorakhpur, Guntur, Kalyani, Patna, Bhopal etc. The AIIMS New Delhi conducts AIIMS every year across the country. More than three lakh students applied for this exam but only a few candidates will crack it. However, the first thing that comes to mind that why AIIMS New Delhi conducts it. Therefore, the answer is The All India Institute of Medical Sciences (AIIMS); New Delhi has national importance as a medical institution. Although, it was established under an act of parliament in the year 1956.
The main aim of AIIMS MBBS is to encourage students for pursuing MBBS course from the AIIMS institutes. After clearing the exam, candidates will study for a minimum of five and a half educational years in which four and a half will be dedicated to classroom teaching, practical sessions, seminars, project work and lab work and the rest of the year will be for a mandatory internship. Above mentioned 15 institutes are considered as the top-tier colleges in the field of medical science.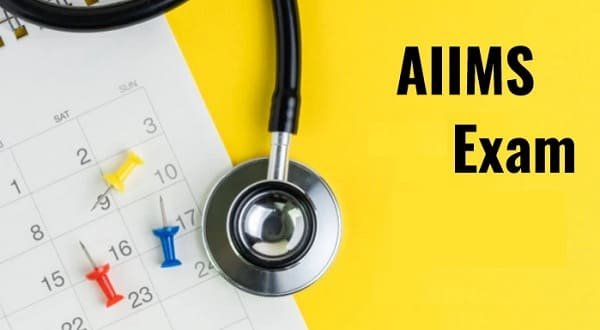 Those candidates who have passed their 10+2 or candidates who are appearing in the 12th standard are eligible to appear in the AIIMS exam. Thus, the exam has its importance and difficult standards. Before appearing in the exam, candidates will be advised to get proper information regarding AIIMS eligibility criteria, registration process, registration fees, syllabus and exam pattern. Let's have a look at the first section namely eligibility.
What is the Eligibility Criteria for AIIMS Exam?
Generally, the eligibility criteria may differ from institute to institute but AIIMS has its basic eligibility requirement in which Age limit, academic qualification and nationality are included. Interested candidates who have applied for the AIIMS exam, should fulfil the below-mentioned requirements-
Educational Qualification:
The students must have passed their 10+2 under the 12th Scheme/Senior School Certificate Examination of I.Sc. (Intermediate School) or equivalent examination from a recognized board or any other state board.
An aspirant must have studied Physics, Chemistry, Biology (English as a mandatory) in their qualifying exam.
Those candidates who have passed 12th class or are appearing in the 12th or equivalent exam will provide passing proof with the required subjects (Chemistry, Biology, English and Physics) at the time of applying for the AIIMS exam.
Apart from the above-mentioned requirements, candidates (General Category) must have secured at least 60% of marks and in the case of the SC/ST/OPH category, 50% of marks will be accepted to apply for the AIIMS exam.
Age Limit:
The students must have attained 17 years of age on or before 31 December (year of admission) and there is no maximum age limit for the AIIMS entrance exam. The age relaxation willgive to candidates who belong to SC/ST and OBC category. To know more about age relaxation you can check the official website of AIIMS New Delhi.
Nationality:
The nationality has divided into three categories including Indian Nationality, Overseas Citizen of India (OCI) and Foreign National Candidates. The details regarding nationality in-depth have listed below:
Indian Nationality – Candidates having Indian Nationality are eligible to apply for the AIIMS exam.
Overseas Citizen of India (OCI) – The students having OCI are also eligible to apply for AIIMS MBBS. However, such candidates have to submit evidence or proof of registration to appear for the exam.
Foreign National Candidates –Those who have foreign nationality and nominated by the government are not eligible to apply for the AIIMS MBBS exam. They will be required to appear only at AIIMS New Delhi, India. Such candidates must have attained at least 50% of marks in English, Chemistry, Physics and Biology subject in their qualifying exam. In fulfilment of the requirement, foreign national candidates are eligible for admission to MBBS at AIIMS New Delhi.
Reservation Criteria of AIIMS MBBS
Aspirants who belong to SC, ST, OBC and PWD category will get reserved seats by a certain percentage. At present, the new AIIMS namely Bhopal, Patna, Raipur, Bhubaneswar, Jodhpur and Rishikesh will aperture of 100 candidates each. Here we have listed reservation policy as per rules and regulation of AIIMS.
SC ( Scheduled Caste) – 15%
ST ( Schedule Tribe) – 7.5%
NC-OBC (Non- Creamy – Other Backward Classes) – 27%
PWBD ( People with Benchmark Disability – 5%
Important Points:
The above-mentioned reservation criteria have only accepted in AIIMS Nagpur and AIIMS Guntur presently.
There is a total of 100 seats for Indian Nationals and seven for Foreign Nationals are available in AIIMS Delhi.
In case, any SC or ST seats remain vacant, they shall be converted into general category seat.
Exam Pattern and Syllabus of AIIMS
Before applying for AIIMS, candidates must get completed details about the exam pattern. The below-mentioned information concerning AIIMS MBBS have listed below:
Mode of Exam – The AIIMS MBBS is an online entrance exam that is through the computer. It has also known as a computer-based test.
Duration – The time limit of the exam will be 3.30 Hours.
Medium – English and Hindi
Number of Questions – Candidates will face a total of 200 MCQs (Multiple Choice Questions).
Subjects – The questions will be asked from the subject of the exam including the following subjects – Chemistry, Biology, General Knowledge, Aptitude and Physics.
Marking Scheme – For every correct response candidates will be awarded one mark.
Negative Marking Scheme –In the AIIM entrance exam, a negative marking scheme has followed by conducting authority. For every wrong response, one-third of the marks will be deducted.
Marks Distribution–The following details are regarding marks distribution:
Physics – 60 Marks
Chemistry – 60 Marks
Biology – 60 Marks
General Knowledge – 10 Marks
Aptitude and Logical Thinking – 10 Marks
Syllabus of AIIMS:
To prepare for any exam, candidates should know about the syllabus that is prescribed by the exam conducting authority. The questions will be asked from the 10+2 class from the subjects like Chemistry, Biology, Physics, and the rest of the two exams namely General Knowledge and Aptitude will be related to general awareness and current affairs. The following details have mentioned in depth. Let's check it:
Physics
Wave Motion
Optic Rays
Heat and Thermodynamics
Gravitation
Electrostatics
Laws of Motions
Magnetic Effect of Current and Magnetism
X- Rays
Semiconductors
Modern Physics
Biology
Plantae
Cell
Origin of Life
Human Health Diseases
Genetics
Cell Division
Ecology
Mineral Nutrients
Plant Water Relation
Genetics
Cell Respiration
Photosynthesis
Chemistry
Alkenes and Alkynes
General Organic Chemistry
Alkanes
Equilibrium
s-Block Elements
Chemical Thermodynamics
Transition Elements and Electrochemistry
Chemistry in Everyday Life
p-block Elements
General Knowledge
Business
History and Geography
Books and Authors
Awards and Prizes
Polity
Science
Logical Thinking
Coding and Decoding
Blood Relations
Mirror Images
Venn Diagrams
Figure
Odd one out
Application Fees
The candidates can apply for the AIIMS entrance test through online registration mode and the fee can pay through digital mode only through credit card/debit card/net banking. The application fee differs for all categories. Check out the entire details about the application fees:
Application Fees for General Category – 1500 Rs /-
Application Fees for OBC ( Both Creamy and Creamy Layer) – 1500 Rs /-
Application Fees for SC – 1200 Rs /-
Application Fees for ST – 1200 Rs /-
Application Fees for PWBD – Exempted
How to apply for the AIIMS entrance exam?
For applying AIIMS entrance exam, candidates need to follow a majorly two-stage process namely Basic Registration Process and Final Registration Process
AIIMS Basic Registration Process:
At the primary stage, candidates need to follow the following steps:
Step:1 Open a web browser on your PC
Step:2 Find the Official Website of AIIMS MBBS i.e. aiimsexams.org
Step:3 Click on it and tap on the ' New Registration` option
Step:4 Fill in all the basic details like your name, address, father's name, mother's name etc. in the given format
Step:5 Scanned Photo and Signature and upload it.
Candidates are not required to make the payment for the AIIMS exam at this stage.
AIIMS Final Registration Process:
On the successful completion of Basic Registration, a code for the final registration process will be notified at your email id or text message that you should fill during the basic registration. Then, use the code to log in again and filled the entire form. In the final registration, candidates are required to mention all details like their personal details, qualifications and experience letter. Next, the candidate has to make payment as per their categories. The payment can be through online mode or via bank challan. Check the entire form from start to end and then take a printout for future reference.