Commerce is one of those popular streams that open a wide range of career options after graduation. Both national and international companies offered jobs to such candidates who have commerce background. Apart from regular courses, professional courses like CA, CS and CFA is also a good choice for those students who want to establish a career as a Chartered Accountant/Company Secretary/ Financial or Investment Analyst. These types of job roles not only offered a reputed post as well as lucrative salary packages and perks. Do have an interest in Banking, Investment and Corporate services? If yes, then you can do the CFA course. In this article, we have mentioned all the important details regarding CFA Exam. Without wasting any time let's have to discuss our first section that is what is CFA exam?
What is CFA Exam?
The full form of CFA has Chartered Financial Analyst, a professional certification course, accepted globally and offered by the CFA institutes. After CA and CS professional course, CFA is known as a highly respected and authorized designation in the field of financial and investment management. To work as a Chartered Financial Analyst, it is mandatory to obtain a CFA certificate. However, there is a little bit of confusion among students that why should not pursue an MBA for financial aspects? Therefore, the answer is that MBA covers general aspects of business & management. On the other hand, the CFA course focuses on the finance aspect in-depth.
Those who have completed their graduation with commerce discipline or students who are appearing for the final year exam can apply for the CFA exam. Additionally, the aspirants who have completed their MBA/M.Com or current MBA and M. Com aspirants can also apply for the CFA exam. The best thing about this program is that CFA conducting authority has given chance to those candidates who are CA aspirants or IT professionals. Professionals need to attain at least 4-year experience in their respective job areas for applying for this course.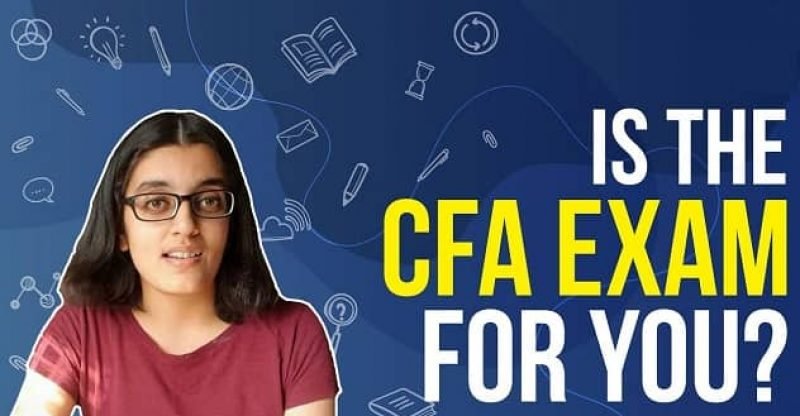 The main purpose of CFA is to develop professionals for the worldwide market. The programme covers major's aspects of investment like investment principles, financial planning and many others. Through this programme, aspirants will become specialized in a wide range of investment specialities. Over the past few years, many Indian companies have become recruiters of CFA. After achieving the CFA certificate, an aspirant can pick any of the job roles i.e. Private Bankers, Financial Advisors, Relationship Manager, Financial Strategists, Portfolio Managers, fund of the fund manager.
What is the basic Eligibility Criteria for CFA?
To apply for the course, candidates have to fulfil the following CFA requirements that we mentioned below:
Academic Qualification/Internships/Work-Experience/National
Candidates who have passed their bachelor or equivalent course are eligible to apply for the CFA exam.
Bachelor's degree should be from any recognized university or institute.
The candidates who are appearing in final year exams in their bachelor's degree programme can also appear in the CFA exam.
Before registering for CFA level 2, candidates must be passed their bachelor degree course.
The minimum work experience for CFA is 4000 Hours that should be obtained by aspirants or
Before registering for Level 1, candidates should qualify for their higher education over a minimum period of three successive years.
The candidates who are doing their internships or run their own business can also apply for the CFA course. All the work duration and internship period will be counted as work experience. To get the benefit of this condition, you need to show that you are paid for this.
The candidates must possess the required skills-set like Leadership quality, teamwork ability, analytical skills, adaptability, professional judgement, time management ability, business communication skills, critical thinking, and many others.
Candidates should be the citizen of India and must have an international passport.
The student must be proficient to understand critical situations.
The candidates must have sharp fluency in English.
An aspirant is also required to submit a professional obedience report.
Exam Pattern and Syllabus of CFA Exam
CFA is one of the toughest specialised course that aimed to provide education and standard training in the field of financial and investment analysis. The CFA level 1 and CFA level 2 are similar to the MBA finance course. But level 3 of CFA is the final and important stage that offers deeper knowledge regarding subjects.
Level 1 – Exam Pattern and Syllabus
CFA level 1 is an online exam (computer-based) that comprises 180 MCQ (Multiple Choice Questions). These questions are divided into 2 sessions and the total takes 135 minutes of duration. There is a short period break in between them.
Session-1
Duration – 2 hours and 15 minutes
Number of questions – 90 MCQs
Topics – Quantitative Methods, Ethics and Professional Standards and Financial Reporting and Analysis
Session-2
Duration – 2 hours and 15 minutes
Number of Questions – 90 MCQs
Topics – Derivatives, Equity, Fixed Income, Corporate finance, Portfolio Management and Alternative Investment
Important Topics of CFA level 1
Level 1 covers a total of 10 areas that mainly focuses on studying investment tools and assets class. Let's have a look:
Ethical and Professional Standards
Quantitative Methods
Economics
Financial Reporting
Corporate Finance
Portfolio Manager
Equity Investment
Fixed Income
Derivatives
Alternative Investments
Level -2 Exam Pattern and Syllabus
After completing Level -1, candidates will appear for level 2 in which 45 item-set questions are included in each session. In this set, there will be a mixed group of 4 to 6 MCQs per vignette. The duration for this exam is 4.5 hours and there is an optional break of 30 minutes between two sessions that you should get during the exam period. As compared to Level 1 the duration of level 2 is shorter.
The details are listed below:
Mode of Exam – Online (Computer Based test)
Medium of Exam – English
Number of Questions – 45 item set questions
Number of Sessions – 2 Sessions
Duration of Exam – 2.25 Hours Each
Type of Questions – Vignette Based MCQs ( Multiple Choice Questions )
Important Topics of CFA Level 2
The CFA level 1 and Level 2 contains the same topics but the only difference between both of them is topics weightage. Otherwise, a total of 10 topics has remained the same as CFA level 1.
Level -3 Exam Pattern and Syllabus
The CFA level 3 has a mixture an item set questions and essay-based questions. It consists of two types of questions. The exam duration and mode of the exam (Computer-Based Test) will be changed in 2021. The question pattern will remain as it is. The pattern of each question is mentioned below:
Item Set Format – Item set Format has 4-6 MCQs (Multiple Choice Questions). Each MCQ are given in each mini-case. In simple words, there are various types of mini-cases in it.
Essay Format – Two types of answers are required in this format, either calculation based or word-based. It is not an MCQS based format. The answer must have in writing.
The below-mentioned details will help you to understand level 3 Exam Pattern
Mode of Exam – Online ( Computer Based Test)
Medium of Exam – English
Number of Questions – 10-15 item set questions
Number of Sessions – 2
Duration of Exam – 2.25 Hours Each
Types of Questions – Item set Questions + Essay Based Questions
Total Duration of both session – 4.5 Hours
Important Topics of CFA level 3
Before appearing in the level 3 exam, candidates must understand the weightage of the topic and time. Level 3 has 7 core topics and a total of 30 readings. The core topics of this level are listed below:
Ethical and Professional Standards
Economics
Equity Investments
Fixed Income
Derivatives
Alternative Investments
Portfolio Management and Wealth Planning
CFA Program Cost
To earn the CFA certificate, candidates must enrol in the CFA course and then appeared in three exams namely level 1, level 2 and level 3.
For level 1 CFA exam – After completing registration, you will submit a one-time enrollment fee which is $450.
For each level, candidates will pay further charges. The charge for each level of the CFA exam is listed below:
Fees for Early Registration – $ 700 USD
Fess for Standard Registration – $ 1000 USD
The fee may vary from institute to institute. But the minimum fees of CFA for all three levels is around $ 2,100 to $4350, depends on you when you register. The fee may up to $ 2,540 to $5,040.
How to apply for CFA Exam?
Here few steps are mentioned for all three levels that you can follow while applying for CFA
Registration for Level 1:
Open a web browser on your PC
Search Official Website of the CFA Institute
Next, Create your account on that
If you are eligible for the Women's Scholarship or Access Scholarship then also apply for it.
Make payment in case you are not eligible for the scholarship.
At this stage, you have to additionally pay a one-time enrollment fee of USD.
Registration for Level 2:
you already have an account on your CFA Institute account.
Login and apply before the deadline and fill in all details.
There is no enrollment fee for level 2 and make payment as per requirement.
Registration for Level 3:
Open your login id with the registered passed on the official website of CFA institute.
Fill in all required detail and documents.
Make payments for this level.
The application form will be submitted to the CFA level 3.