Difference Between Ph.D. and M.Phil. – A Complete Guide
Many students focus on getting a job after they complete their graduation or post-graduation course. They even enrol themselves to get trained for jobs and interviews. But some students are more focused on continuing their education. Some students just love to learn new things about a particular subject or in a particular field. So, if you are also someone who has completed their post-graduation course and planning about what next, then the most common options that you get to hear are M.Phil. and Ph.D.
M.Phil. means Masters of Philosophy and Ph.D. means Doctor of Philosophy. M.Phil is usually done before you start your Ph.D. course and after you complete your post-graduation course. There is a lot of difference between these two courses, and hence you need to know the differences between these two courses before you make a decision. Whether you consider the course pattern, course duration, and syllabus, they vary in all aspects. Many people have a misconception that these two courses are related to Philosophy, but you should know that they have nothing to do with Philosophy at all. These two courses are more related to research in a particular field that you choose. But the process of research defers for each of them. So, let us have a look at the major differences between these two courses.
What is M.Phil?
M.Phil is a degree that is pursued after the post-graduation program. It is a researched-based degree, and you will be able to pursue it in many different fields. It is more of research work than the theory that you can learn during your course program. Usually, most people pursue this course as an intermediate between the Ph.D. course and Post-graduation. Some universities offer a Ph.D. after the post-graduation program, but it is always safe to pursue it only after M.Phil. Your knowledge and experience in M.Phil can be very helpful in the Ph.D. course.
The eligibility criteria set for M.Phil is different for different universities. There are several universities in India, and you can pursue them from any college. But you will have to make sure that you are qualifying for the entrance test conducted by the universities. There is one common criterion that almost all universities have, and that is you need to score at least 55 percent marks in the subject in which you wish to pursue your M.Phil. You should have this subject in your post-graduation level. Once you clear the entrance test, you will also have to undergo an interview at the university. Irrespective of your academic performance in your PG, your admission will solely depend on your performance in the written test and personal interview.
What is a Ph.D.?
Ph.D. or otherwise called Doctor of Philosophy is considered the highest degree that one can achieve from any university. Anyone who is pursuing a Ph.D. will have complete original research on the field or topic that they are selecting. After the completion of the course, any student will be ready to take up positions like faculty in universities and to conduct researches.
If you wish to get admission for a Ph.D. program, you will have to qualify for the entrance exam conducted by the universities like GATE, NET, JEST, or other exams. The exam will be conducted on the field or topic that the student selects. You will be able to start the coursework, and this coursework has to be completed to confirm your registration for Ph.D. Once you are done with the registration, you can submit the thesis or the research done by you to the university after two years. There are many steps involved as part of your Ph.D.
In the initial stage, after the coursework is completed, you need to get in touch with your supervisor. In coordination with the supervisor, you need to identify, prepare, and submit the synopsis of the thesis that you are going to the right. After the completion of the thesis, you will have to present two seminars on the same topic. The next stage will be the submission of the thesis to the committee, and that will be sent to the examiner for evaluation. Post-approval by the examiner, the thesis will be published in the journal. There will be a panel of examiners to conduct the viva-voce for the student and after the thesis is published in the journal. If you can complete the viva voce successfully, then the student will be recommended for the degree.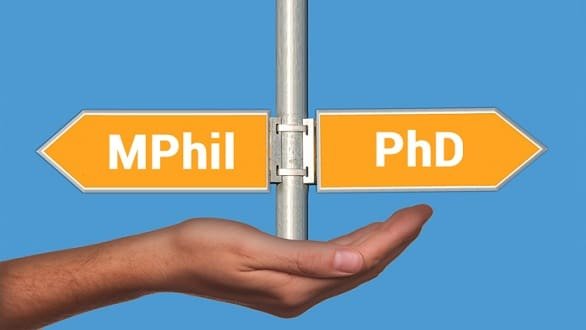 Course duration:
Another factor that differs between M.Phil. and Ph.D. is the course duration. You may be interested in continuing your studies further. But again if there is any time limit that can give for your M.Phil or Ph.D., then you need to consider the course duration as well.
The course duration for M.Phil is two years. There will be one-year coursework, and then you will have to concentrate on the research part. The main focus of the research is on the fundamentals of research and the researched conducted by other scholars in the universities. In simple words, during your M.Phil course, you will learn about the basics of research and how should it be carried in the right. You will not be working on any fresh or new topic or fields.
The course duration of a Ph.D. is three years. But there is no fixed duration for the completion of your Ph.D. For some people, it may take just three years, whereas for a few that can take even ten years. Ph.D. has one year of coursework and then followed by registration and then starting the thesis work. Within two years thesis should be ready for submission. The main focus is one fresh research carried out under the supervision of an expert or supervisor in the university. The supervisor should have enough experience and knowledge to guide the students for successful completion of the Ph.D.
So, there is a one year difference in the duration of the course, and that can vary as well.
Stipend options:
The stipend is another important factor that helps you understand the difference between M.Phil and Ph.D. Usually, after graduation or post-graduation, students opt for a job to earn some income. As the M.Phil and Ph.D. students continue their studies, a small stipend can be very useful.
In general, there are very few or no universities that offer a stipend to the students pursuing an M.Phil degree. But when it comes to Ph.D. the students receive a stipend during their course period. Most of the universities offer the only stipend, whereas a few universities even offer accommodation or hostel facilities for the students. This will help them financially, and they will be able to concentrate on research rather than part-time jobs. The stipend for the Ph.D. students will be paid by the university, and in some cases, the investors funding the research will grant the stipend. The amount will depend on the college or university.
What courses can you select?
When you are planning to pursue M.Phil or Ph.D., you have different options to choose from. In India, M.Phil and Ph.D. are offered in different fields. That makes it easy for the students to choose a field of their choice. Students need not have to compromise with the fewer options available for them. So, let us have a look at the different options you have in both M.Phil and Ph.D.
Ph.D. Courses you can choose from:
D. in Aeronautical and Automobile Engineering
D. in Applied Chemistry & Polymer Technology
D. in Applied Sciences
D. in Arts
D. in Basic and Applied Sciences
D. in Bioinformatics
D. in Bioscience
D. in Biotechnology
D. in Ceramic Engineering
D. in Chemical Engineering
D. in Civil Engineering
D. in Clinical Research
D. in Computer Science Engineering
D. in Economics
D. in Electronics & Communication Engineering
D. in Electronics and Communication Engineering
D. in Engineering
D. in Engineering and Technology
D. in English
D. in Environmental Science and Engineering
D. in Genetic Engineering
D. in Geography
D. in Humanities
D. in Humanities & Social Sciences
D. in Humanities and Life Sciences
D. in Information Technology
D. in International Relations and Politics
D. in Literature
D. in Marine Biotechnology
D. in Mathematical and Computational Sciences
D. in Mathematics
D. in Mechanical Engineering
D. in Physics
D. in Physiology
D. in Production Engineering
D. in Psychology
D. in Public and Economic Policy
D. in Public Policy
D. in Quantitative Techniques
D. in Science
D. in Social Sciences
D. in Social Work
D. in Zoology
M.Phil Courses you can choose from:
Phil in Applied and Regional Economics
Phil in Aquatic Biology and Fisheries
Phil in Arts
Phil in Biology
Phil in Biotechnology
Phil in Botany
Phil in Chemistry
Phil in Clinical Psychology
Phil in Computer Science
Phil in Economics
Phil in English
Phil in Geography
Phil in Hindi
Phil in History
Phil in Human Development Studies
Phil in Humanities & Social Science
Phil in Life Sciences
Phil in Linguistics
Phil in Mathematical Sciences
Phil in Physics
Phil in Political Science
Phil in Public Administration
Phil in Social Work
Phil in Sociology
Phil in Zoology
Key differences between Ph.D. and M.Phil:
Let us have a look at the key differences between Ph.D. and M.Phil.:
The first difference between M.Phil and Ph.D. is M.Phil can be called the second degree after you complete your post-graduation program. You will gain knowledge about a subject of your choice, and you will be all set for the advanced research on the subject. But when it comes to Ph.D., you will work on fresh research in a particular field or subject. Post completion of a Ph.D., you can attain a professor position in the top universities. You can also choose to work in that particular field.
Coming to the duration of the course, M.Phil is a two-year course, but it can be completed in three years as well. But when it comes to Ph.D., there is no limit for the duration. It takes at least three years for the research to complete on any chosen subject. But for some students, this research can vary, and it can take more than seven to ten years as well. It all depends on how well you can research and enhance your knowledge.
The students will not receive any stipend during the course period of M.Phil, and for Ph.D. students, a stipend will be issued by the universities.
During the two-year M.Phil. course, one year is allotted for coursework and the other year is for research. For Ph.D., most of the work is only research-based, but one-year coursework is required for the confirmation of Ph.D. registration.
Phil is the eligibility for registering for the Ph.D. program. The students of M.Phil need not have to work on a fresh or original dissertation. You can replicate someone else's work as well. But that is not the case with Ph.D. You will have to pick a topic and start with the original fresh research on the chosen subject or topic.
Bottom Line:
There are a lot of differences between Ph.D. and M.Phil. Starting from the course duration to the nature of research carried out by the students. Both the courses are related to research, and still, they differ from one another. You will be able to complete your Ph.D. after the completion of your M.Phil. When you wish to apply for the M.Phil program, it is very much similar to any post-graduation course. You need not have to worry too much. It will be very helpful if you choose the same subject in M.Phil in which you wish to get your Ph.D. That will help you to get some knowledge in advance before you get started with the course. We hope this guide has helped you understand the difference between M.Phil and Ph.D and other details related to the course. When you know the differences, it gets easy for you to pick the right course based on your qualification and your interests.