The most reputable and well-known fields in India have been Medical and Engineering. However, the thing with both these fields is that you cannot just make your choice as you become an adult. You will have to come up with an exact understanding way early on in your life. It is the 10th standard in your school when you will have to choose between the two and set your goals for the longer term. We often tell people to select their subjects by not being short-sighted. Additionally, you will be choosing between the two subjects – Mathematics and Biology to enter into the field of Engineering and Medical, respectively.
This is why one must hear the name of their sections as Engineering and Medical sections and not Mathematics or Biology. Furthermore, you will have to study additional Science subjects no matter what you choose. These subjects will include Physics and Chemistry. Altogether, your life and career will be devoted to Science, and you will have to head that way. Today we discuss many different things to help you understand whether Engineering will be useful for you or it is Medical that you must be choosing once you reach and finish the 10th standard. Let us know all the things below –
What is Difficult? Medical or Engineering: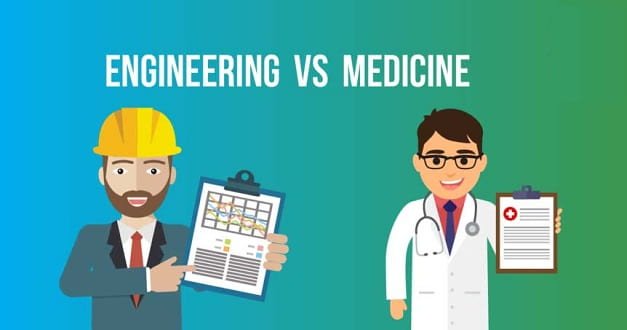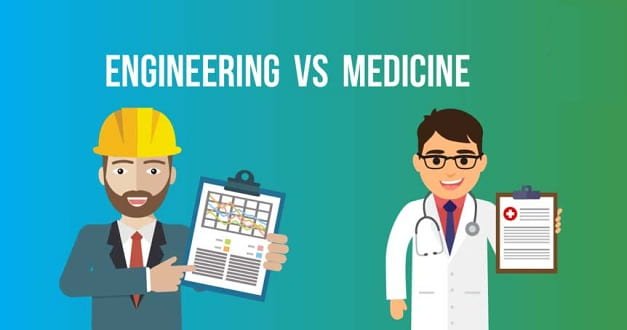 We are often asked the question about how tough the two fields are known to be. Our answer has always depended on the type of student. We say this because if the student chooses the wrong field, he/she will indeed find it way tricky. Therefore, it all depends on where your interest lies in these subjects. For someone who has always loved mathematics, it will be good if he/she choose mathematics. Besides, some people are good at understanding the theoretical knowledge in Medical (Biology), so they will find it more exciting and more comfortable than mathematics. Additionally, some schools let you take both Medical and Engineering. So if you like both the fields equally, you can opt for that as well.
Why Must One Choose Engineering?
It is often said that people who have a stronghold of concepts and applications of Mathematics are meant to be engineers. Mathematics is undoubtedly a beautiful subject that has led us to build everything in this world from scratch. The mathematical calculations are what we use for the basic accounting in our day to day lives. The same subject has also helped us create rockets and land on the Moon. Therefore, it is safe saying that Mathematics is something that only the brightest minds are going to understand and enjoy. However, you will not find everyone enjoys the subject. It could be just because they cannot happen to make a hold on it.
Yet, some minds would be immersed in studying the theorems, derivations, and sums. Once you get to understand mathematics, you genuinely start seeing the world in a wholly different way. People who choose Mathematics continue to become scientists and even renowned educators other than being Engineers. However, engineering is something that will help you create things. If you wish to make things in multiple distinct sectors, choosing Engineering or Mathematics after your 10th standard is what you will be needing. Many Engineers work in the IT Industry as well. It is the industry that results in colossal GDP every year!
Advantages of choosing Engineering (Mathematics) after 10th standard:
There are several paths that Mathematics after your 10th standard is going to open. While you would see a vast number of your classmates going directly with engineering, you can try choosing the field of IT (Information Technology). Many people wish to become Mechanical Engineers, but with massive demand in the software industry, you will see things going your way if you dream of becoming a software engineer or a software developer.
From Marine Engineering to Chemical Engineering, you could choose between a lot of things. As we mentioned, there were people earlier who used to only focus on Mechanical Engineering exclusively. However, the scope of Engineering has increased so much that it has become far more interesting than it used to be in the early times. You can choose to be Electrical Engineers, Software Engineers, and even Textile Engineers. With that, Engineering is going to spark a massive interest in you.
People who choose Engineering after 10th as their main subject is mathematics are indeed the people who are great problem solvers. Therefore, they are bright enough to work in consultancies and start with their plans for a start-up. Other than that, there is also a huge demand for engineers in foreign countries so you can also lookup for a career outside of the country to have that great life that you have always wanted. Mathematics is going to help you in all your endeavors, after all.
You can also continue after your 12th by choosing Finance or Management. This is because your strong hold and a background in mathematics will help you go through many concepts in financing and accounting. This is why many IIM graduates are engineers. Therefore if you want to get into the most top-class universities and colleges that offer Management Education, you should aim higher and go with mathematics as your subject. Not only will it help you go through the challenging phase first, but it will also help you in getting your concepts clear no matter what.
Why Must One Choose Medical?
Many people have a dream of becoming a good doctor since childhood. They grow up thinking of themselves wearing a lab coat and a stethoscope around their neck. These are also the people who want to serve society and help people with their treatment and illnesses. We have seen how these people are so passionate from the beginning that they could not think of anything other than the medical field and being a doctor. Other than that, people who choose Medical are also the students who develop a keen interest in Biology from early on.
Other than that, the scope of Medical is not just limited to being a doctor. If you select Biology as your subject after doing the 10th standard, you can even pursue a Bachelor of Science. This way, you will be capable of researching this subject's field and come up with your published work. Many people even continue choosing Biology as they are way interested in the field of Pharmacy. There are huge things that you can choose as you choose Medical after 10th standard. Therefore, don't worry, it is not going to even disappoint you, and you will indeed never find closed doors in your career.
Advantages of Choosing Medical after 10th standard:
First off, Medical is a subject in the Science field that will land you at a respectable job no matter what. Out of all the reputable jobs globally, it is a doctor's job that people truly look up to a lot. Many societies even consider their doctors as living Gods. With Medical as your background, your path towards becoming a doctor will be way clearer than ever.
People who choose Medical are known to be all-rounders. This is because they get to choose Physics and Chemistry as well, along with Biology. This helps them study a lot of mathematics in Physics along with the fundamental principles of the subject. Furthermore, in Chemistry, they develop a good interest to perform well when it is about choosing Pharmacy after being done with the 12th
There is always a shortage of doctors, so Medical will also offer you the chance of never being unemployed. With that comes the job security that all of us work hard for. Also, let us not forget the tremendous scope that Medical gets to you. These options include a career in physiotherapy, nutrition, and even dental. By choosing a future in Medical, you will make sure that you are not left behind.
Even when you cannot become a doctor, Medical will offer you so many options to switch to. This way, you will have backup plans even when you are, god forbid, not able to make it. Only the sharp minds can go through Medical as their choice in 11th and 12th standards, so no matter what continues to happen, you will be able to work and have your future secured.
These were the few advantages that one can enjoy as he sets to choose medical after their 10th standard. As you choose the field, you will realize its amazing nature even more.
Decision Making Between Engineering and Medical
After gauging your skills judiciously, you will begin to realize the field you are more inclined to. When it is about Engineering, we shall say that they should be candidates who have their fundamentals clear. With a high intelligent quotient and absolute reasoning skills, students can perform well as they continue choosing Engineering. It is not just about understanding the theories in Engineering. When you want to develop innovations, you should be someone who can bring his ideas towards reality. Other than that, if you get into the right engineering college, you can also start your start-up and build the things that you have a keen interest in.
In contrast, people who choose Medical are the people who should be willing to develop in-depth knowledge, be it Medicine or Life Sciences. As these people might also choose physiotherapy, nutrition, or Pharmacy, they should be students who grasp knowledge effectively and not just study things for the sake of exams. The course of Medical tends to be vast, but if you have a clear understanding, you will be able to ace everything quite well. If you are willing to be a doctor who has graduated from a top-notch medical college, you should not be short-sighted. You should start preparing as soon as possible for the entrance exams. These entrance exams will also be required if you choose careers other than that of a doctor. So be prepared and look at the future directly without wasting any of your time.
Thus, before you set to choose from Medical or Engineering, try knowing yourself. Also, you can try to know where your interest lies and where you want to see yourself. It will be tragic to fall into family and peer pressure. Therefore, refrain from choosing a field just because others are choosing it or because you see your parents forcing you to choose it. Instead, try having healthy communication with them as well as yourself so that you could understand which filed out of these two will be more beneficial and interesting for you. Once you do that, you will be determined to work in a focused direction without feeling disappointed or thinking that you chose the wrong way for yourself.
When things are hectic, you will have to sacrifice your social life. The work pressure can be high, no matter which field you opt for. Therefore, you should stick to preparing yourself and deciding what you want to do. Your entire life is going to tremendously depend on the choice you make regarding the subject you set to pick after being done with the 10th standard. Hence, we advise you should think it through and spend some time analyzing everything. This way, you will be all set to go towards the journey that you are meant to take and travel as far as your career and professional life is concerned.
Conclusion:
Many people who have an interest in both Mathematics and Biology surely have a dilemma as a person is only around 15 to 16 years old when they have to make a choice between the two. For them, we say that they can choose both subjects to buy two years of time. However, once they reach 12th, they should be clearer about everything as after that, they will have to choose a single path between the two. We believe that we have offered everything in what we have discussed with you today. To know even more details on both the courses, you can try learning about them from many different websites. If you know it in your heart about where your interest lies, your choice will not be difficult. We wish you big luck for your future!