In today's day and age, more and more people are coming forward to express their views and interests in the gaming industry. Social media and internet have really made the world a smaller place and people with different backgrounds have access to large number of games and multimedia. That is the reason why more and more people are getting interested in pursuing a profession in game design and development. There is clearly a lot of interest that is building up in this field. As a consequence, different colleges are coming up with different courses and options that were unheard of in the earlier days. There are more institutions and colleges that are offering a course on game design and development.
In this article, you can get some of the more important details on the gaming industry as a whole. So, read on the article "List of Game Development and Design Courses in India: Eligibility, Career and Job."
What is Gaming?
Well, this is described as an activity in which a person, called a gamer, involves himself or herself in playing various types of electronic games with the help of devices known as gaming consoles, mobile phones, laptops, and different other electronic mediums. These days, as will be seen in the article that follows, gaming has become really widespread which means that there is an ever increasing demand of professionals who can develop different types of games and animation thereupon. The most important skills that you should possess if you want to make a career in the field are real interest, creativity, as well as a lot of passion to develop different games. Making a career in gaming design and development is quite lucrative and opens up a host of opportunities for you.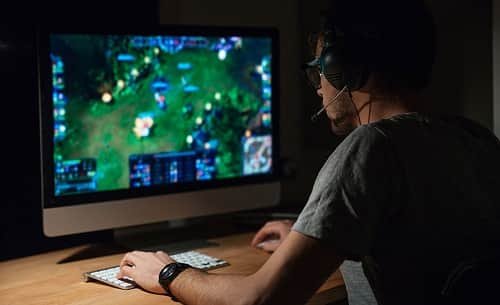 Career Prospects in the Gaming Industry
With the advent of internet and social media, more and more people are today recognizing the importance of the gaming industry. This is a growing industry and the job prospects in the field are really high. This is true both in India as well as abroad. The prospects are high and the gaming industry as a profession offers not only great opportunities, but also handsome pay and benefits. The growth of the industry means that there are several colleges and institutes that offer professional courses in the industry. Besides, a lot of recruiters have also now started coming forward and hiring more and more professionals.
There was a time when people used to view gaming design and art as just a subsidiary or an ancillary course of computer science. There was this idea that anyone can become a game designer and no specific knowledge related to this field is essential for becoming successful in the field. However, with the course of time as more and more people are recognizing the importance of gaming and taking it up as a profession, the perception has changed and this has become one of the most attractive industries in India and abroad today. That means that if you want to go ahead in the competition and are seeking success in the field, you ought to pursue a professional course to differentiate yourself from the others.
Benefits of Gaming Courses
The advantages or benefits of the courses include the following:
If you do a course on gaming, then you will have a great demand in the market. If you have done a professional course, then it becomes easier for you to find jobs related to the field
Once you have done the course, a lot of options open up for you. You become eligible for a wide variety of job profiles that are being offered in the market.
Top Courses in Game Development and Design
Well, as already seen above, gaming is a vast field. As such, there are a lot of courses that can easily be pursued if you want to take gaming up as your profession. There are wide variety of courses including a number of certification courses, courses in the master's level, as well as graduation level courses. In this section, let us see some of the different courses that are available in the market for someone who wants to do gaming design and development as a profession:
Certification Courses in Gaming Development and Design
The following is the list of certification level courses in the field of gaming design and development:
Certificate course in gaming
Certificate course in game art as well as design
Diploma Courses in Gaming Development and Design
If you are looking forth to pursue a diploma in gaming design and development, then you can choose from the following list of courses:
Diploma in game design
Professional course in game art
Advance diploma in game art and development
Advance diploma course in programming related to game design and development
Advance diploma in 3D art and design
Courses at the Graduation Level in Gaming Development and Design
The following courses are available if you want to pursue game design and development course at the graduation level:
Bachelor of science in graphics and game art
Bachelor of technology in game art
Bachelor of arts in animation
Bachelor of arts in digital marketing
Bachelor of science in animation, game art, as well as game design and development
Courses at the Masters Level in Gaming Development and Design
The following courses are available if you want to pursue game design and development course at the master's level:
Master of science in gaming and game art
Master of science in graphics and animation
Master of science in multimedia
Master of science in game design
Thus, you have so many options to choose from if you want to do a course in game design and development.
Job Profiles Offered
Once you have completed any of the above- mentioned courses, there are a number of job profiles which may be offered to you. A few of these are listed below:
Game designer
Art designer
Level designer
Game tester
Animator
Script writer
Game modeler
You can opt from the various job profiles offered as per your interests and career prospects.
Salary and Incentives
When you are choosing a career course for your future, it is imperative that you research and take into account the salary and incentives that you shall be receiving as part of the job. In the various courses that are available as a game designer and game developer, the salary and the incentives are quite high and attractive. For example, if you are someone who designs video games, you can earn up to 5 to 6 lakhs per annum. Well, there are also a number of factors that affect the salary and incentives including type of course you do, the level of the course, the type of organization you work with, the amount of experience you have, and so on and so forth. Overall, the field offers very attractive packages and benefits.
Eligibility of the Different Courses Offered
Well, like any other course, there are certain eligibility criteria that you need to meet if you want to get admission in any of the courses as mentioned above.
For Diploma Courses
If you want to do a diploma in any of the courses as mentioned above, the minimum eligibility is that you should have successfully cleared your class 12 examination. There is no restriction as to the board or the stream from where you are doing the same. It just should be a board that is recognized in India. Having said that, there are a few colleges which expect that you pass the class 12 examination with a minimum of 60 percentage of the total marks.
For Certification Courses
As seen above, students have the option of even pursuing any of the various certification courses that are available for someone interested in the game art, design and development. For those the eligibility criteria is quite simple. You should have completed your class 10 examination from any of the recognized boards. There is hardly any college that will require a minimum percentage of marks as far as the certification course in gaming development is concerned.
For Under Graduation Courses
In order to pursue a course in under graduation as far as game design and development is concerned, you should have successfully completed and passed your class 12th examination. Most of the colleges recognize any of the respectable board as recognized by the Indian government.
For Masters Level Courses in Game Design and Development
If you want to pursue a master level course in game design and development as mentioned in the sections above, you should have completed your bachelor's degree in a related field successfully.
Top Institutes Which Offer the Course
The following are some of the best known institutes that offer different levels of courses as far as game design and development is concerned.
Maya Academy of Advanced Cinematic, Mumbai
Zee Institute of Creative Arts, Bangalore
Academy of Animation and Gaming, Noida
Arena Animations, Delhi
Bharti Vidyapeeth University, Pune
Animaster Academy, Bangalore
Thus, if you have met the eligibility criteria, you can easily take admissions in any of the colleges as mentioned above. In most of the above -mentioned colleges, the course offered is in collaboration with some of the other courses. Having said that, there are a few colleges in which you can pursue a course on gaming design and development as an individual course too. It all depends on your choice and what you want to do.
Thus, as is clear from the above article, there are a lot of courses available on game design and development. There are a number of reputed colleges and institutions within the country that offer a wide range of professional courses. We recommend that you do your research and see to it that you are really interested in the course that you choose to do.
It is quite a difficult course to handle and you have to be really interested if you want to pursue and make a career in game design and development industry.
Frequently Asked Questions
Who can pursue the course of game development and design courses?
It is a highly creative and fantastic career. If you want to make a better career with game development, you can proceed. It is ideal for people who are creative and passionate about gaming. It would help if you had an interest in creating games and learning professional games.
How can one get admission to this course?
If you have passed class 10 you can pursue a certificate-level course. If you want to do something good, you can take it as a career after class 12. You can opt for diploma courses. You can pursue it from any stream. Anyone who wishes can also try a master's degree. To do this, you have to complete the graduation degree.
What types of skills are required to become a game developer?
You require some skills and qualities to pursue it as a career. You need to have proper knowledge of the software programming. You must know that animation and graphics play an essential role in this course. It would help if you also held the patience to solve the questions. To do this, you need proper patience. It is much required in this field. Time management skills are the other things that are required in this job. If you have creativity and the zeal to turn it into a game, you must quickly proceed ahead in this career.
What is the salary of a game developer?
A game developer can earn a lot after completing the course. As a beginner, you can start with 4 Lakhs per annum which may turn to 12 lakhs per annum based on your performance and skills. The more you will earn knowledge, the more you will earn more and make a better career.
What is the fee structure of the game developing course?
Regarding the fee structure, it can be said that it depends upon the college you are choosing. Generally, the fee of the course varies from 1 lakhs to 10 lakhs. If you wish, you can take an educational loan that you can repay after getting a suitable job.
Is there any difference between a game designer and a game developer?
Yes, a difference exists between these two words, although they appear to be the same. A game designer is a creative person who visualizes the whole process. But a game developer is a person who develops the game and ensures a lot of time in coding the game.