A career in the civil services field is quite desirable and alluring for people. It is still held in high regard and plenty of candidates appear for civil services exams at the national level and state levels. Just like UPSC looks after the civil services exams nationwide, WBSC or West Bengal Civil Services is more attuned to mandating, controlling, and overviewing the qualification of candidates for the state of West Bengal.
West Bengal has a prominent youth population with aspirations for the WBCS civil services field. This is why the state also has a very good number of top-level civil services coaching centers with them. But among these numerous options, how would you find the right coaching center for yourself?
We can help you out with it. We've enlisted the top five of the best WBCS coaching center in Kolkata for civil services and competitive exams down below. Let's take a look at these.
List of Best WBCS Coaching in Kolkata
1. Educrat IAS Academy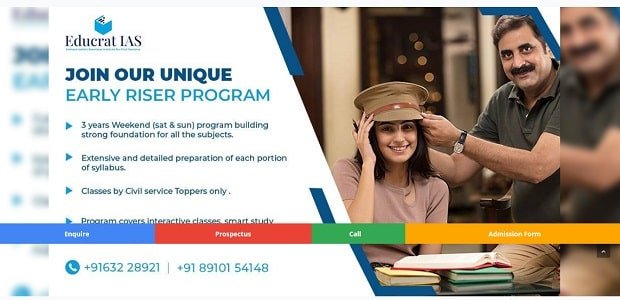 The first name to kickstart our list is the Educrat IAS Academy, a premier top-class civil service preparation and coaching center in Kolkata. The center has been a major name in this field and has served thousands of students. It has a very good track record in the civil services exams and has an entire course and learning structure designed to get the best of students. The center has been known for its top approach to guiding the students and preparing them with the right skillset to appear and qualify for the exams. They have both onsite and online classes on offer as per the desire of the students and also provide mentoring and counseling.
Address: Sri Manjari Building, 4th Floor, 1, Camac Street, Kolkata, West Bengal – 700016
2. Avision Institute
The second pick for our list is the Avision Institute, one of the very best WBCS coaching centers in Kolkata and West Bengal. The institute has been around for a long time and has honed its name in civil services and competitive exam preparation. The center has a well-supported team of faculty members who are skilled in this field and have consistently guided students into performing better. The institute also has mentoring and counseling facilities to help the students understand and perform better. They also comprise routine tests and exams to assess the performance of the students.
Address: 2nd Floor, 95/E, Lenin Sarani Road, Maula Ali, Taltala, Kolkata, West Bengal – 700013
3. Study Xpress
Coming in at the third number in our list is another renowned name in the civil service preparations in Kolkata, i.e. Study Xpress. The institute has been around for over seven years and has prepared thousands of students to date for the WBCS exams and also other competitive exams. The center has a state-of-the-art coaching method and guidance with top tiered faculty members. It also comprises quite a lot of merit students in their rooster. The center has a complete detailed course guide to help get the students develop and understand the course properly.
Address: 2nd Floor Building, YMCA, 90/6 – A, Mahatma Gandhi Road, College Street Bata, Calcutta University, College Street, Kolkata, West Bengal – 700007
4. Vanik Institute
The fourth pick on our list is the Vanik Institute. This institute has been a premier civil service coaching center in Kolkata for years. Vanik Institute has a well-rounded course structure and guidance supported by a well-esteemed team of faculty members. The center has been a ground for high merit list appearance and results over the period. It has student-focused mentoring and counseling for helping students become the best and have the best possible chance of qualifying for the exams. They offer both onsite and online classes to students as per their desire and ease of learning.
Address: Sealdah Commercial Complex, Besides Sealdah Metro 6th Floor, Smart Bazar Building, Sealdah, Raja Bazar, Kolkata, West Bengal – 700014
5. Calcutta Institute of Competitive Studies
Closing our list is another of the top-ranked institute for civil services exams and competitive studies in Kolkata, i.e. Calcutta Institute of Competitive Studies. The center has been a top-rated choice for students for years and has been consistently proven a great coaching center with its meticulously prepared course structure, guidance, and learning methods. The center has a highly qualified team of faculty members with years of experience. They provide mentoring and counseling to students to help them understand the needs and requirements of the course and become better. They also help students with routine tests and exams for assessments.
Address: 58, 129 a, Prince Anwar Shah Road, Lake Gardens, Kolkata, West Bengal – 700045
WBCS sees plenty of candidates appear for it every year. It is one of the highly desirable and aspiring fields for many students and it's no surprise to see the candidate's number rise every year. Due to such tough competition, students must prepare well for the course. This is where good coaching comes into play. We hope these top-ranked coaching centers for WBCS can help you find the right one for yourself.