A quality notebook is an everyday essential, whether you're getting ready for the start of a new session in school or you're just looking for something to keep your journal and to-do lists. However, choosing the best option can be challenging due to the wide variety of options available.
It might be argued that notebooks are no longer necessary in light of the recent technological growth. The use of paper has been replaced by computers for certain students, schools, & institutions. However, there are benefits to writing things down on paper. Keeping notes aids in memory recall. I
In addition, they allow you to be inventive in the manner that you structure your notes and chore lists. Notebooks are perfect for those who keep diaries or journals to record their thoughts and feelings.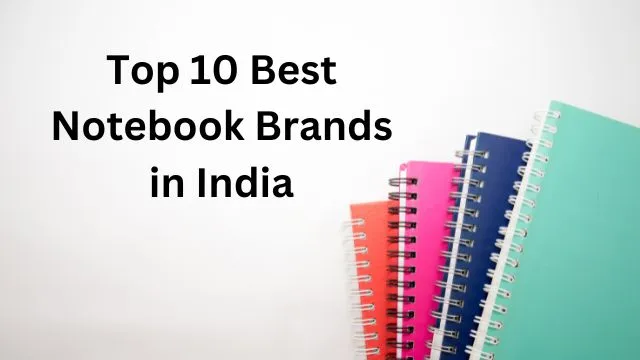 List of Top Notebook Brands in India
Here are top 10 best notebook brands in India, then one must consider this year:
1. Classmate
It is a well-known name brand in India, where everyone from schoolchildren to office workers is familiar with the product line's reliability and breadth of selection. Classmate was released in 2003 with a large selection of student notebooks; today, it is the most popular notebook brand in India, and it sells a wide array of writing implements like pens, colored pencils, geometry sets, sketch pens, & oil pastels. Their tag line "Likho Apna Kal!" inspires the youth.
2. Navneet
Navneet is where most of the classroom supplies, books for adults and kids, and office supplies can be found. Gala Group founded the company in Mumbai in 1959. Youva, a brand name by Navneet sells a wide variety of student writing supplies like notebooks, drawing pads, composition books, banner tones, color pastels, canvas, & HQ.
They also sell high-quality office writing supplies like diaries, notepads, or multi-subject books, and much more. Both companies' product lines are well thought out and of high quality.
3. Camlin
Kokuyo Camlin is a company that was founded in 1946 by Kokuyo, Japan. Camlin India started initially as an ink manufacturer but expanded to provide a variety of print and writing supplies. They've become the go-to factory for all things art supply related, including notebooks, fountain pens, [markers], colors, inks, pencils, pastel oil, and more.
Users from a wide variety of industries have been trying out their products because of their commitment to delivering standard quality. Camlin ships high-quality notebooks all around the world.
Its writing papers are standard notebook paper, helping you stay organized. All notebook paper is sufficiently thick to prevent erasing or writing on the other side.
It is excellent for kids that value quality writing in their educational resources
4. Unigo
Unigo has premium notebooks for everyone, but students in particular can benefit from them. The notebooks are inexpensive and long-lasting because of the hardcover and improved binding strength.
Date and day columns appear on every page for your reference. The notebook's rounded corners and sturdy cardboard binding are both hallmarks of its professional presentation.
The pages are made out of acid-free paper, which prevents them from discoloring when exposed to air and light.
5. Luxor
Luxor notebooks use 70 GSM paper and include a snag-free twin-wire closure. The poly cover of the notebook ensures that your notes will remain dry and usable in any climate. The five subject difference markers in your 300-page notebook will help you organize your notes quickly.
The Luxor notebook's poly cover is both durable and waterproof. Folding in half and laying the content flat is made easy by the twin-wired binding.
The pen loop is securely attached to the inside back cover of the notebook.
6. Paperkraft
Paperkraft is a top notebook manufacturer since their products look nice and make a positive impression. The paper is made in the country's most environmentally friendly paper mills employing Elemental Chlorine Free technology. Paperkraft Notepads are made with the highest quality paper available in order to guarantee their reliability. Using signs, symbols, and photographs, the Expression Series offers the notebook a contemporary, trendy style. Paper for their notebooks is sourced from reputable mills because of their commitment to environmental responsibility.
The notebooks are an improvement over regular scratch pads as they are brighter & smoother. The notebook's handy dividers help you organize your thoughts.
The notebooks in their Expression line have a fresh, contemporary design thanks to the incorporation of patterns, signs, and symbols.
7. Mead
Their notebooks are durable and resistant to water damage, despite their simple design and adaptability. The notebooks' sturdy construction is due in large part to the water-resistant cover, and using one guarantee that the pad will survive for an entire year. You may keep gifts, extra worksheets, and scraps of paper in the handy pockets within these high-quality notebooks.
 It also contains easy-to-tear-out pages made of ink-draining paper with perforations. These notebooks are available in a broad variety of colors, making them great for color-coding classes, and may be purchased in sets of 3 or 6.
8. Happy Craft
Happy Craft's notebooks come with perforated pages, lace bookmarks, and an envelope pocket on the inside. These notebooks would make wonderful presents for any school or classroom. The superior white paper in this notebook makes it ideal for keeping a semester-long diary, jotting down assignments, or keeping tabs on forthcoming activities.
The cover's pliability makes it a standout among travel notepads for people who are often on the go.  The notebook's rounded corners make it suitable for usage in any setting from the classroom to the boardroom.
This cover is perfect for any event; it is both stylish and formal. The sturdy twin-wire binding allows the notebook to lay completely flat and be opened without any effort.
9. Factor Notes
The primary inspiration for this brand was the act of making, which encompasses the telling of stories, the creation of lives, and the impact it has on the spirits of those who encounter it. After being conceptualized, component Notes took on the mission of being "the factor that adds to making people's lives more deep, inventive, coordinated, & joyful."
 Because of this, the primary objective is to provide high-quality writing that speaks to the concerns of all readers. If you're in the market for a notebook and want something that's both cute and bright, this is a great option.
10. Sundaram
Sundaram, an organization that assembles paper writing materials, was founded in 1985 in Mumbai. From scratch pads to notebooks to lengthy books to scrapbooks to diagram books to drawing books and any other type of office working material or printing item imaginable, this company has it all.
As a result of the brand's consistent quality and loyal client base, it has become inseparable in the minds of Indian consumers from the mere notion of the company's supplying them with writing implements.
After perusing this list, you won't think twice before stocking your table with the astounding surge of design, quality, and style that this company has to offer.
Conclusion
As per the expert reviews, the top notebook brands in India are Classmate, Camlin, Navneet. These manufacturers offer low-priced, high-quality notebooks.
Size, binding, page count, cover art, and design were also taken into account when selecting the top notebook manufacturers in India. So consider these factors and above-mentioned top-picks to make an informed choice.