Common Law Admission Test or CLAT is a major qualification exam that any law aspiring student should complete to pursue further education in the law field. It's often regarded as one of the tough courses around and hence requires a lot of preparation and study to be able to crack it. A meticulously designed preparation for CLAT exam is vital if you harbor dreams of going to any of the successful top-tier law institutions across India.
CLAT coaching is quite prominent in Delhi and has been taken by plenty of students over time to get the best learning and coaching. Locations like Mukherjee Nagar and more have become synonymous with students trying to fulfill their dream of becoming well-rounded lawyers in the future. And that dream depends on the best preparation that you can get for yourself. Any student looking to get into this field needs to prepare themselves with the intellectual note, skillset, and other terminologies that will give them the best chance ahead. Also know about the 10 Best CLAT Coaching in India.
We here cover top CLAT coaching centers across Delhi and what makes them the best around in the business. Let's take a look at these.
List of Best CLAT Coaching in Delhi
1. Knowledge Nation Law Center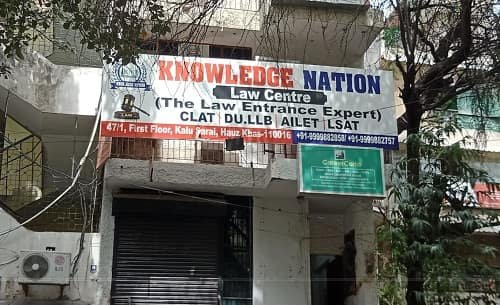 Starting off our list of the best CLAT coaching centers across Delhi is the Knowledge Nation Law Center, a premier coaching institute that has time and again been ranked as one of the best in the business. This institute is a great center for learning when it comes to law entrance and sees students from all over India come over for coaching. They have a meticulously prepared syllabus that guides students to proper and well-informed coaching and guidance. They have a very high success rate when it comes to coaching and getting the students selected at the entrance.
Address: 47/1, Kalu Sarai, Hauz Khas – New Delhi 110016
Website: www.knowledgenation.co.in
2. Success Mantra
At second on our list is the Success Mantra, another of the top-ranked CLAT coaching center in Delhi. The institute is part of Mrs. K Poonam, who over the years has become a famous name for the law entrance coaching and guidance. The institute is recognized all over for its famed approach to pedagogy and teaching students. They have produced toppers and merit students over the decades and have been awarded time and again as one of the best coaching institutes around. They have multiple centers across Delhi for students.
Address: 113, Ground Floor, Next to Oriental Bank of Commerce, Kingsway Camp, GTB Nagar Metro Gate No 1, Delhi- 110009
Website: www.successmantra.in
3. CLAT Possible
One of the renowned centers for CLAT coaching and law entrance in Delhi is the CLAT Possible. This has been a trusted name over the years for students all over India for law entrance coaching and has delivered results time and again. The center has an esteemed faculty of highly merited teachers who guide the students properly to achieve their law aspirations and dreams. The center is located in various cities across India apart from Delhi like Patna and Kolkata. They also offer online-based courses to students who want to pursue law entrance preparation even from other cities.
Address: B-32, 1st Floor, Kuthiala Building, Inner Circle, Connaught Place, New Delhi – 11001
4. Delhi Institute of Law
Fourth on our list is the Delhi Institute of Law, a one of its kind top tiered CLAT coaching center in Delhi. The institute is known for bringing modern-day practices and conduct to coaching by use of various seminars, workshops and education programs for law students. The center teaches students the art of appearing exams and clearing them with proper preparation and guidance. It also works on solving the problems and guiding students into meticulous preparation.
Address: 65, 1st Floor, Kingsway Camp, G.T.B Metro Station Gate – 1, Delhi – 110009
Website: www.delhiinstituteoflaw.in
5. Pahuja Law Academy
At fifth on our list is the Pahuja Law Academy in our best CLAT coaching institute in Delhi. This institute has been providing students with well-rounded guidance and coaching for several years and always stood out as being one of the best. They teach students on an extensive level and help them prepare for the CLAT entrance tests. The students are guided via multiple exams and test settings along with in-depth course preparation for the best results possible.
Address: 212, D-1, 2nd Floor, Virat Bhawan, Mukherjee Nagar, New Delhi, 110009
Website: www.pahujalawacademy.com
Getting good preparation and coaching for CLAT is basic to cracking the exam and getting into any of the prestigious law institutions. We hope that this list helps you to find the best CLAT coaching for yourself.
Related Topics: