When it comes to select JRF or LS aspirants, a popular entrance exam called the CSIR NET exam is conducted on the national level. It stands for Council of Scientific & Industrial Research National Entrance Test. Candidates who are willing to pursue Junior Research Fellowship or the Lectureship for their career.
The exam is conducted in five key subjects and the duration of the exam is three hours. The exam frequency is twice a year and it is conducted in Physical sciences, Life sciences, chemical sciences, Mathematical Sciences and Earth sciences. All those candidates who opt for this entrance exam become a lecturer in technology and science subjects.
This exam is conducted by NTA, National Testing Agency, and there are two mediums options available for the exam, Hindi and English. The mode of examination is online and the test paper contains 200 marks. The result is announced after few weeks of this exam and candidates are shortlisted based on the cut-off marks.
If you want to apply for this exam, you would have to go through the minimum requirement. If you meet the eligibility criteria, you can apply for the CSIR NET exam. Here, we are discussing all the important aspects regarding the CSIR NET exam along with few side aspects to get you going.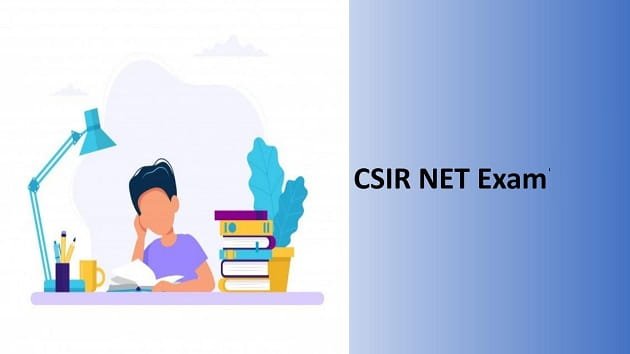 Eligibility Criteria for NTA CSIR NET
If you want to appear for the NTA CSIR NET exam, then you must prove your eligibility. If you don't meet the eligibility criteria and still apply, your application won't be considered further. The key requirements are –
Candidates must have completed a master's degree or he/she has enrolled on the postgraduate program. The minimum aggregates required to apply for the CSIR NET exam are 55%.
There is no minimum age limit for the CSIR NET exam but the maximum age limit is 28 years. The age limit guidelines apply for CSIR UGC NET JRF Exam.
The candidate must have pursued the master's degree from a recognized institute, college or institute.
An extra relief is given in education qualification and the age limit based on the category.
These are the minimum requirements for candidates who are willing to apply for CSIR NET Exam.
Education Qualification Requirements – Degree
There are a plethora of courses that a candidate can pursue but if you have any of the below-given master's degree, then you can apply for CSIR NET Exam.
MSc
BS-4 Years
Integrated BS-MS
MBBS
B-Pharma
Students with any of the given or an Equivalent Degree can apply for the course. The minimum marks required for the CSIR NET exam varies based on the category.
For general category candidates – 55% Aggregates
For ST/SC/PWD Category Candidates – 50% Aggregates
Well, OBC category candidates are considered as the part of general category and they also need 55% marks in the master's degree to apply for the CSIR NET exam.
Age Requirements
As mentioned earlier, the minimum age requirement is 28 years but as per the new guidelines released in 2021, the age requirements are –
Maximum Age for General Category Candidates – 28 years
Maximum Age for OBC (non-creamy layer) candidates – 31 years
Maximum Age for SC/ST/PWD candidates – 33 years
In case you are going for a Lectureship, then there is no maximum age limit. Students from any category can apply for a Lectureship.
NTA CSIR NET – Method to Apply
As you can find that NTA CSIR NET exam is given by thousands or even lakhs of students every year. So, candidates need to register as early as possible and start preparing for the exam. Well, the exam for CSIR NET June 2021 is postponed due to the current coronavirus pandemic and rise in cases during the second wave. To apply, follow the below-given steps –
Step 1 – Registration
To begin visit the official website for NTA. You can register on this website and create an account.
In case you already have registered and want to register for the exam, then open the website, and log in.
For non-users, they can find the "New Registration" button on the same page and create an account by filling in all the required details.
Fill in your Name, Father's Name, Mother's Name,DOB, Address, Qualification, Etc to proceed.
Once you have registered a new account, you have to proceed to the next step for filling the application form.
Step 2 – Filling Application Form
You can find apply for CSIR NET 2021 option after creating an account. Once you click on this button, you will get a new application form.
Fill this form using the required details and recheck every detail that you have entered.
Enter the captcha and upload your passport size photo of the given size to apply. Make sure you fill in all the qualification details with the right year.
Once you have filled everything, click submit button and it will redirect you to the payment gateway.
Pay for the exam fees and you will get your application number and other details at the mentioned email ID.
After completing all these steps, you will get the application number that will help you download the admit card later. After downloading the admit card, you can sit for the examination.
Fees for CSIR NET Exam
During the payment of the CSIR NET exam, you will be given the option to deduct money in several ways. The fees are different based on the category.
For General Category Candidates/General EWS – INR 1000
For OBC (Non-creamy layer) – INR 500
For SC/ST – INR 250
PwD – NIL
There is a mode of payments that you can choose from. You can use Debit / Credit / Net Banking / UPI for the payment of the fees.
Correction Form Process  for NTA CSIR NET Exam
In case of making any mistake while filling the application form, you should correct it as soon as possible. If you want to correct details in the NTA CSIR NET application form, then you will be at ease with the news that NTA has introduced a new option to correct details in December 2019. To correct details –
Visit the NTA official website and direct to the CSIR NET exam section.
Login using the same credential you used while creating an account
You can correct Name, Address, Gender, Category, Father/Mother name and such other details.
After making changes, click on the Save button at the end and your new correction form will be submitted.
Following these four steps are easy and they are likely helpful in almost every situation for sure.
NTA CSIR NET Exam Syllabus
To prepare for the NTA CSIR Net Exam, you can follow the pre-defined syllabus from NTA and it will help you concentrate on a tight framework instead of studying unnecessary syllabus. You can visit the official website of NTA and learn about the syllabus. In case, you want to prepare in a better manner then you can download previous years' exam papers and crack them by following a mock test.
Meanwhile the syllabus is same every year, you can try out mock test for NTA CSIR NET exam and test your knowledge online. This method will help you ensure that you are preparing in the right way.
NTA CSIR NET Exam Pattern
It is always a better choice to prepare by following the exam pattern for the NTA CSIR NET exam. The exam paper is divided into three different sections, Part A, Part B and Part C. each section focus on your different skills and knowledge factor.
For the exam, Part A contain questions that validate your knowledge and skills in General Science, Research Aptitude, and Quantitative Reasoning & Analysis.  When it comes to Part B, you can find conventional multiple-choice questions in the paper set. On the other hand, Part C tests your scientific knowledge. You get three hours to attempt the exam.
Part A consist of 30 marks, Part B consist of 70 marks and lastly the Part C consist of 100 marks. The total marks for all the parts are 200. The pattern mentioned here is for the LS program and it varies based on what you have applied for.