Whether you're rereading a classic or diving into all-new book, reading is an enjoyable experience. The library is a great resource for finding books, and reading them can be a great way to immerse one in new and exciting worlds full with fascinating characters and exciting plots.
In today's technological age, we can learn anything by going online and searching for it. Even if more and more of us are now reading books on our computers, nothing beats the experience of reading a physical book in the peaceful and quiet library. If you're looking for a library to satisfy your reading needs in Delhi, we have compiled a list for you. Enjoy your reading!
List of Most Popular Library In Delhi
1. Delhi Public Library
Address: Block H, Near Sarojini Nagar Main Market, Sarojini Nagar, New Delhi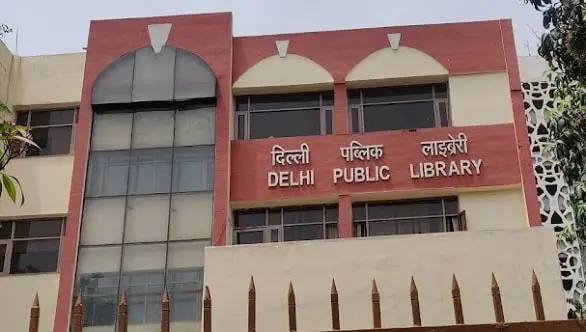 This Delhi Public Library is having many locations throughout the city, as well as a Braille library, providing the pleasure of reading within reach of all residents. Their Sarojini Nagar location is amongst their biggest branches, featuring plenty of reading and study space, a lending library, and a designated children's section.
They don't offer a great selection of books in English, but they have a huge selection of books in regional languages like Hindi. Borrower cards can only be obtained after becoming a member and passing a credit check. You may read all about how to join in great detail on their site.
One can access this library for free, and membership is available at just INR 20.
2. The American Library
Address: American Center, 24, Kasturba Gandhi Marg, New Delhi
The iHub is a public resource for study, reference, and exploration. This Library is a great location to go if you're looking for some quiet time and free Wi-Fi (members only). When you become a member, you'll be able to check out six books, two past issues of magazines, and two DVDs at a time.
 A library card holder can log into their account online to do searches, renew books, and place holds. The library also hosts a variety of activities throughout the year, such as film screenings, craft and artistic workshops, and book launches, for its readers.
The individuals can visit this library at INR 400 which is for whole year while families can spend INR 500/year.
3. Japanese foundation library
Address: 5-A, Ring Road, Lajpat Nagar 4, New Delhi
This is a must-visit for the fans of the Naruto manga, as this Japan Foundation Library is the perfect place to get lost in the best of the Naruto series. The collection also includes works of Japanese literature, many of which are considered classics due to their complex topics and narratives. If you live in the Delhi-National Capital Region and are curious about Japan & its culture, you must visit this library.
The membership price is INR 300/year
4. Dyal singh public library
Address: Deen Dayal Upadhyay Marg, Beside University Grants Commission, Mandi House
There are more than 40,000 books in the social sciences, arts, & literature at Dyal Singh Public Library. Access is free, however a subscription is required to borrow books. The library's collection of periodicals and newspapers provides easy access to the latest news and information.
In-depth investigation into a topic is made easier with the available audio and video equipment. Don't procrastinate any longer; go there immediately to expand your horizons. Its membership starts at 500 Rs onwards.
5. The Central secretariat library
Address: Rajpath Area, Central Secretariat, New Delhi
This Library is home to many important political documents and literature. There is a nice selection of fiction and nonfiction, as well as dictionaries and encyclopedias. This is dedicated to all the lifelong students and seekers out there. Come on, gentlemen, this library has one of the most extensive book collections in all of Delhi.
6. Nehru Memorial Library
Address: Teen Murti Bhavan, Teen Murti Marg Area, New Delhi
Visit Nehru Memorial Library any day of the week to take in as much knowledge as possible. This library is perfect for you if you're the type of person who can't get enough of learning about India & its past. They hold many pictures and microfilms of books and magazines relating to colonial and postcolonial India. What can be a better place to learn about ancient history than a library?
7. British Council Library
Address: 17, KG Marg, Atul Grove Road, Janpath, Connaught Place, New Delhi, Delhi
There is a membership requirement to use the library's collection and services; non-members are not permitted inside. In addition to books, you can also subscribe to periodicals that may be unavailable in India. You can also participate in the British Council's seminars, workshops, and other events if you join one of their libraries. Depending on your preferences about membership costs, borrowing policies, etc., you can select from a variety of membership options.
8. Sahitya Akademi
Address:  35, Rabindra Bhavan, Ferozeshah Road, Rabindra Nagar, Mandi House, New Delhi
This Library is also called as National Academy of Letters. It is a prestigious organization that has done much to advance the literary arts in India. The Sahitya Akademi Library is a treasure trove for those interested in literary criticism, gender studies, and translation studies, as well as works written in Hindi as well as other regional languages.
This is a great spot for history aficionados, as it features individual rooms devoted to Mahatma Gandhi, Sri Aurobindo, and Rabindranath Tagore.
9. Hazrat Shah Public Library
Address: 1336 Pahari Imli, Choori Walan Rd, Delhi, 110006
The Delhi Youth Welfare Organization, a dedicated group, opened this library as a vintage haven for bookworms. This library houses the original writings of authors such as Ghalib, as well as those written in the script of Zauq. There are several really rare medieval scripts stored in that little room. We include this among our most notable achievements in Delhi.
10. National gallery of modern art
Address: Shershah Road, India Gate, New Delhi
A collection of books devoted solely to the fields of art and design. Books on sculpture, painting, graphics, design, and other minor arts can be found at this Art Reference Library which serves the demands of academic fields like art history, criticism of art, and art appreciation.
The Library receives copies of 32 art periodicals, including Leonardo, Burlington Magazine, Art in America, Art News,  & Studio, all of which focus on Indian and worldwide artists. While membership fees are not yet publicized, you may utilize them as resources in the meanwhile. It's open from 11 AM – 8 PM on the weekends & 11 AM – 6:30 PM on weekdays.
Conclusion
If you are bookworm, and love visiting different libraries to learn, read and explore more, then you must visit the best libraries of Delhi mentioned above.